Breakfast
Overnight Blueberry French Toast. Be sure and join me on Facebook for the latest updates on new recipes!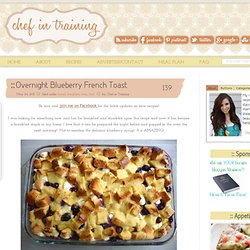 I was looking for something new and fun for breakfast and stumbled upon this recipe and now it has become a breakfast staple in my home. I love that it can be prepared the night before and popped in the oven the next morning! Not to mention the delicious blueberry syrup! It is AMAZING! And topped with the blueberry syrup….MmmMm! Dinner or dessert: egg boats. I'm back to my normal routine after being on vacation over Christmas for two whole weeks visiting my family in California.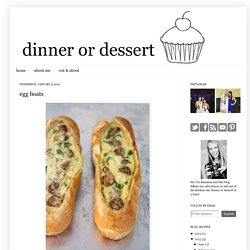 Every morning I was at my parents house, I'd toast a slice of sourdough and top it with pastrami and Havarti for breakfast. I can't tell you how much I loved being able to sit and enjoy a hot breakfast with a fresh cappuccino on a weekday! But now that I'm back at work, I rarely make time to fix myself breakfast during the week so I save all my breakfast cooking (and mimosa drinking) for the weekends. Baked Oatmeal Less Sugar. September 3, 2013 If you combine whole grains, eggs, yogurt, milk, and fruit what do you get?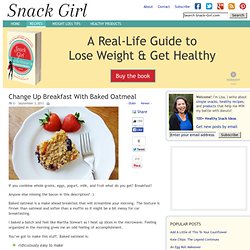 Breakfast! Anyone else missing the bacon in this description? :) Baked oatmeal is a make ahead breakfast that will streamline your morning. Banana Oatmeal Cups with Chocolate Chips. I'm shocked at how good these came out.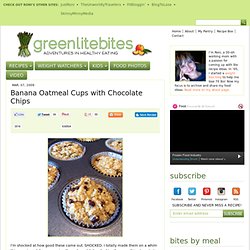 SHOCKED. I totally made them on a whim this morning while rummaging through my kitchen looking for something to eat at breakfast. I had a gross of bananas just about turning overripe, oatmeal and 2 eggs. That was really it and nothing sounds good. Healthy Coconut Oatmeal Recipe. Video: Baked Oatmeal II. Overnight Blueberry French Toast. Blueberry & Raspberry Baked Oatmeal. Blueberry & Raspberry Baked Oatmeal Hi!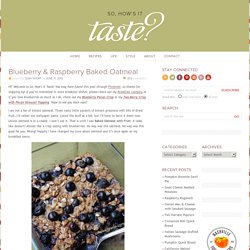 Welcome to So, How's It Taste! You may have found this post through Pinterest, so thanks for stopping by! If you're interested in more breakfast dishes, please check out my Breakfast category or if you love blueberries as much as I do, check out my Blueberry Pecan Crisp or my Two-Berry Crisp with Pecan Streusel Topping.
Hope to see you back soon! Get Your Greens Smoothie. Soft Boiled Egg Recipe. May 14, 2012 Are you bored with hard boiled eggs?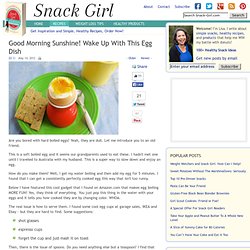 Yeah, they are dull. Let me introduce you to an old friend. This is a soft boiled egg and it seems our grandparents used to eat these. No Sugar, No Dairy, and No Flour - Breakfast Cookie! This is the best and most awesome breakfast cookie ever!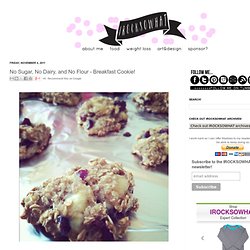 And the best part, no flour, no sugar, and no dairy added! Ingredients- 1.5 cups of oats 2-3 super rippened bananas. Personal Sized Baked Oatmeal with Individual Toppings: Gluten Free & Diabetic Friendly | SugarFreeMom.com. Personal Sized Baked Oatmeal with Individual Toppings: Gluten Free & Diabetic Friendly Do you have picky family members?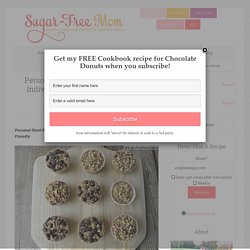 Do you make a meal and almost always one child is not as thrilled as the others because of one little ingredient you might have put into the recipe? Well that's my family. If I make a large baked oatmeal in a 9 by 13 baking dish and add one type of fruit, like blueberries for instance, I have one child who will not eat it. If I make it with raisins which I love, none of my kids will eat it! Easy Banana Bread. I wish I had the patience and talent to make my Grandma's banana bread.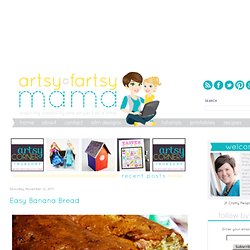 I really do. However, that's not likely to happen anytime soon, so this is a great shortcut recipe with a similar result! I can't tell you how many bananas I have thrown away in my life because I was too lazy to make "real" banana bread. Now I can just throw these 3-4 ingredients together! Baked French Toast. It's not my day to post a recipe, but I couldn't help sharing this absolutely delicious recipe with y'all!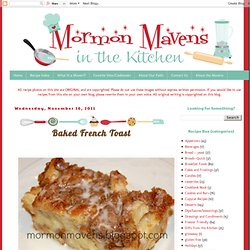 It. is. so. good. I found it last night while searching for a make-ahead recipe for breakfast (I'm trying to get as much done the night before as possible so I can get all my exercising in early....which is a good thing cuz this ain't no diet-friendly recipe!). I started searching Pinterest for overnight breakfasts, but then thought, "Oooh, I bet P-Dub has something good on her site! " I was not disappointed. I told my kids this morning that we were trying a new recipe from Pioneer Woman. Carrot-Ginger-Orange Smoothie Recipe. The warm weather means we can't get enough of smoothies, and there's nothing like a cooling drink filled with the nutrients you need to get through the day.
Here's another recipe to add to your list: the carrot-ginger-orange-spinach detoxifying smoothie. This is a great smoothie to have in the morning since it's "very liquid based (compared to many others)," says Heather Scott, owner of San Francisco catering company Purple Plant Smoothies. "Liquids are easiest to digest in the morning hours. Carrots are a great detox agent, given the high levels of the powerful antioxidant beta-carotene. Carrot Cake Waffles. Wouldn't it be cool if bakers got to choose flashy names like WWF Wrestlers? You could be the Vanilla Villain, the Meat Tenderizer, the Mighty Masher, the Blender Blade, the Sweaty Spatula.
Ew. Nevermind that last one. Today, my flashy baking name is the Waffle Wrangler. Hungry Girl - Friday Newsletter. Cake Mix + Fat-Free Liquid Egg Substitute PER SERVING (1 piece, 1/12th of cake): 181 calories, 3.25g fat, 337mg sodium, 34.5g carbs, <0.5g fiber, 19.5g sugars, 3.5g protein -- PointsPlus® value 5* Ingredients:1 box moist-style cake mix (15.25 - 18.25 oz.)1 cup fat-free liquid egg substitute (like Egg Beaters Original) Combine cake mix with egg substitute in a large bowl and add 1 cup water.
Whisk thoroughly and transfer to a baking pan sprayed with nonstick spray; bake in the oven until a knife inserted into the center comes out clean. (Refer to cake-mix box for pan size and approximate bake time.) Best Flavor: Egg sub is like the little black dress of cake companions; it goes well with everything. Italian Eggs over Spinach and Polenta Recipe. » Easy Vegetable Frittata Recipe Vintage Mixer. Frittatas are my go-to egg breakfast recipe. You can make them with just about anything you have in your fridge. There are only a few requirements: 6 eggs, vegetables, seasoning, and a cute pan (if you like the one we're using, you can get one like it here).
Well you don't have to have a cute pan but the rest you do have to have. As far as variety goes, the sky is the limit. You may want to add bacon or ham, or maybe sun-dried tomato and goat cheese.
---