Breakfast
Cinnamon Rolls With Whipped Cream Cheese Frosting. Happy Friday everyone!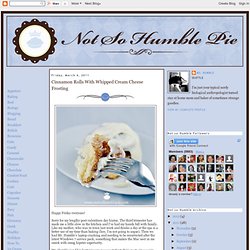 Sorry for my lengthy post-valentines day hiatus. The third trimester has made me a little slow in the kitchen and I've had my hands full with family. Like my mother, who was in town last week and thinks a day at the spa is a better use of my time than baking (hey, I'm not going to argue). Make-Ahead Oatmeal Smoothies. A few weeks ago, I wrote a post about Overnight Refrigerator Oatmeal that has been very popular with Yummy readers.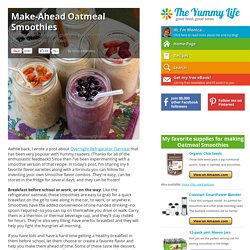 (Thanks for all of the enthusiastic feedback!) Since then I've been experimenting with a smoothie version of that recipe. In today's post, I'm sharing my 6 favorite flavor varieties along with a formula you can follow for inventing your own smoothie flavor combos. They're easy, can be stored in the fridge for several days; and they can be frozen! Breakfast before school or work, or on the way. Breakfast Stuffed Sweet Potatoes. Stuffed sweet potatoes with scrambled eggs, maple sausage, cherry tomatoes and avocado.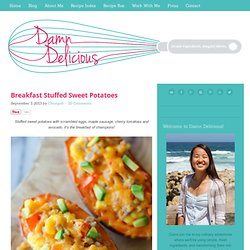 It's the breakfast of champions! I don't know about you guys but anything that's "stuffed" is always a plus in my book. Oreo stuffed cookies, quinoa stuffed bell peppers, stuffed portobello mushrooms, cream cheese avocado stuffed puff pastries, and so forth. I love it all! And now, I've found something else to stuff: sweet potatoes. Bacon Egg and Cheese Ring. I came across this recipe on Pinterest, and I just had to make it.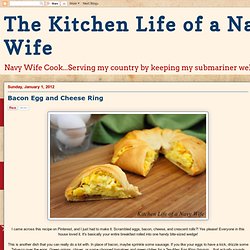 Scrambled eggs, bacon, cheese, and crescent rolls?! Yes please! Everyone in this house loved it. It's basically your entire breakfast rolled into one handy bite-sized wedge! Glazed and Cinnamon Sugar-Coated Donuts.
Pancakes/French Toast. Buttermilk Blueberry Breakfast Cake | alexandra's kitchen. I swear buttermilk is magic.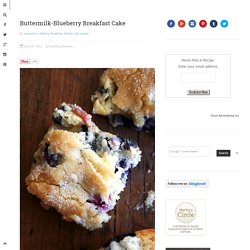 I've dwelled on this before. Buttermilk seems to turn everything to gold. Super-moist, super-delicious gold. Anyway, I needed a simple, summery, breakfasty, cake-like-but-not-dessert-like recipe to make this morning. Amish Cinnamon Rolls with Caramel Frosting. For the rolls, mix together 2 teaspoons sugar, warm water, and the yeast.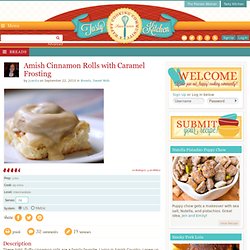 Let stand for 5 minutes. Mix together the rest of the roll ingredients in a large bowl and add the yeast mixture gently. Cover dough and let rise until double in size. (This usually takes around 2 hours.) While the dough is rising, make the filling. Mini Ham & Cheese Quinoa Cups. Mini Ham and Cheese Quinoa Cups are poppable and packed with protein.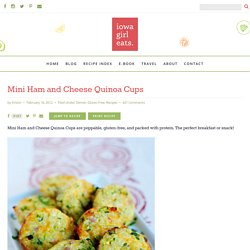 The perfect breakfast recipe or snack idea! I had this whole spiel ready about how real men do, in fact, eat quiche, as demonstrated by Ben who housed nearly a dozen Mini Ham and Cheese Quinoa Cups that resemble wee baby quiche for dinner, but then I remembered that quiche have crust and Mini Ham and Cheese Quinoa Cups do not, so in reality they're more like mini frittatas and well, all was tragically lost.
Breakfast Banana Splits . . . you want one. My favorite story about banana splits involves my dad and Uncle Mike .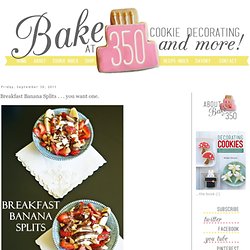 It seems years and years and YEARS ago, they decided to have an eating contest. They consumed massive amounts of pizza and then went for banana splits. My dad finished his, but my Uncle Mike saved his favorite part of the banana split for last, and was too full to eat it. Somehow, this made a very big impression on me when I was a kid. Breakfast Burritos. I let you in on a little secret yesterday on my Monday Menu post - I don't usually cook breakfast - Mountain Man does.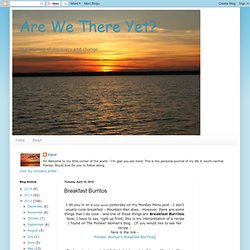 However, there are some things that I do cook - and one of those things are Breakfast Burritos. Now, I have to say, right up front, this is my interpretation of a recipe I found on The Pioneer Woman's blog. Pumpkin Cream Cheese Recipe - 2 Point Total. Photo credit: a healthy kitchen While shopping at Trader Joe's this morning, I was lured to the sample booth by a heavenly, enticing aroma…Pumpkin Spice Cream Cheese Spread, served on Cinnamon Swirl Bread.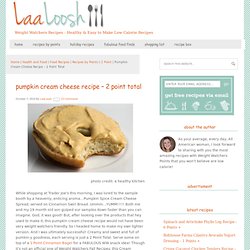 Ummm…YUMM!!!!! Both me and my 19 month old son gulped our samples down faster than you can imagine. Frozen Yogurt Dots. Here it is…another installment of Jillee's Favorite Frozen Treats! Everytime I see an idea for a new frozen treat idea…I can hardly WAIT to try it! This one was NO exception! Saw this on Pinterest and knew it was MADE JUST FOR ME!
Mini Breakfast Pizza. A couple weeks ago I instragrammed a picture of breakfast pizzas I made here at my little inn. Several of you have been asking and emailing me for the recipe. Well, I finally had the chance to make them again and was able to snap a few pictures this time.So, without future adieu, here is my recipe for Mini Breakfast Pizza! This recipe is adapted from Pillsbury's Recipe for Ham, Swiss and Cheddar Breakfast Pizza. Here's what you'll need to make four mini pizzas: 2 tbsp dijon mustard (use dijon, regular yellow mustard just doesn't cut it) Casserole/Slow Cooker.
---