D.gonzo518
David
The Final 3 - Amazing Math Card Trick
italian sodas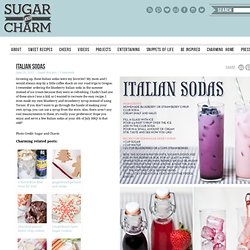 June 30, 2011 | Sweet Recipes | Comments Growing up, these Italian sodas were my favorite!! My mom and I would always stop by a little coffee shack on our road trips to Oregon.
Convert media files online from one format into another. Please select the target format below: This free online file converter lets you convert media easy and fast from one format to another. We support a lot of different source formats, just try.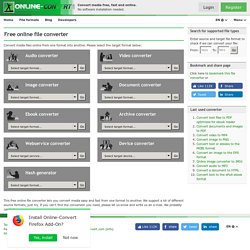 Online converter - convert video, images, audio and documents for free
Funny: Smart tips to make life easier
Well these naughty little treats are well….naughty but oh so necessary. There are a bit like my Brownie Covered Oreo's from last Christmas but enhanced with layers of peanut butter and a double decker stack of Oreos in each little brownie cake. They are simply prepared in cupcake liners.
Oreo and Peanut Butter Brownie Cakes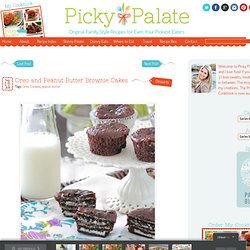 Things My Father didn't Teach Me, How to tie a Tie
Now I don't want to over sell this, so I'm going to be conservative and simply say, that these are... The Best Brownies In The WORLD. I know, big statement.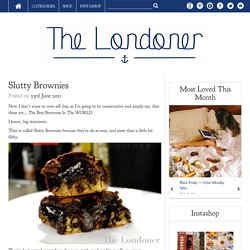 Slutty Brownies
Better Flight and Hotel Search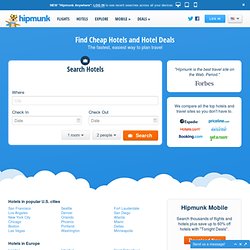 Hipmunk has an iOS app. Get it from iTunes » no thanks Hipmunk has an Android app. Get it from Google Play » Find Cheap Hotels and Hotel Deals
Punchfork — The best new recipes from top food sites
The spring semester of my junior year began last Wednesday, but more importantly, the BCS National Championship game was the Monday before that. So in honor of the Crimson Tide playing LSU for a second time this season in New Orleans, I decided to make red velvet whoopie pies. My dad gave me a book about whoopie pies for Christmas, and this was the first time I made them.
Red Velvet Whoopie Pies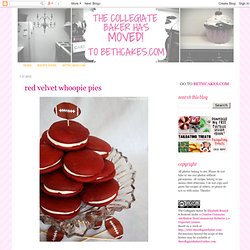 penniesonaplatter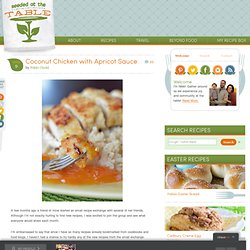 Coconut Chicken with Apricot Sauce
A few months ago a friend of mine started an email recipe exchange with several of her friends. Although I'm not exactly hurting to find new recipes, I was excited to join the group and see what everyone would share each month. I'm embarrassed to say that since I have so many recipes already bookmarked from cookbooks and food blogs, I haven't had a chance to try hardly any of the new recipes from the email exchange. However, a couple of weeks ago I decided to sit down and print them out, then chose a few to make that week. I'm so glad I did this because we discovered one of our favorite dinners, this coconut chicken. You know I'm always overjoyed with finding recipes that can be put together in a snap.
Five-Minute (Healthy) Chunky Monkey Ice Cream
Almost-Famous Cheesecake Pancakes Recipe : Food Network Kitchens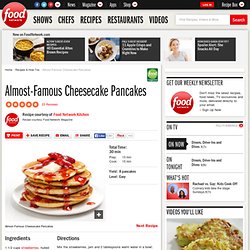 Ingredients 1 1/2 cups strawberries, hulled and sliced 2 tablespoons seedless strawberry jam 11/4 cups all-purpose flour 11/4 cups buttermilk 1 large egg 1/4 cup vegetable oil 1/4 cup granulated sugar 1 teaspoon baking powder 1 teaspoon baking soda Pinch of salt 2 cups chopped frozen cheesecake Cooking spray Butter, confectioners' sugar or whipped cream, for topping (optional) Directions Mix the strawberries, jam and 2 tablespoons warm water in a bowl; set aside. Preheat the oven to 200 degrees F. Pulse the flour, buttermilk, egg, vegetable oil, granulated sugar, baking powder, baking soda and salt in a blender until smooth.
Winter does give us a few perks. I believe that we don't need to stress out quite as much, when it comes to our wardrobe. 1. We can just throw on a nice winter coat & a stylish pair of boots and we are set.
Get Off Your Butt and BAKE! » Impressive recipes made simple.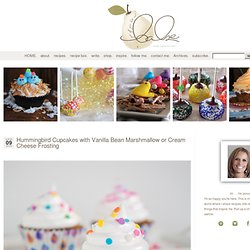 Twix Cheesecakes
Tutorials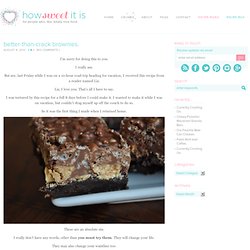 I'm sorry for doing this to you. I really am. But see, last Friday while I was on a 10-hour road trip heading for vacation, I received this recipe from a reader named Liz.
Better-Than-Crack-Brownies
Let's talk cookies, mmmmk? I like cookies. Duh.
Triple Chocolate Oreo Oatmeal Cookies
Guacamole Grilled Cheese Sandwich Josh's brother is visiting us from California and we are having a great time. Caleb sure loves having his uncle around and I love having another person to feed:) The other day the guys wanted a snack so I whipped up a bowl of guacamole and made homemade baked tortilla chips. The guys were still hungry so I offered to make grilled cheese sandwiches.
Guacamole Grilled Cheese Sandwich | Grilled Cheese Recipe
Cheesecake Stuffed Strawberries
A brownie by any other name…
Recipes from Kevin & Amanda
Loaded Baked Potato Soup Recipe
Bacon Wrapped Jalapenos Recipe
Chocolate Cupcakes with Flaming Strawberries
The DIY Filmmaker's Toolkit
Nutella Mug Cake
Easy Light Broccoli Cheese Stuffed Chicken Recipe
20 Fantastic Photoshop Manipulation Tutorials -2010
Cinnamon Toast Rolls
Caramelized Chicken with Jalapeno Cream
80 All-You-Need Photoshop Brushes
Cinnamon Sugar Pull-Apart Bread
GET OFF YOUR BUTT AND BAKE!: PASTRY
Picky Palate
15 Best Photoshop Light Effect Tutorials
Macaroni And Cheese: 10 Ultimate Recipes
Chocolate Cheesecake Cake