Etats-Unis
Shaken Baby Alliance
Welcome The Promising Practices Network (PPN) website is a unique resource that offers credible, research-based information on what works to improve the lives of children and families. Sometimes referred to as a "best practices" site or a "model program" site, PPN is both of those things and much more. In addition to providing summaries of effective programs in our Programs that Work section, PPN also features Issue Briefs that summarize the current research on various topics, as well as Expert Perspectives, where child policy experts answer our visitors' most pressing questions on a variety of topics. PPN also links to additional research information in all areas related to child well-being, including their physical and mental health, academic success, and economic security.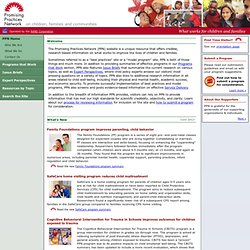 Promising Practices Network on Children, Families and Communities | Home
National Sexual Violence Resource Center | National Sexual Violence Resource Center (NSVRC)
The National Center on Shaken Baby Syndrome
April is Child Abuse Prevention Month in the U.S. Announcing our new 2014 Shaken Baby Syndrome/Abusive Head Trauma education and training materials catalog just in time for your prevention efforts in April for Child Abuse Prevention Month. We offer a number of various types of materials to suit your needs including brochures, posters, magnets, bookmarks and guidebooks. Bulk pricing is available on most of our items, and you can add personalized contact information on many items as well. Call in your order, fax your order or order online via the 'Buy Materials' tab above or by clicking on this link. You can view our new catalog on our 'Buy Materials' page or by clicking on the following link: View the Catalog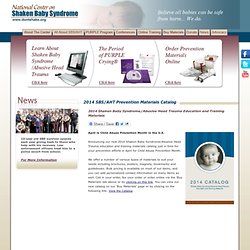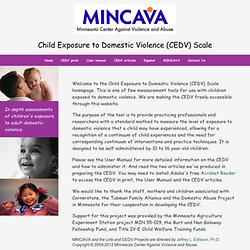 CEDV Scale - Home Page
Welcome to the Child Exposure to Domestic Violence (CEDV) Scale homepage. This is one of few measurement tools for use with children exposed to domestic violence. We are making the CEDV freely accessible through this website. The purpose of the tool is to provide practicing professionals and researchers with a standard method to measure the level of exposure to domestic violence that a child may have experienced, allowing for a recognition of a continuum of child experiences and the need for corresponding continuum of interventions and practice techniques.
MINCAVA Electronic Clearinghouse
Healthy Children
Future of Children editor-in-chief Sara McLanahan's research with Daniel Notterman and others featured in Nature Magazine. This research is also featured by Princeton University's Woodrow Wilson School News. The Future of Children congratulates Janet Currie, Greg Duncan, and Kathryn Edin, who were among seven eminent scholars inducted this week as 2014 Fellows of the American Academy of Political and Social Science for their contributions to improving society through research and influence over public policy. More information. "Military Children and Families" Veteran's Day panel.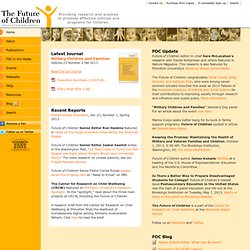 The Future of Children - Home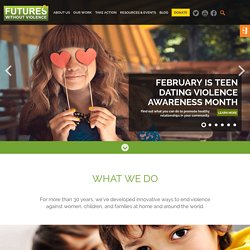 Futures Without Violence
Futures Partners With Blue Shield to Bridge Health and Domestic Violence Today, Blue Shield of California Foundation (BSCF) announced a new funding initiative to integrate healthcare and domestic violence systems in California. Futures Without Violence is proud to be teamed with BSCF to create a new learning network and develop greater collaboration between safety net providers and DV service organizations. Fifteen different domestic violence organizations and health care facilities throughout the state will partner on this initiative at a time when, according to a recent statewide survey, Californians strongly support a greater role for doctors and nurses in addressing domestic violence. The effort launches with fortuitous timing, given new guidelines from the U.S.
The Child Trends DataBank examines and monitors more than 100 indicators that focus on risks and positive developments for children. For each indicator we summarize what the research says about its importance to children's development, track trends over time and by subgroup, and highlight strategies likely to improve well-being. We also provide links to state, local, and international data.
Child Trends DataBank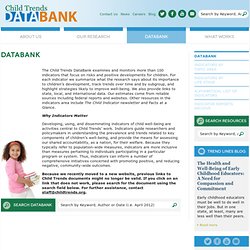 Child Trends
Child Welfare League of America
Prevention and Treatment of Child Abuse | Childhelp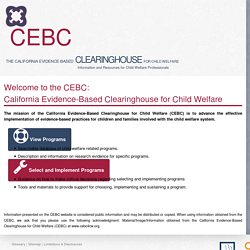 Information and Resources for Child Welfare Professionals The mission of the California Evidence-Based Clearinghouse for Child Welfare (CEBC) is to advance the effective implementation of evidence-based practices for children and families involved with the child welfare system. The primary goal of this website is to provide a searchable database of programs that can be utilized by professionals that serve children and families involved with the child welfare system. Each program description contains easily accessible and vital information, including, at a minimum, a CEBC Scientific Rating, citations and summaries of relevant published peer-reviewed research studies conducted on the program, a brief description of the program, and training and contact information.
The California Evidence-Based Clearinghouse for Child Welfare
American Professional Society on the Abuse of Children
For a complete online calendar of APSAC and related industry events, please visit the Event List under the Events Tab. Registration Open for 2014 APSAC ColloquiumAPSAC will host its 2014 Annual Colloquium June 11-14 in New Orleans, Louisiana, at the Sheraton New Orleans. Details and registration are now available! Select this link to visit the event page. 2014 APSAC Child Forensic Interview ClinicsAPSAC is offering two interview clinics in 2014.