SCULPTURE
531037_384450338304331_1407623955_n.jpg (JPEG Image, 467 × 700 pixels) - Scaled (96. Driftwoodhorsesheatherjc.jpg (JPEG Image, 500 × 358 pixels) R94la2-580x498.png (PNG Image, 580 × 498 pixels) Just-a-picnh-clothespin-pinch-grass-art-sculpture-belgium-Mehmet-Ali-Uysal.jpg (JPEG Image, 800 × 534 pixels) Fantasy-Girl-887338.jpg (JPEG Image, 1024×768 pixels) Boxing clever: The artist who makes sculptures of everyday objects using cardboard. By Tara Brady Published: 18:13 GMT, 21 April 2012 | Updated: 19:26 GMT, 21 April 2012 While saving packaging from the dump is enough for most people, British artist Chris Gilmour takes recycling to the next level.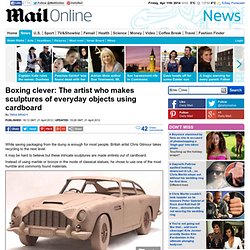 It may be hard to believe but these intricate sculptures are made entirely out of cardboard. _m24oo9IypI1r6q94do2_1280.jpg (JPEG Image, 600×400 pixels) 46316b3d8f3c985addda16ba3b0714ef26c773ba.jpg (JPEG Image, 640×480 pixels) The Inspiration Grid : Design Inspiration, Illustration, Typography, Photography, Art, Architecture & More. Wire Sculptures by Gavin Worth Zimbabwean artist Gavin Worth creates amazing wire sculptures that look like freehand drawings.
From his website: "By bending black wire into something of freestanding line drawings, I create sculptures that engage the viewer by involving them in their subtle changes. When the light in the room shifts, so does the mood of the piece. A breeze might softly move an arm. The dark celebration of Gehard Demetz | Yatzer& - StumbleUpon. You have stolen my silence, 2006, © Gehard Demetz wood, 167,5x55x38 cm Courtesy Galleria Rubin, Milano Photo by Egon Dejori Gehard Demetz is a mystery artist, the only thing that we know about him is that he was born in 1972, Italy, and that he currently lives in the mountains of Selva Gardena.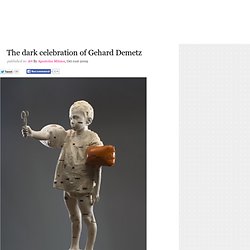 Maybe this is the only thing that matters when you set an eye on his absolutely marvelous wooden sculptures, since you forget everything you may have in your mind. Sculpture Zone. MY 100 CARDBOARDS on the Behance Network - StumbleUpon. 100 Exceptional Free Paper Models and Toys - StumbleUpon. Choi Xooang | Colossal - StumbleUpon. (click images for detail) All at once delicate and nightmarish these painted polymer clay figures by Seoul-based artist Choi Xooang are nothing short of remarkable.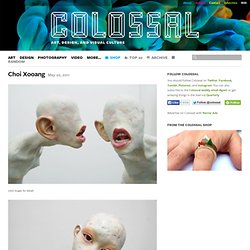 Try as I might it's hard to find a definitive, trustworthy article to source information from, and even the spelling of his name seems to change from site to site. However it seems generally accepted that Xooang is attempting to draw attention to human rights abuses in Korea, and seeing these somewhat macabre, stunted figures unable to see or speak, it's hard to dispute that. You can see much more of his work at Mu Um and Slash, though be warned it's somewhat graphic (generally nudity). Pelle Bergström. Eyevolver.
INSTALATIONS. FIGURES. PLASTIC. TIRES. CLAY/STONE. SAND. METAL. FIBRE. WOOD. PAPER. LANDSCAPE. 3D Paintings. Sculptures Popping Out of Paintings. Oh, to have been in Tokyo in June!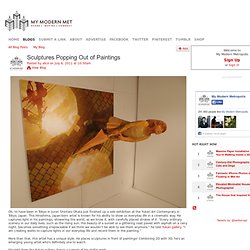 Shintaro Ohata just finished up a solo exhibition at the Yukari Art Contemprary in Tokyo, Japan. This Hiroshima, Japan-born artist is known for his ability to show us everyday life in a cinematic way. He captures light in his paintings, showering the world, as we know it, with carefully placed strokes of it. Artist Ray Villafane carves pumpkin portraits in just two hours. By Daily Mail Reporter Updated: 15:02 GMT, 27 October 2010 It takes several months to grow the fruit but amazingly just two hours for artist Ray Villafane to sculpt these petrifyingly detailed portraits out of pumpkin.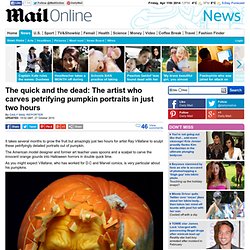 The American model designer and former art teacher uses spoons and a scalpel to carve the innocent orange gourds into Halloween horrors in double quick time. As you might expect Villafane, who has worked for D.C and Marvel comics, is very particular about his pumpkins. 10 Most Controversial Sculptures. Porno Queen This is the "Porno Queen" by Italian artist Paolo Schmidlin, a controversial sculpture of Her Majesty.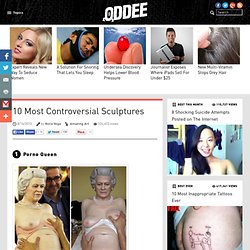 The sculpture was shown in Madrid, Spain, in 2007, in a show that was (hilariously) opened by their own reining monarch, King Juan Carlos. But The Sun's royal photographer Arthur Edwards said: "This is quite obviously the work of a lunatic. I don't see this as anything more than a cheap stunt." Miss Kitty. 'Disgusting' sculpture stays on show in Milan. 5 October 2010Last updated at 08:25 By Mark Duff BBC News, Milan The statue seems to be sending a message to the Milan stock market Milan city council has extended the display of a controversial new sculpture by Italy's most famous living artist, Maurizio Cattelan.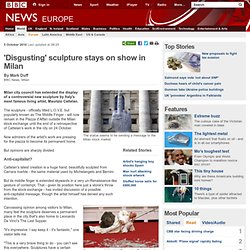 The sculpture - officially titled L.O.V.E. but popularly known as The Middle Finger - will now remain in the Piazza d'Affari outside the Milan stock exchange until the end of a retrospective of Cattelan's work in the city on 24 October. Now admirers of the artist's work are pressing for the piazza to become its permanent home. 15 of the Most Controversial Pieces of 'Art' "Art" is so loosely defined that some people are really taking advantage of pushing the limits of its definition.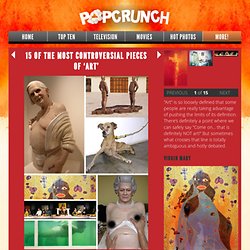 There's definitely a point where we can safely say "Come on... that is definitely NOT art! " But sometimes what crosses that line is totally ambiguous and hotly debated. Virgin Mary. 9 Really Dangerous Pieces of Art. 22 of the Coolest Sculptures You'll Ever See. Today, we've compiled an extensive list of 22 modern day sculptures that are as cool as they are freaky.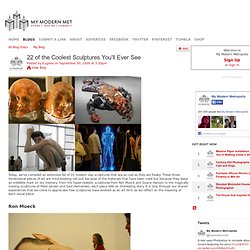 These three-dimensional pieces of art are mind-blowing not just because of the materials that have been used but because they leave an indelible mark on our memory. From the hyper-realistic sculptures from Ron Mueck and Duane Hanson to the magically moving sculptures of Peter Jansen and Saúl Hernández, each piece tells an interesting story. It is only through our shared experiences that we come to appreciate how sculptures have evolved as an art form as we reflect on the meaning of each visual piece. Ron Mueck Materials used: Mixed Media [link] Kris Kuksi. Artworks / Kris Kuksi. Greg "Craola" Simkins - "Storyteller" @... Last night at Gallery 1988 (LA), the man named Craola (Greg Simkins) once again showed there there were no limits to his imagination with another fantastic body of work that created fanciful environments for his beloved characters to play in.
Aptly entitled "Storyteller", the show reminded everyone that Greg is one of the most gifted artists out there in projecting his vision with a narrative full of detail, improvisation, and embellishment. The new collection of works, which we got a glimpse of in our studio visit, was centered around two large-scale paintings, some medium sized works, and some wonderfully detailed drawings.
---