Transport
large_.png (1065×690)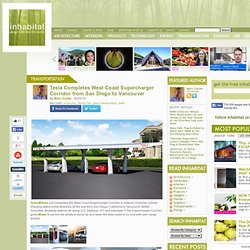 Tesla Completes the West Coast Supercharger Corridor from San Diego to Vancouver
Tesla Motors just completed the West Coast Supercharger Corridor, a network of electric vehicle charging stations that stretches all the way from San Diego, California to Vancouver, British Columbia. Boasting stations all along U.S. Highway 101 and Interstate 5, the Supercharger Corridor gives Model S owners the ability to travel up and down the west coast at no cost with zero range anxiety. With the new supercharger corridor in place, Model S customers can drive between San Diego, Los Angeles, Santa Barbara, San Francisco, Sacramento, Portland, Seattle, and Vancouver for free with minimal stops. More than 99 percent of Californians and 87 percent of Oregon and Washington owners are now within 200 miles of a Supercharger.
Ion thruster photo from NASA A team from MIT is working on developing ionic wind thrusters as an energy-efficient, low-emission alternative to conventional propulsion technologies like jet engines. The new thrusters would use ionic energy, which is created when a current passes between two electrodes. If one electrode is thinner than the other, it creates an air current in the space between them – and if a substantial voltage is applied, the device could produce powerful thrust without the need for fuel or motors.
MIT Develops Ionic Wind Thrusters As An Efficient Alternative To Jet Engines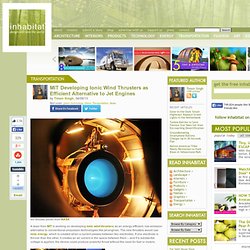 Despite Google's Self-Driving Cars, Vehicle Autonomy Remains a Distant Destination
Driving on Interstate 495 toward Boston in a Ford Fusion one chilly afternoon in March, I did something that would've made even my laid-back long-ago driving instructor spit his coffee over the dashboard: I took my hands off the steering wheel, lifted my foot off the gas pedal, and waited to see what would happen. The answer: not much. To a degree, the car was already driving itself. Sensors were busy tracking other vehicles and road markings; computer systems were operating the accelerator, the brake, and even the steering wheel. The car reduced its speed to keep a safe distance from the vehicle ahead, but as that car sped up again, mine did so too. I tried nudging the steering wheel so that we drifted toward the dotted line on my left.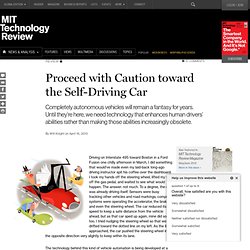 Google's Autonomous Vehicles Draw Skepticism at Legal Symposium
Traveling by air on clouds could be the way of the future
London will host Formula E electric Grand Prix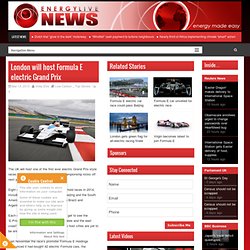 London will host Formula E electric Grand Prix Posted on 13 March 2013 by Vicky Ellis The UK will host one of the first ever electric Grand Prix-style races in London when the Formula E Championship kicks off next year. Eight cities so far have been selected to hold races in 2014, including Rome in Italy, China's capital Beijing and the South American party centres Rio De Janeiro in Brazil and Argentina's Buenos Aires.
AIR TRANSPORT / AIRSHIPS: new ways to reduce transportation costs | Mobility
Motor Trend has bestowed its coveted Car of the Year title on Tesla's Model S, making it the first car without an internal combustion engine to earn such an honor. The vehicle won out of 25 other contenders, with a total of 45 variants. All of the vehicles were put through an "extensive battery of testing" that examined just about everything you can examine on a car.
Tesla Model S named 2013 Car of the Year by Motor Trend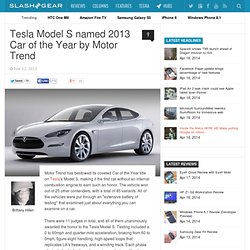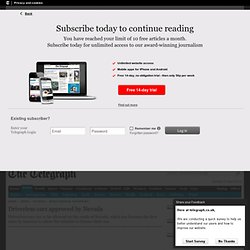 They will be held responsible for the car's behaviour.
Driverless cars approved by Nevada
Buying a Coal-Powered Car — Academic VC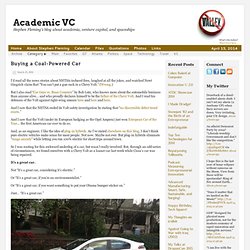 I'd read all the news stories about NHTSA-induced fires, laughed at all the jokes, and watched Newt Gingrich claim that "You can't put a gun rack in a Chevy Volt."
Semi-Autonomous Car Could be Licensed By Month's End – Video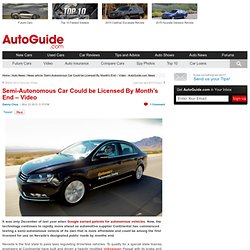 It was only December of last year when Google earned patents for autonomous vehicles.
How wireless charging could boost the electric car
New Bi-Plane Design Promises All of the Sonic, None of the Boom | Gizmodo UK
Individual mobility is increasingly defined in terms of sustainability.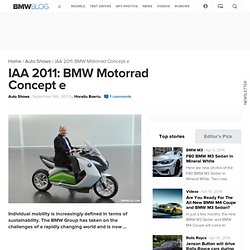 IAA 2011: BMW Motorrad Concept e
Researchers create first large-scale model of human mobility that incorporates human nature
For more than half a century, many social scientists and urban geographers interested in modeling the movement of people and goods between cities, states or countries have relied on a statistical formula called the gravity law, which measures the "attraction" between two places. Introduced in its contemporary form by linguist George Zipf in 1946, the law is based on the assumption that the number of trips between two cities is dependent on population size and the distance between the cities. (The name comes from an analogy with Newton's Law of Gravity, which describes the attraction of two objects based on mass and distance.)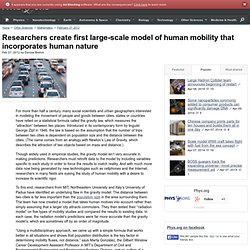 Ingenious Infographic: U.S. Highways, Mapped Like A Subway System
The graphic language of the London Underground map is so iconic that "[insert any network or process here] visualized as a London Underground map" has become a design cliché. So why are we writing about the latest iteration, a Tube-style map of U.S. interstate highways, created by Cameron Booth? Because, clichéd or not, visualizing this particular system in this way is actually damned useful.
Let the Robot Drive: The Autonomous Car of the Future Is Here | Magazine
Photo: Spencer Higgins
Honda Begins Deliveries of Battery-Powered Fit
American Honda