Dessert
I had so much fun developing this recipe.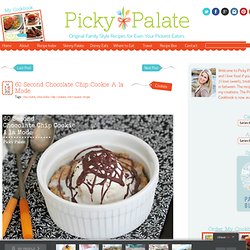 60 Second Chocolate Chip Cookie A la Mode
Molten Lava Cakes
I love these little babies. Surprisingly, this has been the first time I've ever made them myself. While preparing these Chocolate Lava Cakes I learned that they are super-fun to make. They are also surprising. That is what you find out when you dig into them. And, with the generous amount of chocolate they contain, I'm sure they are just super seductive.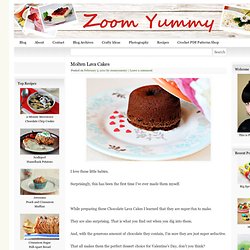 Rum Caviar tutorial
December 16, 2011 by Brooke Are you chocolate and minted out yet?!?! I hope not because this one is a doozy as well.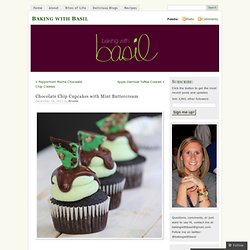 Chocolate Chip Cupcakes with Mint Buttercream « Baking with Basil
Mmm... gooey apple cinnamon deliciousness!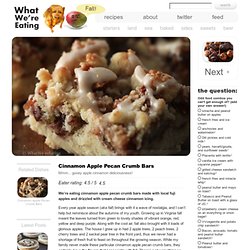 Cinnamon Apple Pecan Crumb Bars « What We're Eating – A Food & Recipe Blog
clicking pictures has never been so much fun! - clikr
December 13th, 2009 by katie
Pumpkin Pie Cheesecake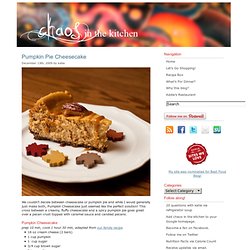 OMG! It's been awile since I made something new and especially a cake from scratch. It's also been awhile since I've raved about a dessert. This pound cake is AMAZING! Seriously...so good!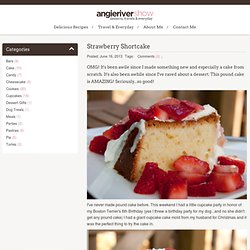 Oreo Chocolate Chip Cookie Caramel Brownies
Soooooo… you know that episode of Sex and the City where Miranda has to dump dish soap on top of chocolate cake just so she will stop eating it??
Chocolate Chip Cookie Dough Peanut Butter Cups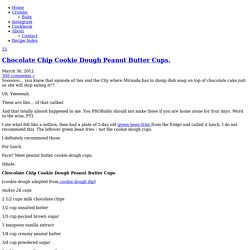 Two Peas & Their Pod » Chocolate Chip Salted Caramel Cookie Bars » Print
Saturday was a rough day. Long story, but we have been having problems with our hosting company so we decided to switch to a new company. Well, the transition didn't go too smoothly.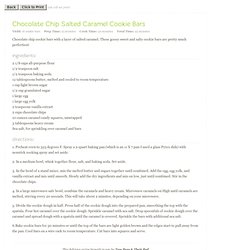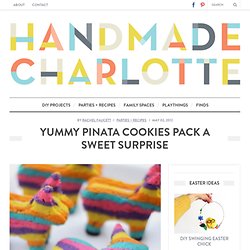 May 02 Rachel Faucett
DIY Pinata Cookies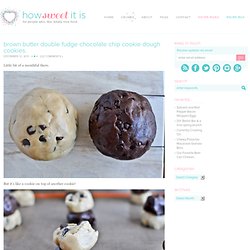 Little bit of a mouthful there. But it's like a cookie on top of another cookie! Yeah.
Brown Butter Double Fudge Chocolate Chip Cookie Dough Cookies
Cinnamon Roll Waffles
Cinnamon Roll Waffles
The Perfect Cookie Dough Truffles Recipe
Chocolate Chip Lava Cookies
I am so in love with these darn chocolate lava cookies!
Flour Child | For the love of dessert
Now I don't want to over sell this, so I'm going to be conservative and simply say, that these are... The Best Brownies In The WORLD.
Slutty Brownies
Chocolate Chip Lava Cookies
I am so in love with these darn chocolate lava cookies! What is it about a warm, gooey chocolate chip cookie stuffed with decadent, rich, melted chocolate that makes it so irresistible?? Especially when topped with vanilla ice cream.
Hot cocoa cookies
I am a teeny bit obsessed with the cookies from the most recent issue of EveryDay with Rachael Ray magazine. This recipe is the second of many cookie recipes on my list to make this holiday season. Sweets are taking over my life! Just ask my coworkers. They get my leftovers, and I think they are starting to resent the way I am forcing them to eat sinful treats. I don't think I need to tell you that these were tasty.
Kiss Pies
Stay hungry my friends.
candy — Buns In My Oven
Peanut Butter Cup Chocolate Cake Cheesecake
Whipped Frosting
oooeygooeygoodness: Mint Chocolate Bark ... - weeaboo hipster bullshit~*~*~*
Salted Chocolate
Millionaire's Shortbread
Warm Toasted Marshmallow S'more Bars
Cookies 'N Cream Oreo Fudge Brownies
Grasshopper Brownie Bars
Chocolate Chip-Peanut Butter Bars Recipe from Betty Crocker
The Brownie That Will Change Your Life
Cinnamon Toast Rolls
Nutella Cinnamon Rolls
Carrot Cake Cinnamon Rolls with Cream Cheese Glaze
Apple Cupcakes - Bake Sale Cupcakes - Cupcake - MarthaStewart.com
Easter Cupcakes Baked in Real Egg Shells
Irish Car Bomb Cupcakes Recipe
Apple Cinnamon Roll Cupcakes
Chocolate Cupcakes with Flaming Strawberries
Caramel Apple Pie Cupcakes « The Craving Chronicles
S'mores Cookies
Homemade versions of Girl Scout cookies
Mint Chocolate Chip Cookies Recipe
Best Ever Chocolate Chip Cookie Recipe
Gooey Chocolate Chip Sandwich Bars
espresso chocolate chip shortbread cookie recipe
The Infamous Jacques Torres Chocolate Chip Cookies
Candy Bar Chocolate Chip Cookie Sandwiches
A brownie by any other name…
Caramel-Filled Chocolate Cookies Recipe from Pillsbury
Deep-Dish Chocolate Chip Cookie for One
Twix Cheesecakes – Gingerbread Bagels
Chocolate Chip Cookie Dough Cheesecake
Chocolate Malted & Toasted-Marshmallow Layer Cake - Semisweetie, A geeky baking and recipe blog
Mini Oreo Cheesecakes
Recipe Detail