Virtual globe & sky...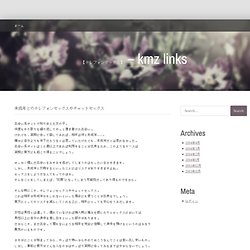 出会い系サイトで知り合えた女の子。 何度もやり取りを繰り返してやっと漕ぎ着けた出会い。 けれども、実際に会って話してみれば、相手は何と未成年……。 確かに自分よりも年下だろうなとは思っていたけれども、未成年だとは思わなかった。
Google Earth kmz links/files
Population growth rate (%) Birth rate (births/1,000 population) Death rate (deaths/1,000 population) Net migration rate (migrant(s)/1,000 population) Population Total fertility rate (children born/woman)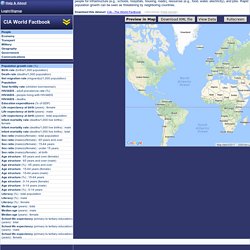 Google Earth Community - Forums powered by UBB.threads™
Archaeological Atlas Project
Earth Knowledge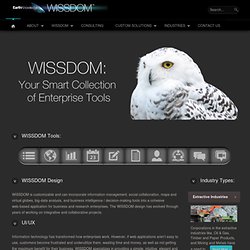 WISSDOM is customizable and can incorporate information management, social collaboration, maps and virtual globes, big-data analysis, and business intelligence / decision-making tools into a cohesive web-based application for business and research enterprises. The WISSDOM design has evolved through years of working on integrative and collaborative projects. Information technology has transformed how enterprises work. However, if web applications aren't easy to use, customers become frustrated and underutilize them, wasting time and money, as well as not getting the maximum benefit for their business. WISSDOM specializes in providing a simple, intuitive, elegant and engaging user interface and experience (UI/UX).
Immersive Cocoon
INOVE Space Models
Who has not been dazzled and intrigued when lifting his gaze to the celestial vault on a clear, dark night? The spectacle of those fleeting and distant lights racks both our eyes and our brains. Is this star farther away than that one, or is it simply less luminous?
Top Five Virtual Sky Simulators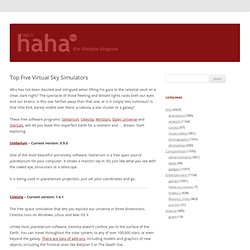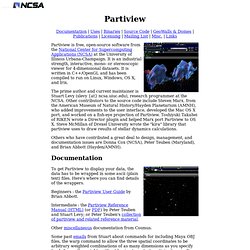 Documentation | Uses | Binaries | Source Code | GeoWalls & Domes | Publications | Licensing | Mailing List | Misc. | Links Partiview is free, open-source software from the National Center for Supercomputing Applications (NCSA) at the University of Illinois Urbana-Champaign. It is an industrial strength, interactive, mono- or stereoscopic viewer for 4-dimensional datasets.
Partiview
Other languages: features sky default catalogue of over 600,000 starsextra catalogues with more than 210 million starsasterisms and illustrations of the constellationsconstellations for 15 different culturesimages of nebulae (full Messier catalogue)realistic Milky Wayvery realistic atmosphere, sunrise and sunsetthe planets and their satellites interface a powerful zoomtime controlmultilingual interfacefisheye projection for planetarium domesspheric mirror projection for your own low-cost domeall new graphical interface and extensive keyboard controltelescope control
[March 2: Read the follow-up article, Comparing paths with the pros in Google Earth] [March 9: Read the follow-up article, Three trajectory models of the Chelyabinsk meteoroid compared] [April 5: Help scientists to more accurately calculate the trajectory. Visit www.russianmeteor2013.org to contribute videos or help with the analysis.] Like many others, I was absolutely astounded by the meteor strike over Chelyabinsk when I woke on Friday morning. One silver lining to our self-surveilling society is that an event of this magnitude is certain to get caught on the myriad of always-on dash- and webcams.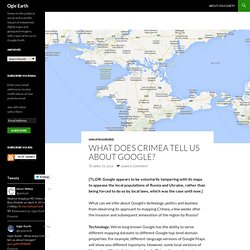 Dapple Earth Explorer: Map and View the Earth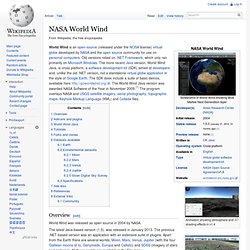 NASA World Wind
Animation showing atmosphere and shading effects in v1.4 USGS Urban Ortho-Imagery of Huntington Beach, California in older version of World Wind (1.2) A cyclone moving across the Indian Ocean (on normal cloud cover - not Rapid Fire MODIS) Washington DC, Wikipedia point layer - icons link to Wikipedia articles World Wind is an open-source (released under the NOSA license) virtual globe developed by NASA and the open source community for use on personal computers. Old versions relied on .NET Framework, which only ran primarily on Microsoft Windows.
Main Page - World Wind Wiki
goworldwind.org | All World Wind resources in one place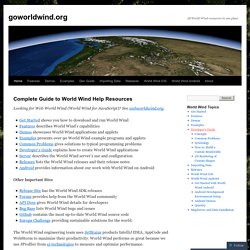 Get Started shows you how to download and run World WindFeatures describes World Wind's capabilitiesDemos showcases World Wind applications and appletsExamples presents over 90 World Wind example programs and appletsCommon Problems gives solutions to typical programming problemsDeveloper's Guide explains how to create World Wind applicationsServer describes the World Wind server's use and configurationReleases lists the World Wind releases and their release notesAndroid provides information about our work with World Wind on Android Other Important Sites Release Site has the World Wind SDK releasesForum provides help from the World Wind communityAPI Docs gives World Wind details for developersBug Base lists World Wind bugs and issuesSubversion contains the most up-to-date World Wind source code The World Wind engineering team uses JetBrains products IntelliJ IDEA and AppCode to maximize their productivity. Like this:
Nooblast Project inspired by the old days Noösphere concept. Visualization picks the real-time data from public APIs and calculates overall strength of signal (recent network buzz) for two given keywords. Some picked events have geolocation information, so they mapped on the globe in the exact points. The overall strength visualized around the globe as "noo"-cloud, the size of which reflects event streams and shaped by geotagged data, building light abstract visual structures-snapshots in space for each term. It explores abstract visual component of generated crowd sourced info streams as the visual connection attaching you to the pulse of planet.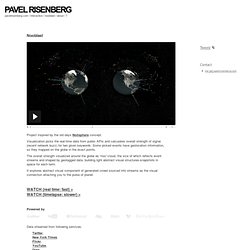 NOOBLAST | Pavel Risenberg
NOOBLAST | Pavel Risenberg
Globes virtuels, images satellites
The WebGL Globe is an open platform for geographic data visualization. We encourage you to copy the code, add your own data, and create your own. If you do create your own globe, please share it with us. We will post our favorite links below.
Visualizing geographic data with the WebGL Globe
By Doug Fritz of the Google Data Arts Team Today we're sharing a new Chrome Experiment called the WebGL Globe. It's a simple, open visualization platform for geographic data that runs in WebGL-enabled browsers like Google Chrome. The globe below shows world population, and we've created another globe showing Google search traffic. The primary challenge of this project was figuring out how to draw several thousand 3D data spikes as quickly and smoothly as possible. To do this, we turned to Three.js, a JavaScript library for building lightweight 3D graphics.
Google Search Globe | maptd
Today, Google announced the launch of a simple 3D visualization platform called the WebGL Globe. The open platform is designed to display large volumes of geographic data on top of a 3D virtual globe, inside your web browser. Google has provided a couple of examples: A visualization of a days worth of queries in Google Search. Spikes are coloured by language. Height represents the volume of queries from that location.Secondly, an interactive guide to world population density.
NASA World Wind, an open-source virtual globe with stars and advanced atmosphere & sunlight effects A virtual globe is a 3D software model or representation of the Earth or another world. A virtual globe provides the user with the ability to freely move around in the virtual environment by changing the viewing angle and position. Compared to a conventional globe, virtual globes have the additional capability of representing many different views on the surface of the Earth. These views may be of geographical features, man-made features such as roads and buildings, or abstract representations of demographic quantities such as population. On November 20, 1997, Microsoft released a popular offline virtual globe in the form of Encarta Virtual Globe 98, followed by Cosmi's 3D World Atlas in 1999.
Virtual globe
Arty and Educational Globes
Virtual Globes
Outerra