Neurology and Psychiatry
Google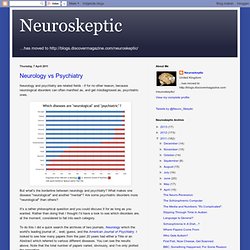 Neurology and psychiatry are related fields - if for no other reason, because neurological disorders can often manifest as, and get misdiagnosed as, psychiatric ones. But what's the borderline between neurology and psychiatry?
Neurology vs Psychiatry
Guitarist refused to let the music die - SignOnSanDiego.com
Billy McLaughlin concert When: Thursday, 7 p.m. Where: Neurosciences Institute, 10640 John Jay Hopkins Drive Cost: $25 general admission, $45 VIP More information: tickets4billy.com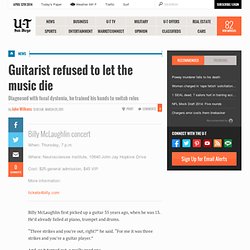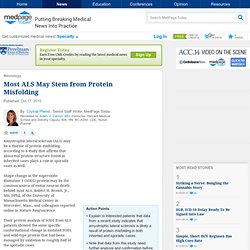 Most ALS May Stem from Protein Misfolding - in Neurology, General Neurology from MedPage Today
Amyotrophic lateral sclerosis (ALS) may be a disease of protein misfolding, according to a study that affirms that abnormal protein structure found in inherited cases plays a role in sporadic cases as well.
McLeod syndrome
McLeod syndrome (or McLeod phenomenon) is a genetic disorder that may affect the blood, brain, peripheral nerves, muscle and heart. It is caused by a variety of recessively-inherited mutations in the XK gene on the X chromosome. The gene is responsible for producing the Kx protein, a secondary supportive protein for the Kell antigen on the red blood cell surface.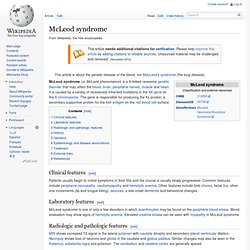 Activities - Deep Brain Stimulation Surgery
It is easy to be convinced that deep brain stimulation (DBS) works to improve Tourette syndrome. Just watch Jamie Furlonger before and after his DBS operation.
Treating Tourette Syndrome with Deep Brain Surgery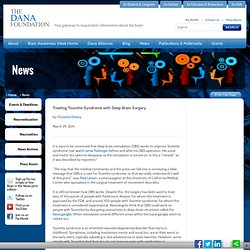 nervous system diagnostic terms flashcards
A 45 year old female teacher had a history of severe obsessive-compulsive disorder, along with other problems including ADHD. Her daughter, and many other people in her family, had suffered the same problems and in a few cases had Tourette's Syndrome.
A Stroke Of Good Fortune Cures OCD?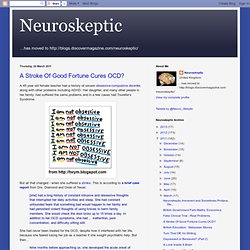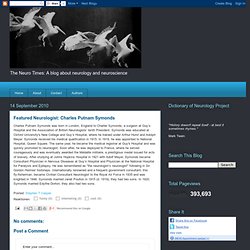 The Neuro Times: Featured Neurologist: Charles Putnam Symonds
Charles Putnam Symonds was born in London, England to Charter Symonds, a surgeon at Guy's Hospital and the Association of British Neurologists' tenth President. Symonds was educated at Oxford University's New College and Guy's Hospital, where he trained under Arthur Hurst and Adolph Meyer. Symonds received his medical qualification in 1915.
The relevance of Nash equilibrium to psychiatric d... [Theor Med Bioeth. 2011] - PubMed result
The Brain Observatory
The serotonin transporter (SERT) ensures the recapture of serotonin and is the pharmacological target of selective serotonin reuptake inhibitor (SSRI) antidepressants.
MiR-16 Targets the Serotonin Transporter: A New Facet for Adaptive Responses to Antidepressants -- Baudry et al. 329 (5998): 1537 -- Science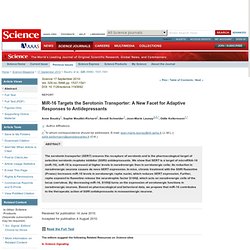 Some people are night owls, and others are morning larks.
Why Night Owls Are More Intelligent than Morning Larks