More on drones in general
It is difficult to describe a drone strike accurately.
OB298 — A Preliminary Atlas of Drone Strike Landscapes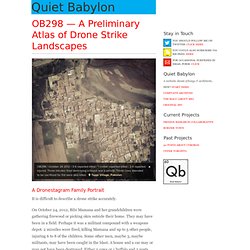 It is understood that the Metropolitan Police has taken part in discussions with the Civil Aviation Authority over whether they can use small radio controlled devices in heavily built-up areas, as part of efforts to increase their number of "eyes in the sky". Next year's Olympics will be the largest security operation the Met has ever had to run, as tens of thousands of athletes and millions of spectators flock to the games in Stratford. The force's Air Support Unit already has three Eurocopter EC145 helicopters based at Lippitts Hill in Loughton, Essex. The aircraft are fitted with an array of high definition cameras and thermal imaging equipment, but officers believe small drones will give them the extra capacity to monitor multiple major events if needed. The use of surveillance drones by Britain's police forces has had mixed results.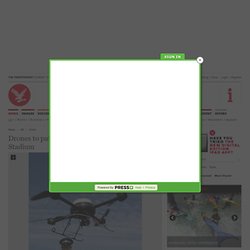 Drones to patrol the skies above Olympic Stadium - Crime - UK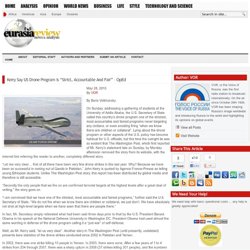 Kerry Say US Drone Program Is "Strict, Accountable And Fair" - OpEd Eurasia Review
May 28, 2013
Drones Watch
Over half of Air Force UPT (undergraduate pilot training) grads are now assigned to pilot drones rather than a real aircraft.* The big question is why are drone pilots, guys that fly robots remotely from a computer terminal, going to a very expensive year of pilot training? I can understand why the Air Force has chosen to send drone jockeys to pilot training: A shift to piloting drones rather than real aircraft is an assault on organizational culture of the Air Force. In the Air Force, pilots do the fighting and as a result take most of the leadership positions. A transition to robotics upends that arrangement, and is why the USAF has strenuously resisted taking control of the drone mission until recently.
The Future of Drone Warfare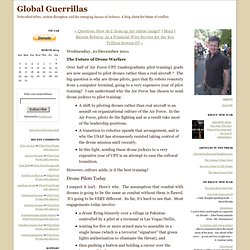 Ryan Calo: Ten Myths About Drones
Unmanned aerial vehicles ("UAVs"), often called "drones," are coming to American skies. In February, President Obama signed a law that requires the Federal Aviation Administration to pave the way for public agencies and, eventually, private companies, to fly drones within the United States. The proliferation of domestic drones has been preceded by a proliferation of news stories about the technology -- and of some misconceptions regarding what drones are, and how they might be used.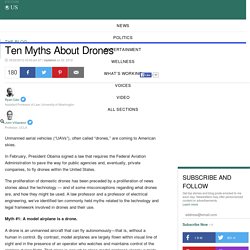 Companies seeking to enable the routine use of surveillance drones across Britain are planning a long-term public relations effort to counter the negative image of the controversial aircraft. The Unmanned Aerial Vehicle Systems Association (UAVSA), a trade group that represents the drone industry to the UK government, has recommended drones deployed in Britain should be shown to "benefit mankind in general", be decorated with humanitarian-related advertisements, and be painted bright colours to distance them from those used in warzones, details from a UAVSA presentation show. Plans are also under way to establish corridors of segregated airspace to fly drones – or UAVs – between restricted "danger zones" (airspace where test flights take place) in isolated parts of England and Wales.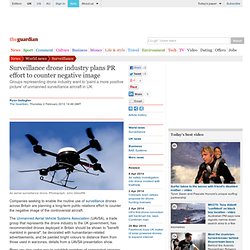 Surveillance drone industry plans PR effort to counter negative image | UK news
The Drone Threat to National Security
Technology::Features::November 11, 2011:: ::Email::Print Continued advances in unmanned aerial vehicle technology have profound implications regarding the nature of modern warfare By John Villasenor WASP III drone Image: Courtesy AeroVironment, Inc.
Editor's note: This is the second of a two-part series on security and privacy during the age of drone warfare.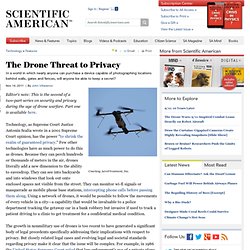 The Drone Threat to Privacy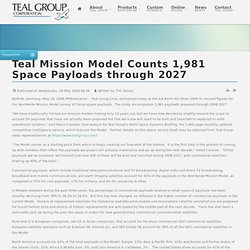 Teal Group Predicts Worldwide UAV Market Will Total Just Over $94 Billion
Details Published on Wednesday, 28 May 2008 08:38 Written by Tim Storey BERLIN, Germany, May 28, 2008 /PRNewswire/ -- Teal Group Corp. announced today at the ILA Berlin Air Show 2008 its revised figures for the Worldwide Mission Model survey of future space payloads. The study encompasses 1,981 payloads proposed through 2008-2027.
Air Force creates fly-sized drones
Ultimate Mashup: NASA's Predator UAV and Google Earth Join Forces to Fight Fires in California - Telstar Logistics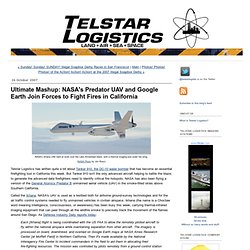 NASA's Ikhana UAV hard at work over the Lake Arrowhead blaze, with a thermal imaging pod under the wing.(NASA Photo by Jim Ross) Telstar Logistics has written quite a bit about Tanker 910, the DC-10 water bomber that has become an essential firefighting tool in California this week.
Little is known about the actual abilities of the WJ-600 drone or the more than two dozen other Chinese models that were on display at Zhuhai in November. But the speed at which they have been developed highlights how U.S. military successes with drones have changed strategic thinking worldwide and spurred a global rush for unmanned aircraft. More than 50 countries have purchased surveillance drones, and many have started in-country development programs for armed versions because no nation is exporting weaponized drones beyond a handful of sales between the United States and its closest allies. "This is the direction all aviation is going," said Kenneth Anderson, a professor of law at American University who studies the legal questions surrounding the use of drones in warfare. "Everybody will wind up using this technology because it's going to become the standard for many, many applications of what are now manned aircraft."
Global race on to match U.S. drone capabilities
Perhaps the idea of spy drones already makes your nervous. Maybe you're uncomfortable with the notion of an unblinking, robotic eye in the sky that can watch your every move. If so, you may want to click away now. Because if the Army has its way, drones won't just be able to look at what you do.
Army Tracking Plan: Drones That Never Forget a Face | Danger Room
$230,000 For a Guard Dog: Why the Wealthy Are Afraid Of Violence From Below
July 29, 2011 | Like this article? Join our email list: Stay up to date with the latest headlines via email. "Violence in the streets, aimed at the wealthy. That's what I worry about."
Those drifting moon jellyfish at the aquarium may not seem like they have much purpose in life, but one group of researchers has been looking to make a jelly-inspired underwater robot that could go on search- and-rescue missions and survey for the military. Now the team, funded by the U.S. Office of Naval Research, has created a silicon Robojelly that uses hydrogen and oxygen for fuel as it swims, so its only "exhaust" is heat and water. They published their findings March 20 in the journal Smart Materials and Structures. Robojelly's muscles are made of a shape-memory alloy, a metal invented by NASA that "remembers" its original shape.
The Military Is About To Start Using Robotic Jellyfish For 'Surveying'
Personal recreation drones being developed
By Daily Mail Reporter UPDATED: 13:13 GMT, 8 November 2010 They could put your mind at ease - or do very much the opposite. A new arms race is on and it could change everything from the way we parent to how we get our celebrity gossip. For the technology currently being used by the CIA to ferret out terrorist leaders in the hills of Pakistan is set to arrive in a neighbourhood near you - and there's nowhere to hide. Coming to a sky near you? A remote CCTV camera drone circles in the sky during a political rally in Britain last year.
Hackers Build Cheap Spy Drone that Rivals CIA Predator
ElectriFly VFO EP ARF - Setup Techniques & Flying Tips
Aeryon Scout UAV in use with the Libyan Rebels
Aerial Vehicle Systems