Mac - Utilities
iStat Pro, a Dashboard Widget by iSlayer. iStat Pro is a highly configurable widget that lets you monitor every aspect of your Mac, including CPU, memory, disks, network, battery, temperatures, fans, load & uptime and processes. iStat Pro can do it all.
Drag and drop reordering Reordering the various sections in iStat Pro is as easy a quick click and drag. AppZapper - The uninstaller Apple forgot. Capture Me - Screen Capture Software for Mac OS X. Screen Capture and Recording for Mac OS X Capture Me is a flexible screen capture and recording utility for Mac OS X which features a floating capture window, several saving options, and resize ability.
To use the program, drag and resize the floating window to cover the area you want to capture. Then click in the window to capture the screenshot. Dropzone. Dropbox - Home - Online backup, file sync and sharing made easy. Droplr. GnuCash. Growl. HyperDock.
SimpleCap - Screenshot Utility for MacOSX. Mac Audio Editing Software Review 2012 - TopTenREVIEWS. The world of audio recording and editing, until recently, was relatively inaccessible.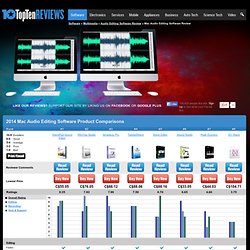 To make an audio project you needed expensive equipment and the know-how to record and edit tape. These tools and knowledge were restricted to dusty recording studios and radio stations. Thanks to the digital revolution, we now have access to the same tools the professionals use. Mac App Store Utilities / Intego. Skype. Vous pouvez faire tant de choses avec Skype : raconter une histoire pour s'endormir, tenir une réunion ou prendre un cours de langue… Voici quelques-uns des avantages dont vous pouvez bénéficier : appels gratuits entre utilisateurs Skypeappels économiques vers des lignes fixes et mobiles, et SMS à tarif avantageuxappels vidéo sur Skype et Facebookmessagerie instantanée avec votre famille, vos amis et vos collèguesenvoi de messages véritablement différents avec la messagerie vidéo.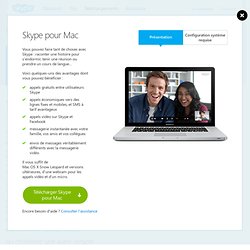 SwiftRing. SwiftRing for Mac Combines Gestures and Keyboard Shortcuts. SwiftRing is a new app for OS X that's still in beta and available as a free download here.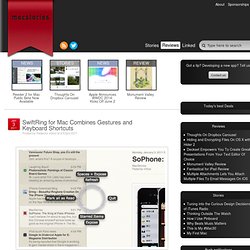 It's also one of the new apps for the Mac I'm most excited about, as I believe it shows great room for improvement, it's promising and it combines two of my favorite things about the Mac platform: gestures and keyboard shortcuts. I love to get things done with the keyboard, especially when I'm in a hurry and shortcuts come in handy to save precious time. Task Coach. TrashMe. UnRarX - Mac OS X RAR Extraction Utility. The Unarchiver. Do you want to browse the contents of archives, rather than just extracting them?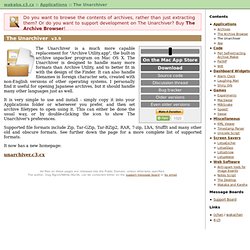 Or do you want to support development on The Unarchiver? Buy The Archive Browser! The Unarchiver is a much more capable replacement for "Archive Utility.app", the built-in archive unpacker program on Mac OS X.
---