English for Real Estate Agents
Street Name Generator-Mozilla Firefox
Agreement -Free Download - Legal Resources - Deeds, Sample Drafts and Forms-Mozilla Firefox
Legal Topics > Real Estate & Rental Property > Real Estate More About This Topic More Legal Topics Related Ads
Real Estate, Landlords, Rental Property Management & Tenants - Free Law Resources - Nolo-Mozilla Firefox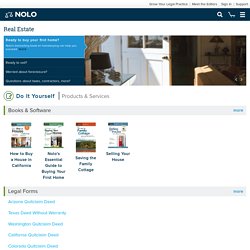 List of Real Estate Terms-Mozilla Firefox
Free Legal Forms & Contracts - Philippines-Mozilla Firefox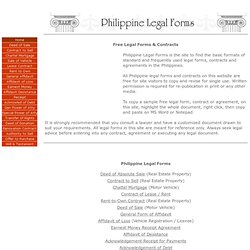 Philippine Legal Forms is the site to find the basic formats of standard and frequently used legal forms, contracts and agreements in the Philippines. All Philippine legal forms and contracts on this website are free for site visitors to copy and revise for single use. Written permission is required for re-publication in print or any other media. To copy a sample free legal form, contract or agreement, on this site, highlight the whole document, right click, then copy and paste on MS Word or Notepad.
Real Estate Glossary-Mozilla Firefox
a | Real Estate Words-Mozilla Firefox
Author Profile: John W. Reilly, DREI, is a member of the New York, California, Hawaii, and Federal bar, and is a licensed real estate broker in Hawaii and California. He has been an adjunct professor of real estate law and an instructor for both salesperson and broker classes.
The language of real estate - Google Llibres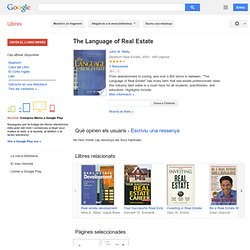 Real Estate Ad-Writing Tools
English people often talk about their homes: their mortgages, the interest rates, and rising property prices. Here's a guide to some of the English words and phrases you might come across. Your dream home It's a good idea in the UK to arrange a mortgage with a bank before you start looking. This is when the bank tells you how much money they will lend you so you have a good idea of how much you can afford. The next step is to go to an estate agent (= a company which represents buyers and sellers of properties) to see what sort of properties they have available in your budget range and in your area.
English Vocabulary: Buying a House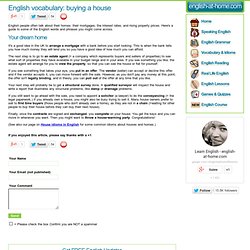 esl worksheet - real estate agent
Free Practice :: Day to Day :: ESL Exercise: Real Estate Collocations
Real Estate: Collocations home inspectionlisting pricebidding warsupgrade the housedownsizesale valueopen housereal estate agentcommercial propertiesresidential properties 1.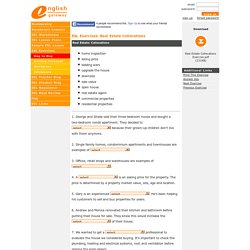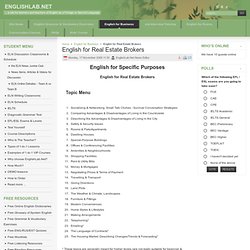 Monday, 17 November 2008 11:30 EnglishLab.Net News Editor English for Real Estate Brokers Socializing & Networking, Small Talk Cliches - Survival Conversation StrategiesComparing Advantages & Disadvantages of Living in the CountrysideDescribing the Advantages & Disadvantages of Living in the CitySafety & Security IssuesRooms & Flats/Apartments Dwelling HousesSpecial-Purpose BuildingsOffices & Conferencing FacilitiesAmenities & NeighbourhoodsShopping FacilitiesRent & Utility BillsMoney & MortgagesNegotiating Prices & Terms of Payment Travelling & TransportGiving DirectionsLand PlotsThe Weather & Climate, LandscapesFurniture & FittingsModern ConveniencesHome Styles & LifestylesMaking ArrangementsTelephoning*Emailing*The Language of Contracts*The Housing Market: Describing Changes/Trends & Forecasting** These topics are generally meant for higher levels (are not really suitable for beginner & elementary students) and/or are taught as separate courses with a number of subtopics
English for Real Estate Brokers
Free ESL Special Topic English Lesson - Finding a Real Estate Agent
spanish-english glossary real estate
Real Estate Terms, Definitions and Dictionary In Plain English
Proper English Usage for Real Estate Agents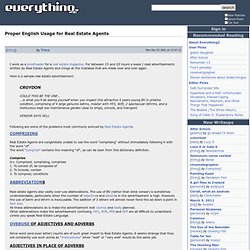 I work as a proofreader for a real estatemagazine. For between 15 and 20 hours a week I read advertisements written by Real Estate Agents and cringe at the mistakes that are made over and over again. Here is a sample real estate advertisement: CROYDON COULD THIS BE THE ONE... ...is what you'll be asking yourself when you inspect this attractive 4 years young BV in pristine condition, comprising of 4 large genuine bdrms, master with FES, WIR, 2 spectacular bthrms, and a meticulous kept low maintenance garden close to shops, schools, and transport.VENDOR SAYS SELL Following are some of the problems most commonly evinced by Real Estate Agents: Real Estate Agents are congenitally unable to use the word "comprising" without immediately following it with the word "of".
Visual vocabulary matching - Real estate related words/expressions 1
English for real estate agents 2 - Real estate related vocabulary training
English for real estate agents 1 - Real estate related vocabulary training