Google: privacy
Google encrypts data amid backlash against NSA spying
Google's encryption initiative, initially approved last year, was accelerated in June as the tech giant struggled to guard its reputation as a reliable steward of user information amid controversy about the NSA's PRISM program, first reported in The Washington Post and the Guardian that month.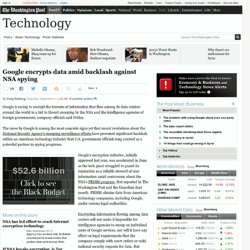 An update on our war against account hijackers
Have you ever gotten a plea to wire money to a friend stranded at an international airport? An oddly written message from someone you haven't heard from in ages? Compared to five years ago, more scams, illegal, fraudulent or spammy messages today come from someone you know. Although spam filters have become very powerful—in Gmail, less than 1 percent of spam emails make it into an inbox—these unwanted messages are much more likely to make it through if they come from someone you've been in contact with before. As a result, in 2010 spammers started changing their tactics—and we saw a large increase in fraudulent mail sent from Google Accounts. In turn, our security team has developed new ways to keep you safe, and dramatically reduced the amount of these messages.
Gmail scanning may violate federal wiretapping laws, judge finds
A U.S. federal judge allowed a class-action suit against Google to proceed, saying the company's terms of service are unclear when describing how it scans Gmail content in order to deliver advertisements. Google had filed a motion to dismiss the suit, which alleges that the company intercepted and read email while in transit in order to deliver advertisements and create user profiles and models since 2008.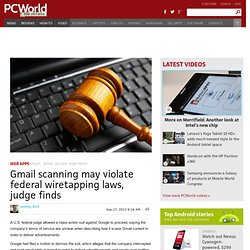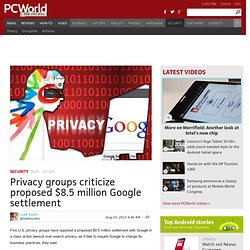 Five U.S. privacy groups have opposed a proposed $8.5 million settlement with Google in a class action lawsuit over search privacy, as it fails to require Google to change its business practices, they said. Google was sued in October 2010 in the U.S. District Court for the Northern District of California.
Privacy groups criticize proposed $8.5 million Google settlement
Google Glass: is it a threat to our privacy? | Technology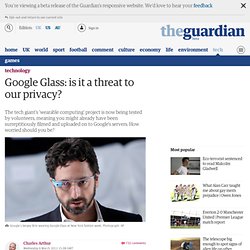 If you haven't heard about the excitement around Google Glass – the head-mounted glasses that can shoot video, take pictures, and broadcast what you're seeing to the world – then here's an idea of the interest in them. Last week, someone claiming to be testing Glass for Google auctioned their $1,500 (£995) device on eBay.
Google Transparency Report
User Data Requests – Google Transparency Report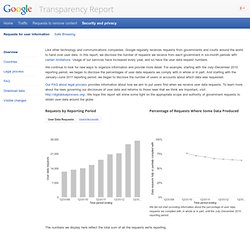 Like other technology and communications companies, Google regularly receives requests from governments and courts around the world to hand over user data. In this report, we disclose the number of requests we receive from each government in six-month periods with certain limitations. Usage of our services have increased every year, and so have the user data request numbers. We continue to look for new ways to organize information and provide more detail.
U.S. Government Requests For Google Users' Private Data Jump 37% In One Year
Want More Privacy? Sign Out Of Gmail, Facebook and Twitter After Use
After a steady stream of angry blog posts and heated debate among its own users over the value of pseudonymity on the web, Google announced Monday that it was revising its "real name" policy, at least for display, on Google+. In a post on Google+, Google VP Bradley Horowitz promised greater transparency, particularly in suspension of user profiles. The new algorithm — human as well as computational — offers users a chance to correct their profiles before suspension. In the past week, most banned profiles simply disappeared without warning.
Google+ Identity Crisis: What's at Stake With Real Names and Privacy | Epicenter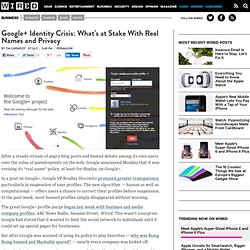 Google+ and Privacy: A Roundup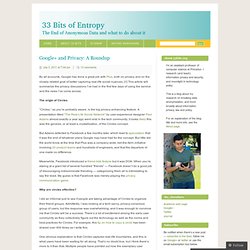 July 3, 2011 at 7:04 pm By all accounts, Google has done a great job with Plus, both on privacy and on the closely related goal of better capturing real-life social nuances. [1] This article will summarize the privacy discussions I've had in the first few days of using the service and the news I've come across. The origin of Circles "Circles," as you're probably aware, is the big privacy-enhancing feature. A presentation titled "The Real-Life Social Network" by user-experience designer Paul Adams almost exactly a year ago went viral in the tech community; it looks likely this was the genesis, or at least a crystallization, of the Circles concept. But Adams defected to Facebook a few months later, which lead to speculation that it was the end of whatever plans Google may have had for the concept.
My Name Is Me | be yourself online | Rights & Liberties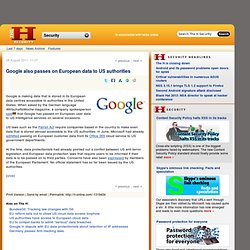 Google is making data that is stored in its European data centres accessible to authorities in the United States. When asked by the German language WirtschaftsWoche magazine, a company spokesperson said that Google has passed on European user data to US intelligence services on several occasions. US laws such as the Patriot Act require companies based in the country to make even data that is stored abroad accessible to the US authorities.
Google also passes on European data to US authorities