Infographics - Apple
Just How BIG Is Apple? Watch out New York!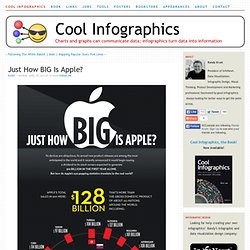 There's a new Big Apple in town! The Just How BIG Is Apple? Breaking Down Apple's Billions. It's no secret Apple, one of the most valuable public companies in the world, is making major cash off today's tech gadgets — but how much?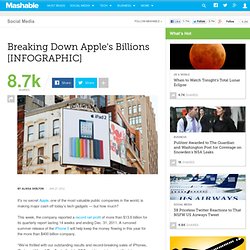 This week, the company reported a record net profit of more than $13.6 billion for its quarterly report lasting 14 weeks and ending Dec. 31, 2011. A rumored summer release of the iPhone 5 will help keep the money flowing in this year for the more than $400 billion company. "We're thrilled with our outstanding results and record-breaking sales of iPhones, iPads and Macs," Tim Cook, Apple's CEO, said in a statement. "Apple's momentum is incredibly strong, and we have some amazing new products in the pipeline." Cook alone raked in $378 million last year, naming him the highest-paid CEO. Infographic: Eight Gigantic Things That Are Smaller Than Apple. iPad buyers are exactly who you think they are, but with pets (infographic) Although the $199 Kindle Fire hybrid e-reader and tablet has captured a lot of consumer attention in the last few weeks, Apple's iPad is still the most popular and desired tablet device across the board, especially with kids.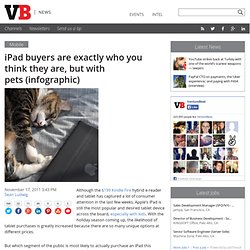 With the holiday season coming up, the likelihood of tablet purchases is greatly increased because there are so many unique options at different prices. But which segment of the public is most likely to actually purchase an iPad this holiday? Apple is Ridiculously Valuable [INFOGRAPHIC] Hard to believe, but Steve Jobs resigned from Apple almost exactly a year ago and died just a little over a month later.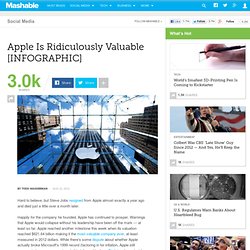 Happily for the company he founded, Apple has continued to prosper. Warnings that Apple would collapse without his leadership have been off the mark — at least so far. Apple reached another milestone this week when its valuation reached $621.64 billion making it the most-valuable company ever, at least measured in 2012 dollars. While there's some dispute about whether Apple actually broke Microsoft's 1999 record (factoring in for inflation, Apple still appears to have some way to go), this infographic, from Statista, shows just how dominant Apple is today. L'infographie des « One more thing » de Steve Jobs.
"Steve Jobs est mort, vive Steve Jobs".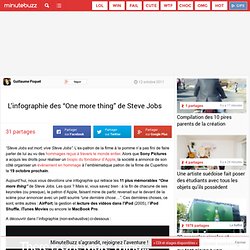 L'ex-patron de la firme à la pomme n'a pas fini de faire parler de lui au vu des hommages reçus à travers le monde entier. Alors que Sony Pictures a acquis les droits pour réaliser un biopic du fondateur d'Apple, la société a annoncé de son côté organiser un évènement en hommage à l'emblématique patron de la firme de Cupertino le 19 octobre prochain. Aujourd'hui, nous vous dévoilons une infographie qui retrace les 11 plus mémorables "One more thing" de Steve Jobs. Twitter Analysis: Massive Global Mourning For Steve Jobs (Infographic) | Epicenter  In the hours after Steve Jobs' passing, researchers at the New England Complex Systems Institute tried to track the spread of memorial tweets spreading through the internet.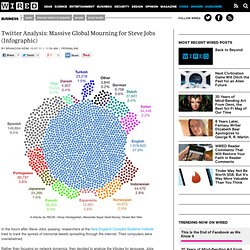 Their computers were overwhelmed. Rather than focusing on network dynamics, they decided to analyze the tributes by language. Jobs wasn't just an American visionary, but truly global. Above is a breakdown of two million tweets containing the name "Steve Jobs" and posted between 9 pm on Oct. 5 and 9 am the next morning. Each dot represents 1,000 tweets, and they're colored according to language. How Twitter Reacted to the iPhone 4S Announcement [INFOGRAPHIC] History of Apple Inc. Infographic: An ode to Steve Jobs — Apple News, Tips and Reviews. Apple Product Design: 35 Years of Consumer Electronics [INFOGRAPHIC] When it comes to industrial design, few consumer electronics or computer makers have the legacy or influence of Apple, Inc.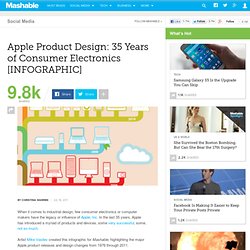 In the last 35 years, Apple has introduced a myriad of products and devices, some very successful, some, not so much. Artist Mike Vasilev created this infographic for Mashable, highlighting the major Apple product releases and design changes from 1976 through 2011. With rumors of the iPhone 5, iPhone 6 and a smaller, lower-cost iPhone all spreading through the technosphere, we feel certain that at least one more item will be added to the "redesign" list before 2011 closes out.
What is your favorite Apple design of all time? Let us know in the comments. Happy 4th Anniversary, iPhone [INFOGRAPHIC] Four years ago today, Apple released the original iPhone.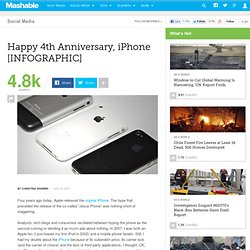 The hype that preceded the release of the so-called "Jesus Phone" was nothing short of staggering. Analysts, tech blogs and consumers oscillated between hyping the phone as the second-coming or deriding it as much-ado about nothing. In 2007, I was both an Apple fan (I purchased my first iPod in 2002) and a mobile phone fanatic. Still, I had my doubts about the iPhone because of its outlandish price, its carrier lock (and the carrier of choice) and the lack of third-party applications. I thought, OK, the iPhone will probably sell pretty well, but it's not going to change the mobile phone industry. Apple's 500,000 Approved iOS Apps by the Numbers [INFOGRAPHIC]
Add another big figure to Apple's list of accomplishments in the world of smartphones and tablets: the company has approved half a million apps for its mobile platform iOS.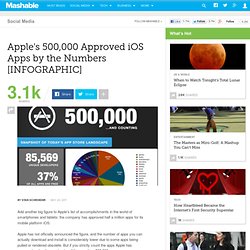 Apple has not officially announced the figure, and the number of apps you can actually download and install is considerably lower due to some apps being pulled or rendered obsolete. But if you strictly count the apps Apple has approved so far, the number is a little more than 500,000. To honor the occasion, three companies specializing in iOS apps - game-maker Chillingo, app search engine Chomp and app blog 148apps - have created an infographic highlighting some of the most interesting figures related to the vast ecosystem of iOS apps. According to their data, there are 85,569 unique app developers; the most popular iOS app is Angry Birds, and 37% of iOS apps are free, while another 29% of all apps cost only $0.99. How Are Mac & PC People Different? [INFOGRAPHIC] In an infographic that's bound to cause arguments and perhaps fistfights, researchers at Hunch placed data from about 700,000 of its website visitors onto a deep illustration that shows just how different users of Macs and PCs are.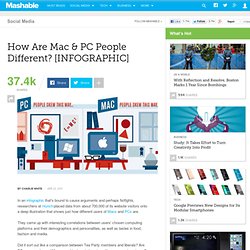 They came up with interesting correlations between users' chosen computing platforms and their demographics and personalities, as well as tastes in food, fashion and media. Did it sort out like a comparison between Tea Party members and liberals? Are PC users geeks and Mac users hipsters, in keeping with common stereotypes? Almost. Mac users are more educated, eat more hummus, prefer modern art over impressionist art, and are 21% more likely than PC users to say that two random people are more alike than different.
How The iPhone Became The World's Most Popular Camera [Infographic] As the saying goes: the best camera is the one you have with you. Mobile phones have gotten smaller but the camera quality in modern handsets has dramatically increased. Sony Ericsson, HTC and Samsung all produce good quality shots but it seems consumers just can't get enough of the iPhone, for it is the world's number one camera. The guys over at Geekaphone have charted the rise of the iPhone to become the world's most popular camera in this neat infographic, some of the stats might surprise you. (Click for bigger). Comprehensive iPhone 5 Rumor Roundup [Infographic] iPhone 5 rumors. The Seven Types of Iphone Owners. Filed under: Technology Infographics | No Comments » What a fun and creative graphic we have here!
This infographic , created by allareacodes.com , provides a humorous look at the seven main types of iphone owners. So, who are they? This well-polished graphic breaks it down for you: The Fanboy: You know what's funny? Around APPLE - le pouvoir de vente de l'iPad. Comparatif des tablettes tactiles du march?
---