Apple
iPad - See The Horrors Inside The Secret Chinese Foxconn iPad Factory
Li Yue, a 21-year-old student, waits outside a recruiting kiosk outside a plant run by Foxconn in Zhengzhou, China. She eventually would get a job with the company, but in its Taiyuan plant, a 10-hour bus ride away. (Credit: Photo illustration: James Martin/CNET)
Riots, suicides, and other issues in Foxconn's iPhone factories | Apple
▶ iPad - See The Horrors Inside The Secret Chinese Foxconn iPad Factory
NYT: Why Apple won't make iPhones in the US - Business - US business - The New York Times
Apple and Google may look similar on the surface, but the companies couldn't be any more different. That much has become clear to me after reading both the Steve Jobs biography by Walter Isaacson and Steven Levy's In the Plex. Google and Apple are technology behemoths that bucked the system, created game-changing products and are worth more than $550 billion collectively. Both companies have successful mobile phone divisions and web browsers, and both companies have a common enemy in Microsoft.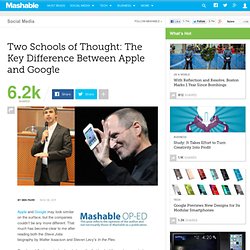 Two Schools of Thought: The Key Difference Between Apple and Google
Making Me a Mac Believer (Almost) – Learn. Teach. Engage.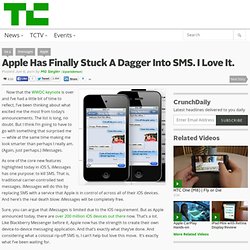 Apple Has Finally Stuck A Dagger Into SMS. I Love It.
Now that the WWDC keynote is over and I've had a little bit of time to reflect, I've been thinking about what excited me the most from today's announcements. The list is long, no doubt. But I think I'm going to have to go with something that surprised me — while at the same time making me look smarter than perhaps I really am.
7+ Services That Apple Just Challenged
Apple Sounds the PC Death Knell