Apple
Riots, suicides, and other issues in Foxconn's iPhone factories | Apple. ZHENGZHAO, Henan province, China -- If you want to understand why iPhones are made in this corner of the world, look no further than Li Yue.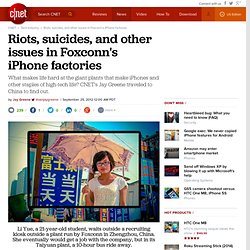 When I met the effervescent 21-year-old, she was lined up at a kiosk outside the gates of the massive assembly plant owned by Foxconn. Li, wearing a white T-shirt and blue jean shorts and carrying a pink parasol to beat the heat on a scorcher of a June day, was among a group of a dozen or so candidates applying for a job with the Taiwanese firm. Not a specific job, mind you. Any job. It's not as if Li, who just finished her first year as a student at Henan Police College, didn't have much going for her.
iPad - See The Horrors Inside The Secret Chinese Foxconn iPad Factory. NYT: Why Apple won't make iPhones in the US - Business - US business - The New York Times. Two Schools of Thought: The Key Difference Between Apple and Google. Apple and Google may look similar on the surface, but the companies couldn't be any more different.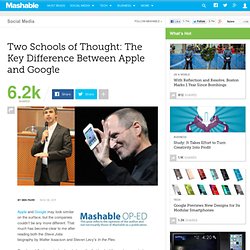 That much has become clear to me after reading both the Steve Jobs biography by Walter Isaacson and Steven Levy's In the Plex. Google and Apple are technology behemoths that bucked the system, created game-changing products and are worth more than $550 billion collectively. Both companies have successful mobile phone divisions and web browsers, and both companies have a common enemy in Microsoft.
Kindle
iPad. Making Me a Mac Believer (Almost) – Learn. Teach. Engage. The world has been taken over by Apple.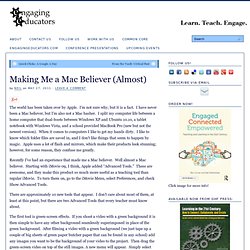 I'm not sure why, but it is a fact. I have never been a Mac believer, but I'm also not a Mac basher. Apple Has Finally Stuck A Dagger Into SMS. I Love It. Now that the WWDC keynote is over and I've had a little bit of time to reflect, I've been thinking about what excited me the most from today's announcements.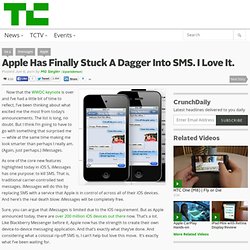 The list is long, no doubt. But I think I'm going to have to go with something that surprised me — while at the same time making me look smarter than perhaps I really am. 7+ Services That Apple Just Challenged. Apple Sounds the PC Death Knell. Justin Sullivan/Getty ImagesSteven P.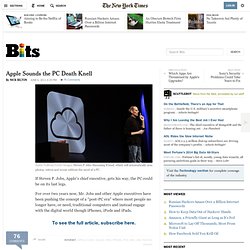 Jobs discussing iCloud, which will automatically sync photos, videos and music without the need of a PC. If Steven P.
---