Branding
New Logo for Serpentine Galleries by Pentagram. About (Est. 1970) "The Serpentine Gallery is an art gallery in Kensington Gardens, Hyde Park, central London.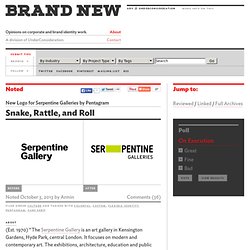 It focuses on modern and contemporary art. The exhibitions, architecture, education and public programmes attract approximately 750,000 visitors a year. [It is] housed in a classical 1934 tea pavilion, it takes its name from the nearby Serpentine Lake." (Source: Wikipedia) W FTW (for the Whitney) Established in 1930, the Whitney Museum of American Art in New York is devoted to the art of the United States presenting a "full range of twentieth-century and contemporary American art, with a special focus on works by living artists."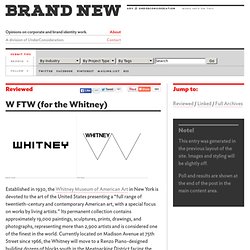 Its permanent collection contains approximately 19,000 paintings, sculptures, prints, drawings, and photographs, representing more than 2,900 artists and is considered one of the finest in the world. Currently located on Madison Avenue at 75th Street since 1966, the Whitney will move to a Renzo Piano-designed building dozens of blocks south in the Meatpacking District facing the popular High Line in 2015. In preparation for this move, the museum has introduced a new identity designed by Amsterdam-based Experimental Jetset. New Theatre on Rotation. Established in 1932, the New Theatre is a proudly independent theater in Sydney, Australia.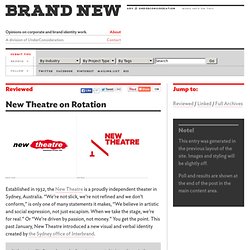 "We're not slick, we're not refined and we don't conform," is only one of many statements it makes, "We believe in artistic and social expression, not just escapism. When we take the stage, we're for real." Or "We're driven by passion, not money." 10 logos architecturaux. The Surprisingly Smart Strategy Behind London's Infamous Olympic Branding. Say what you will about London's Olympic logo--and many people have said, and are still saying, many, many things--it is nothing if not memorable.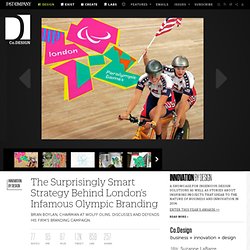 International branding consultancy Wolff Olins was no stranger to Olympic identities, having created the mark for the 2004 games in Athens. In 2006, the firm won the London logo and branding bid with their power-to-the-people style pitch, which focused on social and cultural aspects of the games and beyond in an attempt to broaden the event's reach and appeal.
When the famously staccato symbol was unveiled almost six years ago, however, the response was resoundingly critical. Why was the world, design and otherwise, so worked up? V Marks the Spot. Located in Central London, the Victoria district is a high traffic area thanks to Victoria Station, a complex that serves the Underground, railway, and buses, with more than 100 million passengers going through every year.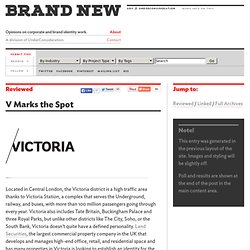 Victoria also includes Tate Britain, Buckingham Palace and three Royal Parks, but unlike other districts like The City, Soho, or the South Bank, Victoria doesn't quite have a defined personality. Land Securities, the largest commercial property company in the UK that develops and manages high-end office, retail, and residential space and has many properties in Victoria is looking to establish an identity for the district, which has been designed by London-based SomeOne. Shrewsbury's new brand campaign. Tired of being overshadowed by the better-known neighbouring towns of Hay-on-Wye and Ludlow, Shrewsbury in Shropshire is hoping a new £25,000 brand identity and campaign will help put it more clearly on the tourism map...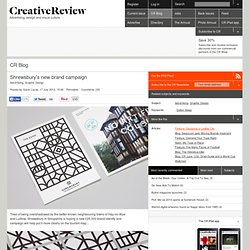 The identity and brand campaign, created by two London agencies, & Smith and We All Need Words, was commissioned by Shropshire Council on behalf of Destination Shrewsbury, with the main aim of promoting Shrewsbury as a prime location to live, work, visit and invest in. Graphically, the Shrewsbury branding is based on a large original black and white pattern which nods towards the many wood-beamed Tudor buildings in the town. Brand New Highlights. The Next Microsoft - journal - minimally minimal. A New Look for Canada. Just in time for Canada's 145th birthday (July 1 is Canada Day, in case you forgot), Studio 360 gives our northern neighbor a brand makeover.
For the last several weeks, we've been looking at the image challenge Canada has here in the United States. To get beyond hockey, beer, and Mounties, we asked the international firm Bruce Mau Design to come up with a visual rebranding. 2 | A Deft Rebranding Of Canada Tackles Its Hazy Identity Abroad. For five seasons beginning in 1987, MTV produced a goofy but smart trivia game show called "Remote Control."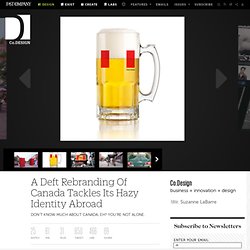 Three contestants sat in leather La-Z-Boys and answered questions under headers like "Bald Guys," "Brady Physics," and the trickiest of them all--"Dead or Canadian." Rich Little: dead or Canadian? Madefire Makesawesome. Launched earlier this June, Madefire is a new digital publishing platform for comics and graphic novels through two main features: a desktop web tool where creators can produce their stories, and an iPad that delivers the content, or "Motion Books," on steroids with animation, music, and sound effects.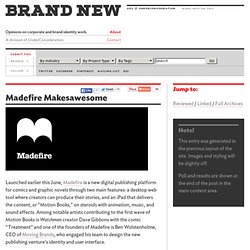 Among notable artists contributing to the first wave of Motion Books is Watchmen creator Dave Gibbons with the comic "Treatment" and one of the founders of Madefire is Ben Wolstenholme, CEO of Moving Brands, who engaged his team to design the new publishing venture's identity and user interface. The core Madefire identity assets — including fonts, colour palette and textures — pay homage to the vernacular of traditional comic visual language. "We wanted to create a powerful symbol that would be at home within the world of graphic novels. There's absolutely no room for flimsy complexity in this world. Ollo logo. Ollo is currently being soft-launched as a new telecoms brand providing high-speed internet access to emerging markets.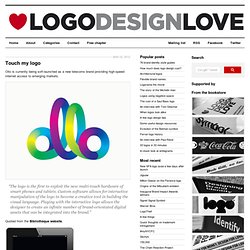 "The logo is the first to exploit the new multi-touch hardware of smart phones and tablets. Custom software allows for interactive manipulation of the logo to become a creative tool in building the visual language. Playing with the interactive logo allows the designer to create an infinite number of brand-orientated digital assets that can be integrated into the brand."
Quoted from the Bibliothèque website. More images, info, and interaction on Bibliothèque. No Hugs and Kisses for XO from this Reviewer. Established in 1996, XO Communications is a "nationwide provider of advanced communications, managed network and IT infrastructure services for business, large enterprise and wholesale customers" providing internet service, networking, cloud computing, among other services. They have more than 3,200 employees and serve 85 metropolitan markets. Earlier this month, XO Communications introduced a new identity. Mohawk Connects the Dots. Established in 1931, Mohawk, a fourth-generation family-owned business, is the largest privately owned manufacturer of fine papers and envelopes for commercial and digital printing in North America. Mohawk employs over 580 people and operates three paper machines in two mills in upstate New York and two converting facilities in New York and Ohio, with warehouses around the U.S..
Popular paper brands under Mohawk's portfolio include Superfine, Navajo, Via, Beckett, and Strathmore. Last week Mohawk announced a major reinvention of their business to "thrive in today's digital world" and today marks the launch of a snazzy new website designed by Hydrant and developed by Avatar, as well as the introduction of a new identity designed by Pentagram partner Michael Bierut and associate partner Joe Marianek. Qagoma. Established in 1895, The Queensland Art Gallery in Australia is one of the leading visual arts institutions in the country with more than 14,000 Australian and international paintings, sculptures, decorative art objects, multimedia installations, and works on paper.
In 2006, the Gallery of Modern Art was opened as a sister institution to focus on contemporary work. For a quick distinction the Gallery offers that "the historical (pre-1970) collections are displayed at the Queensland Art Gallery, while the contemporary collections (1970 onwards) are displayed at the Gallery of Modern Art." This month the "Queensland Art Gallery|Gallery of Modern Art", a mouthful, has been rebranded as QAGOMA an abbreviated abbreviation of QAG and GOMA, with a new identity by Interbrand Australia. The brand program was designed to bring the two galleries together. Les gros mots de Genève. C'est mon coup de cœur de ces dernières semaines. Une identité visuelle originale, qui ose faire tout haut ce que beaucoup ont refusé de faire tout bas.
Tandis que le Salon du Livre de Paris ouvre aujourd'hui avec un nouveau logo relativement commun (une colombe et un livre, pour info), la nouvelle identité visuelle du Salon International du Livre et de la Presse de Genève, en Suisse, est une sorte d'ovni, quelque chose qu'on ne voit que très rarement dans le domaine. Et pour cause, puisque cette identité visuelle prend au mot chaque support de communication du salon. Vous voyez ce que je veux dire ? Boom Goes the Cloud. 20 Fabulous Websites for Logo Design Inspiration. 50 Excellent Text Orianted Logo Designs. It's Okay to be the King.
45 Incredible Logo Designs #5. Ben Eine. Tourist – a creative digital and print agency, London. Addition. J Fletcher Design – Graphic Design & Art Direction – Charleston, SC » Celadon. Fruita Blanch. Accueil. A to S is the New A to Z. OCAD U, All New. Vanessa Lam. There is no "i" in Thnk. Seriously, there isn't. Eurostar. MIT Media Lab Identity. Geek chic - the johnson banks thought for the week. Antarctic Voice. Animax Branding. The People's Supermarket. Condom Campaign Highlights Dizzying Costs of Having a Kid | Co.Design. BE DANDY L'actualité des identités visuelles.
Vintage Logos. Typographic town logos in hiragana/katakana ::: Pink Tentacle. Trade marks and symbols by Stefan Kanchev. LA CÁSCARA AMARGA. Les joyeux de la couronne. Pieces of Melbourne. Aol. Generation. Next. The Abu Dhabi Brand: Rich.