City branding
Brand Management. BRANDING THE CITY. 245_Branding_of_Cities.pdf (Objet application/pdf) Simon Anholt. Keynote on Australia"s Image Simon Anholt's Keynote at the International Education Forum Simon Anholt's recent keynote speech at AIEC's International Education Forum in Sydney, Australia More > Simon Anholt.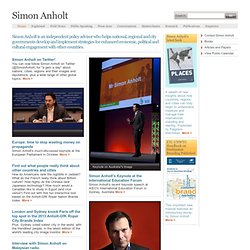 Place Branding Research - GfK Roper Public Affairs & Media. Anholt - GfK Roper City Brands Index. I love my city - Marque - City branding - e-marketing.fr. © Juan Guion/Fotolia «I love NY».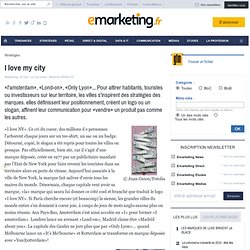 Ce cri du coeur, des millions d e personnes l'arborent chaque jours sur un tee-shirt, un sac ou un badge. Détourné, copié, le slogan a été repris pour toutes les villes ou presque. Pas officiellement, bien sûr, car il s'agit d'une marque déposée, créée en 1977 par un publicitaire mandaté par l'Etat de New York pour faire revenir les touristes dans un territoire alors en perte de vitesse. Aujourd'hui associée à la ville de New York, la marque fait saliver d'envie tous les maires du monde. I love my city - Page 2 - Marque - City branding - e-marketing.f.
I love my city - Page 3 - Marque - City branding - e-marketing.f. Placebrands - place branding, city branding, city brands, countr. City Branding - How Cities Compete in the 21st Century. Increasingly, cities and urban regions compete with other places for attention, investment, visitors, shoppers, talent, events, and the like.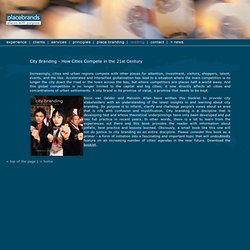 Accelerated and intensified globalisation has lead to a situation where the main competition is no longer the city down the road or the town across the bay, but where competitors are places half a world away. And this global competition is no longer limited to the capital and big cities; it now directly affects all cities and concentrations of urban settlements. A city brand is its promise of value, a promise that needs to be kept. Sicco van Gelder and Malcolm Allan have written this booklet to provide city stakeholders with an understanding of the latest insights in and learning about city branding. Its purpose is to inform, clarify and challenge people's views about an area that is rife with confusion and mystification. From city marketing to city branding: Towards a theoretical fram. Buy & download fulltext article: Abstract: Cities all over Europe include more and more marketing techniques and methods in their administration practice and governing philosophy.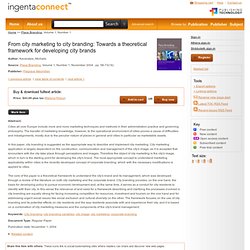 The transfer of marketing knowledge, however, to the operational environment of cities proves a cause of difficulties and misalignments, mostly due to the peculiar nature of places in general and cities in particular as marketable assets. Marketing cities and places _ Programm.pdf. Unnamed. Project: From city marketing to city branding (www.onderzoekinfo. Simon Anholt et le City Brands Index. Simon Anholt lors d'une conférence, (c) J'ai déjà eu l'occasion d'évoquer lors d'articles de ce blog plusieurs classements des marques des grandes régions mondiales (Saffron consultants, blog sur le city branding, ouvrage spécialisé) ou de décrire les stratégies de marque déployées par des villes, départements ou régions.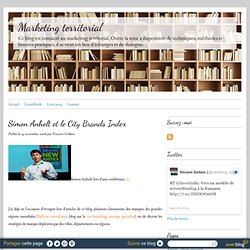 L'un des grands spécialistes internationaux est Simon Anholt qui a publié de nombreux ouvrages sur la politique de marque des pays, villes et régions. Pour lui, la marque d'une ville repose sur 6 critères fondamentaux : - The Presence : la présence internationale c'est la place que joue la région métropolitaine dans l'économie mondiale; - The Place : les qualités et inconvénients de la qualité de la vie; Unnamed. Unnamed. Page: 6019 The Hon.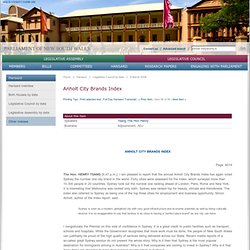 HENRY TSANG [6.47 p.m.]: I am pleased to report that the annual Anholt City Brands Index has again voted Sydney the number one city brand in the world. Forty cities were assessed for the index, which surveyed more than 10,300 people in 20 countries.
---