Ethics and Values
Exit from comment view mode.
Does Anything Matter? by Peter Singer - Project Syndicate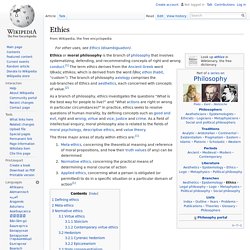 Ethics , also known as moral philosophy , is a branch of philosophy that involves systematizing, defending, and recommending concepts of right and wrong conduct . [ 1 ] The term comes from the Greek word ethos , which means "character". Ethics is a complement to Aesthetics in the philosophy field of Axiology . In philosophy, ethics studies the moral behavior in humans, and how one should act. Ethics may be divided into four major areas of study: [ 1 ]
The Best Ways to Discuss Ethics - Francesca Gino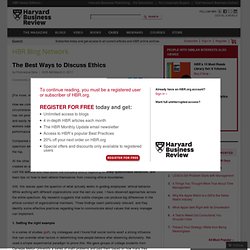 by Francesca Gino | 9:05 AM March 2, 2011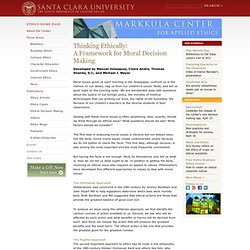 Thinking Ethically: A Framework for Moral Decision Making
Thinking Ethically: A Framework for Moral Decision Making
"Like some Triassic reptile, the theoretical view of ethics lumbers along in the far past of Sunday School and Philosophy I, while the reality of practical business concerns is constantly measuring a wide range of competing claims on time and resources against the unrelenting and objective marketplace."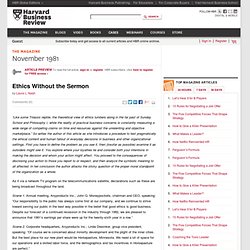 Ethics Without the Sermon
By: Matti Estola [ biography ] We study the ethics of competition in a market economy. The competition between firms and individuals within a firm in a market economy is compared with the competition between species and individuals within one species in the nature, and that between different teams, individuals within a team as well as individual athletes in sport.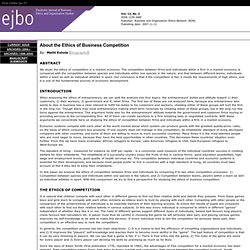 EJBO - Electronic Journal of Business Ethics and Organization Studies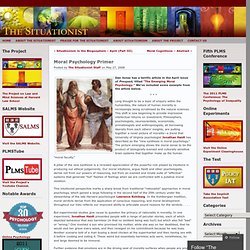 Dan Jones has a terrific article in the April issue of Prospect, titled " The Emerging Moral Psychology ." We've included some excerpts from the article below.
Moral Psychology Primer
W.C. Crain. (1985).
Kohlberg's Moral Stages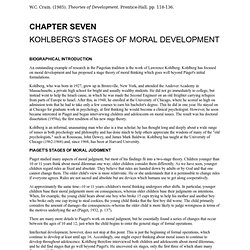 The Virtuous Life
The Virtuous Life: Justice by Brett & Kate McKay This is the eighth post in a series on living the virtuous life like Benjamin Franklin.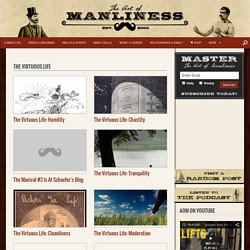 Justice: What's the Right Thing to Do? | Harvard Video Course
About Harvard University Harvard University, founded in 1636, is America's oldest Ivy League university. Located in Cambridge, Massachusetts, Harvard consists of an undergraduate program, the College, as well as 13 other graduate level schools and institutes offering top-ranked programs in fields such as Medicine, Business, and Law.
The following list of values will help you develop a clearer sense of what's most important to you in life, as explained in the article Living Your Values . Simply print out this page, mark the values which most resonate with you, and then sort your list in order of priority. As you scan the values list below, you may find that while most values have little or no significance to you (and some may even seem negative to you), there are those values that just jump out and call to you, and you feel, "Yes, this value is part of me." This values list is merely a guide.
EthicsOperationalized
Online Guide to Ethics and Moral Philosophy
This web-site is designed to give users a very general "introduction to Ethics." The materials offer both historical and thematic perspectives on the subject.
Moral relativism
Moral relativism may be any of several philosophical positions concerned with the differences in moral judgments across different people and cultures .
Morality and Ethics: An Introduction
By Stephen M. Perle, DC, MS Morality and ethics are terms often used as if they have the same meaning.
An Ethical Decision-Making Model
An Ethical Decision-Making Model (Source: Josephson Institute of Ethics.