Japan inports
CDJapan - Japanese Anime, Jpop, Japanese music, Game music, Japanese movie, CD, DVD -
Erika Toda Complete Listings
Tea Fight Japanese Movie [DVD]
Available Shipping Methods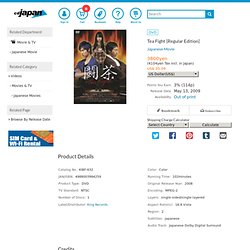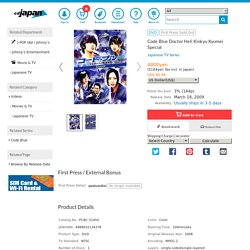 de Blue Doctor Heli Kinkyu Kyumei Special Japanese TV Series [DVD]
Available Shipping Methods
SPEC magazine ACCESS [BOOK]
Available Shipping Methods
Girls' Generation (SNSD/Shoujo Jidai) Complete Listings
Girls' Generation T-shirt "THE BOYS"
The Boys Girls' Generation (SNSD) [CD]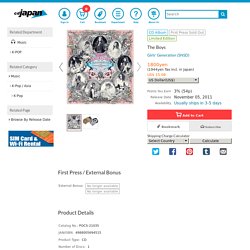 Available Shipping Methods Shipping Charge (Regular CD/DVD) You can calculate shipping charges with the Shipping Charge Calculator in Shopping Cart.
mplete Listings
You've got a friend in Japan!
Mosatsu Sticker Book
The Japanese word tohsatsu usually refers to filming women with secret cameras against their will, but in this book the kanji have been changed to mean "invisible photography," with the power of technology brought to allow us to see what the beautiful models are wearing underneath. Being able to see their private bra and panties through their clothes is really awesome, and we know you'll love it too.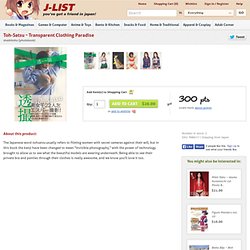 Toh-Satsu ~ Transparent Clothing Paradise
Akihabara Mousou ~ AKIBA Mousou FREE CELL
Revoltech No.071 Super Galaxy Gurren Lagann **Preorder**
Photobooks
Zettai Ryoiki ~ The Absolute Zone
Stair Girls ~ Kaidan Shojo
Pet's Eye
Pet's Eye 2
The Good Schoolgirl Days ~ Shojo Jidai
Summer School Girl ~ Natsufuku Joshi
Sweet Joshi ~ Sweet Girls
Peeping Girls Life
Kimi ni Hitomebore ~ Love At First Sight
Joseito ~ School Girl (After School)
Headphones and School Uniform -- Ongaku to Seifuku
Schoolgirl Complex
Schoolgirl Complex 2 ~ After School
The Good Schoolgirl Days 2 ~ Shojo Jidai -- Swimming Pool Biraki
Girls Touch Painting Calendar 1 ~ Nyotai Goyomi 1
Self-Photographed Cosplayer ~ Jigadori Cosplayer
Puccho x AKB48 w/ Mini Photo book Set of 3
J-List Wear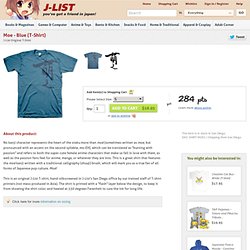 No kanji character represents the heart of the otaku more than moé (sometimes written as moe, but pronounced with an accent on the second syllable, mo-EH), which can be translated as "burning with passion" and refers to both the super-cute female anime characters that make us fall in love with them, as well as the passion fans feel for anime, manga, or whatever they are into.
Japanese T-shirt - Moe (Standard men's shirt)
Another great parody T-shirt created by Japanese illustrator Kenji Takahashi, featuring a "cheshire" version the super-cute face of the Cat Bus from Totoro.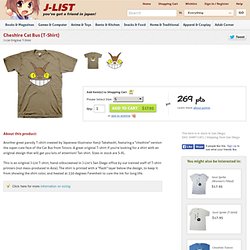 Japanese T-shirt "Cheshire Cat Bus"
Japanese T-shirt "I Love Hentai" (Standard Men's)
One of the most popular trends in female anime characters is known as zettai ryouiki which can be translated as "absolute territory," and it describes the "sweet three-centimeter space" (from the Lucky Star opening lyrics) between the top of a girl's stockings and where her skirt starts. Here's a new shirt that celebrates this little bit of perfection in every female, which reads "zettai ryoiki" in kanji, plus, "There is a three-centimeter space between the top of a girl's stockings and her skirt." Many characters are known for this wonderful feature, including Rin from Fate/stay night, Miku Hatsune, and Rise Kujikawa from Persona 4.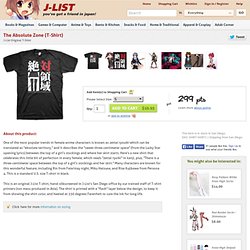 Japanese T-Shirt "The Absolute Zone"
Japanese T-Shirt "OBEY" (Code Geass Parody)
Japanese T-Shirt -- Kyubey Eyes
We love the anime Toradora! around here, with its awesome characters and fun tsundere female lead role, of course voiced by the legendary Rie Kugimiya. So we decided to do something awesome for the Year of the Tiger, designing a parody of the Hanshin Tigers logo with the design changed to Tenori Tigers (tenori = "palmtop").
Japanese T-Shirt - Tenori Tigers
Japanese T-Shirt - BIB ~ Bitches in Black
Panty and Stocking with Garterbelt is the awesome show from Gainax, an incredible parody of Power Puff Girls and Dirty Pair, with just about every joke you can think of. J-List loves the show, and here's our first homage to it -- a T-shirt featuring a "Bitches in Black" Men in Black parody.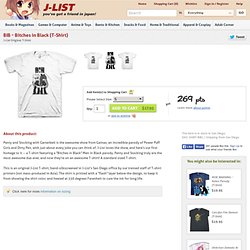 Japanese T-Shirt - "Fight The Power"