Sculptures & Figures
Saatchi Sculptures. Sebastian E. - Design Art. Hyper-realistic Sculptures are Made Entirely of Wood by Tom Eckert. Artist and Professor Tom Eckert uses traditional processes to carve these hyper-realistic sculptures of everyday objects entirely made of wood.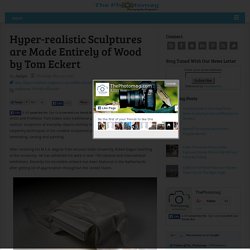 He uses plenty of carpentry techniques in his creative sculptured pieces, such as constructing, bending, laminating, carving and painting. After receiving his M.F.A. degree from Arizona State University, Eckert began teaching at the university. He has exhibited his work in over 150 national and international exhibitions. Recently his incredible artwork has been featured in the Netherlands after getting lot of appreciation throughout the United States. Shimmering Chain-link Fence Installation by Soo Sunny Park. Soo Sunny Park, Unwoven Light, 2013 / Commission, Rice University Art Gallery, Houston, Texas / Photo by Nash Baker Currently on view at Rice Gallery is this shimmering installation titled Unwoven Light by Soo Sunny Park, comprised of some 37 sections of chain-link fence embedded with translucent sections of Plexiglas.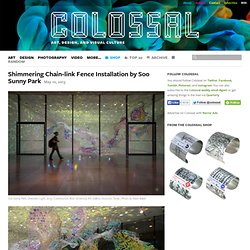 The suspended waveforms capture and reflect nearly every light source in the gallery creating a fractalized rainbow of color that changes quality depending on the time of day. Of the work Park says, "We don't notice light when looking so much as we notice the things light allows us to see. Glass Microbiology - Luke Jerram. Ceramic Objects Encrusted with Marine Life. Claire Morgan. Evan Roth: 3D graffiti sculptures. Takashi murakami at versailles. Sep 20, 2010 takashi murakami at versailles 'oval buddha' by takashi murakami, 2007-2010 (bronze and gold leaf) ©2007-2010 takashi murakami/kaikai kiki co., ltd. all rights reserved. photo: cedric delsaux – water parterre / château de versailles the château de versailles is the location of the latest exhibition by japanese artist takashi murakami. the show is titled 'murakami versailles' and features a number of manga-inspired sculptures displayed both indoors and out at the historic french palace. of the 22 works on display, 11 were created specifically for this show. all the murakami works sit within the context of the palace, often contrasting sharply with the period décor and complimenting it at other times. the show will run from now till december 12th as part of the regular versailles admission.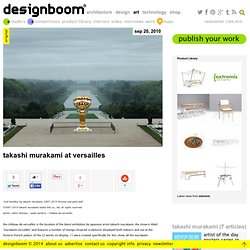 Randall Rosenthal woodworked sculptures. A skill like woodworking takes years and thousands of hours to become more than just a proficient at, but this man invested that time to be a certifiable master.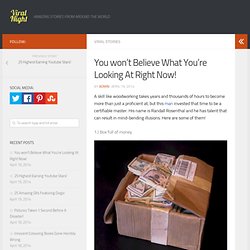 His name is Randall Rosenthal and he has talent that can result in mind-bending illusions. Here are some of them! Zheng Chunhui's sculputre 4 years in the making. China has a long tradition of wooden sculptures.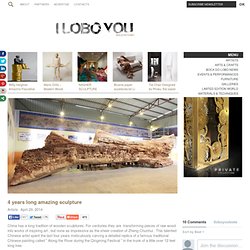 For centuries they are transforming pieces of raw wood into works of inspiring art , but none as impressive as the sheer creation of Zheng Chunhui . This talented Chinese artist spent the last four years meticulously carving a detailed replica of a famous traditional Chinese painting called " Along the River during the Qingming Festival " in the trunk of a little over 12 feet long tree. See more art and design pieces here: PICCADILLY The breathtaking beauty of his work simply can't be expressed in words, you must see for yourself .
'Modesty' - Antonio Corradini (1751) Michael Sporn Animation. Anamorphic Sculptures. London-based artist Jonty Hurwitz creates 'Anamorphic Sculptures' which only reveal themselves once facing a reflective cylinder.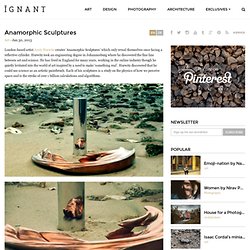 Hurwitz took an engineering degree in Johannesburg where he discovered the fine line between art and science. He has lived in England for many years, working in the online industry though he quietly levitated into the world of art inspired by a need to make 'something real'. Hurwitz discovered that he could use science as an artistic paintbrush.
Designing the Perfect Anti-Object. Behold the Camden Bench.
This pale, amorphous lump of sculpted concrete is designed to resist almost everything in a city that it might come into contact with. Named for the London authority that commissioned it, the Camden Bench has a special coating which makes it impervious to graffiti and vandalism. The squat, featureless surface gives drug dealers nowhere to hide their secret caches. The angled sides repel skateboarders and flyposters, litter and rain. The cambered top throws off rough sleepers. Serge salat: beyond infinity immersive installation. Sep 16, 2011 serge salat: beyond infinity immersive installation 'beyond infinity', an immersive installation by french artist and theorist serge salat 'beyond infinity', a multisensory installation by french artist and theorist serge salat, interweaves mirrors, light, music, and fractal art in an architecture that conflates visitors' perceptions of space. sponsored by buick cars and usable during the events as a vehicle showroom, the work is installed at shanghai's westgate mall from september 16th through 18th, 2011. measuring 12.45 by 10.8 meters at a height of 3.8 meters, the structure is completely closed, composed of a steel infrastructure with honeycomb aluminum panels covered in mirrors.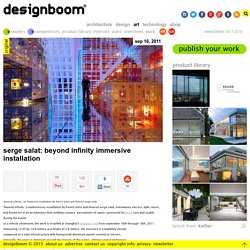 Broken CDs Transformed Into Iridescent Animal Sculptures. With most of our music now in a digital format, neatly contained on our mobile phones and iPods, many of us have no doubt got lots of old CDs stacked up in garages, waiting to become miniature frisbees or coffee coasters or museum relics from a bygone era.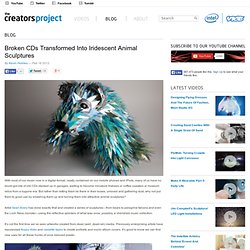 But rather than letting them lie there in their boxes, unloved and gathering dust, why not put them to good use by smashing them up and turning them into attractive animal sculptures? Artist Sean Avery has done exactly that and created a series of sculptures—from bears to peregrine falcons and even the Loch Ness monster—using the reflective splinters of what was once, possibly, a cherished music collection. It's not the first time we've seen artworks created from dead (well, dead-ish) media. Previously enterprising artists have repurposed floppy disks and cassette tapes to create portraits and iconic album covers. Maria Rubinke. Seed capsules. Quantum potentiality of the Manifested Self. Staring Cats Light Sculpture is Fixating. "Rape of Persephone" by Gian Lorenzo Bernini. The hybrid sculptures of Brendan Lee Tang. Thousands of Plastic Figures Hold Up the Floor. Sculpture / Kris Kuksi. Sculptures Popping Out of Paintings. Wire Sculpture. Unlikely: The Impossible and Improbable Objects of Giuseppe Colarusso.
Jellyfish-like Bowls. Wim Delvoye Tire. Skateboard Sculpture. Skateboard Sculptures. Recycled Newspaper Creatures Appear All Over Tucson. Still life: Bent objects. Completely made of rock.
---