Sculptures & Figures
Saatchi Sculptures
Sebastian E. - Design Art
Artist and Professor Tom Eckert uses traditional processes to carve these hyper-realistic sculptures of everyday objects entirely made of wood. He uses plenty of carpentry techniques in his creative sculptured pieces, such as constructing, bending, laminating, carving and painting. After receiving his M.F.A. degree from Arizona State University, Eckert began teaching at the university. He has exhibited his work in over 150 national and international exhibitions. Recently his incredible artwork has been featured in the Netherlands after getting lot of appreciation throughout the United States.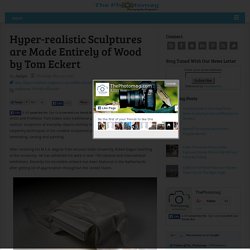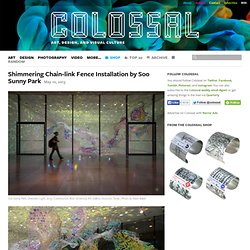 Shimmering Chain-link Fence Installation by Soo Sunny Park
Soo Sunny Park, Unwoven Light, 2013 / Commission, Rice University Art Gallery, Houston, Texas / Photo by Nash Baker Currently on view at Rice Gallery is this shimmering installation titled Unwoven Light by Soo Sunny Park, comprised of some 37 sections of chain-link fence embedded with translucent sections of Plexiglas. The suspended waveforms capture and reflect nearly every light source in the gallery creating a fractalized rainbow of color that changes quality depending on the time of day. Of the work Park says, "We don't notice light when looking so much as we notice the things light allows us to see.
Glass Microbiology - Luke Jerram
Ceramic Objects Encrusted with Marine Life
Claire Morgan
Evan Roth: 3D graffiti sculptures
takashi murakami at versailles
'oval buddha' by takashi murakami, 2007-2010 (bronze and gold leaf) ©2007-2010 takashi murakami/kaikai kiki co., ltd. all rights reserved. photo: cedric delsaux - water parterre / château de versailles the château de versailles is the location of the latest exhibition by japanese artist takashi murakami. the show is titled 'murakami versailles' and features a number of manga-inspired sculptures displayed both indoors and out at the historic french palace. of the 22 works on display, 11 were created specifically for this show. all the murakami works sit within the context of the palace, often contrasting sharply with the period décor and complimenting it at other times. the show will run from now till december 12th as part of the regular versailles admission. http://en.chateauversailles.fr
'Modesty' - Antonio Corradini (1751)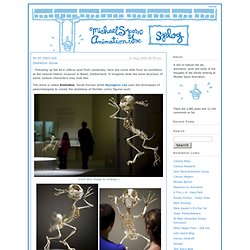 Michael Sporn Animation
- Following up the Rico LeBrun post from yesterday, here are some stills from an exhibition at the natural history museum in Basel, Switzerland. It imagines what the bone structure of some cartoon characters may look like. The show is called Animatus. South Korean artist Hyungkoo Lee uses the techniques of paleontologists to create the skeletons of familiar comic figures such. (Click any image to enlarge.)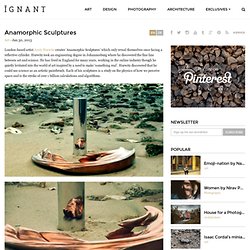 London-based artist Jonty Hurwitz creates 'Anamorphic Sculptures' which only reveal themselves once facing a reflective cylinder. Hurwitz took an engineering degree in Johannesburg where he discovered the fine line between art and science. He has lived in England for many years, working in the online industry though he quietly levitated into the world of art inspired by a need to make 'something real'. Hurwitz discovered that he could use science as an artistic paintbrush.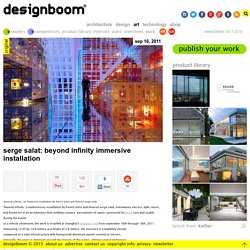 serge salat: beyond infinity immersive installation
sep 16, 2011 serge salat: beyond infinity immersive installation 'beyond infinity', an immersive installation by french artist and theorist serge salat 'beyond infinity', a multisensory installation by french artist and theorist serge salat, interweaves mirrors, light, music, and fractal art in an architecture that conflates visitors' perceptions of space. sponsored by buick cars and usable during the events as a vehicle showroom, the work is installed at shanghai's westgate mall from september 16th through 18th, 2011. measuring 12.45 by 10.8 meters at a height of 3.8 meters, the structure is completely closed, composed of a steel infrastructure with honeycomb aluminum panels covered in mirrors.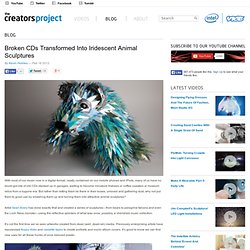 With most of our music now in a digital format, neatly contained on our mobile phones and iPods, many of us have no doubt got lots of old CDs stacked up in garages, waiting to become miniature frisbees or coffee coasters or museum relics from a bygone era. But rather than letting them lie there in their boxes, unloved and gathering dust, why not put them to good use by smashing them up and turning them into attractive animal sculptures? Artist Sean Avery has done exactly that and created a series of sculptures—from bears to peregrine falcons and even the Loch Ness monster—using the reflective splinters of what was once, possibly, a cherished music collection. It's not the first time we've seen artworks created from dead (well, dead-ish) media. Previously enterprising artists have repurposed floppy disks and cassette tapes to create portraits and iconic album covers.
seed capsules
Staring Cats Light Sculpture is Fixating
"Rape of Persephone" by Gian Lorenzo Bernini
The hybrid sculptures of Brendan Lee Tang
image Courtesy of Brendan Lee Tang We are proud to introduce you the fanTANGstic cocktail of Irish artist Brendan Lee Tang: in a glass pour some generous doses of Asian ceramic culture, western pop icons, blinding colors, manga aesthetics, kitsch references and, last but not least, a huge amount of craziness and creativity and you will finally enter Brendan's magical world. Brendan Tang was born in Dublin, Ireland, of Trinidadian parents and is a naturalized citizen of Canada.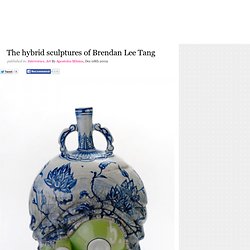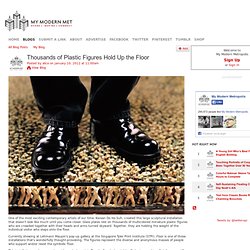 One of the most exciting contemporary artists of our time, Korean Do Ho Suh, created this large sculptural installation that doesn't look like much until you come closer. Glass plates rest on thousands of multicolored miniature plastic figures who are crowded together with their heads and arms turned skyward. Together, they are holding the weight of the individual visitor who steps onto the floor. Currently showing at Lehmann Maupin's pop-up gallery at the Singapore Tyler Print Institute (STPI), Floor is one of those installations that's wonderfully thought-provoking.
maria cristina bellucci: pencil crayon jewelry
Wim Delvoye Tire
Recycled Newspaper Creatures Appear All Over Tucson
Completely made of rock