Live streams
S top 275 overall fantasy hockey rankings for 2014-15 NHL season - Fantasy Hockey Draft Rankings, Advice and Analysis. The 2014-15 NHL season is drawing closer by the day, so NHL.com has you covered with a full positional breakdown of all the players around the League worth owning in fantasy hockey.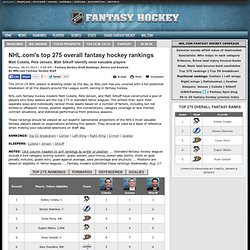 NHL.com fantasy hockey insiders Matt Cubeta, Pete Jensen, and Matt Sitkoff have constructed a pool of players who they believe are the top 275 in standard Yahoo leagues. The writers then went their separate ways and individually ranked those assets based on a number of factors, including but not limited to offseason moves, position eligibility, line combinations, category coverage or lack thereof, contract situations, and statistical performance from previous seasons. These rankings should be viewed as our experts' opinionated projections of the NHL's most valuable fantasy players based on expectations entering this season.
GoATD.Net - Watch Free Live Sports TV. TV FREE LIVE TV MOVIES AND SOCIAL TELEVISION. Live Sport Streams, Football, Soccer, Ice Hockey, Tennis, Basketball. Sabresfeed01 on Justin. Live Channels - Sports - English. AtdheNet.TV - Watch Free Live Sports TV.
---