Anime Streams
Liliput Put. Home - Animated Videos. Anime Music Videos .Org - Home. Welcome to AnimeMusicVideos.org.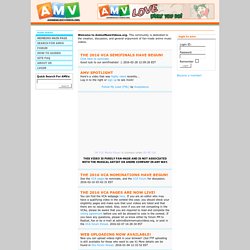 This community is dedicated to the creation, discussion, and general enjoyment of fan-made anime music videos. Hey, Anime Detour folks! As promised, here is the Anime Detour 2014 Set Lists. Enjoy!! Watch Anime Online | English Dubbed / Subbed Episodes. Randaris-Anime Lite. Anime Episode - Watch Free Anime Sub Online in Animehere.com. Free Anime Online – Free Anime Stream. Watch Anime Online Free | Stream Episodes - Anime Fushigi. [ ANIME-LOADS.ORG ] Anime-Stream24.com. Home - Anime-San.org. Anime-Tube | Deine Anime Community im Netz! Bozzetto.com - Official Site of Bruno Bozzetto. Bruno Bozzetto Channel. A show reel of Italian Animator Bruno Bozzetto to introduce the "ANIMATION, MAESTRO!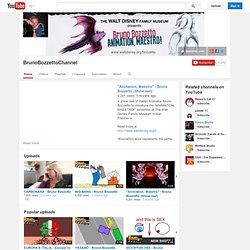 " exhibition at The Walt Disney Family Museum in San Francisco. Read more at. Anime Streams German Sub / German Dub. Anime Streams German Sub / German Dub. Anime-Welt-24- Lava-Lava! Lava-Lava!
Ist eine französische Zeichentrickserie von Federico Vitali aus dem Jahre 1995. Die Serie besteht aus einem Pilotfilm und 13 Folgen, welche eine Länge von je drei Minuten haben. Inhalt[Bearbeiten] Die Hauptfiguren der kurzen Geschichten sind meist Tiere, Menschen und Außerirdische. Lava-Lava! - Pilot - What`s Up Teddybear. Lava-Lava! - 07 - Strangers in The Night. Lava-Lava! - 06 - Un Oeuf Is Enough. Lava-Lava! - 05 - Time After Chime. Lava-Lava! - 04 - Much a Quack About Nothing. Lava-Lava! - 13 - Total Eclipse. Lava-Lava! - 12 - Sick as a Dog. Lava-Lava! - 11 - Bingo! Bongo! I Don't Want to Leave the Congo. Lava-Lava! - 10 - Houston? ... We Have a Problem! Lava-Lava! - 09 - Who's Afraid of the Big Baaaa Wolf? Lava-Lava! - 08 - Pull me up! Pull me down! Lava-Lava 03 - Rock Around The ...Frock.mp4.
Lava-Lava! - 02 - To Be Or Not Toby. Lava-Lava! - 01 - Shut Up, Mutt! Animated. fUN sHORT aNIME vIDEOS mOVIES. Startseite - Proxer.Me. Randaris-Anime - eure Anime-Stream Community. Anime: Kuroshitsuji (Animeserie) - Liste - Proxer.Me. Yes,my lord~Legendärer Anime.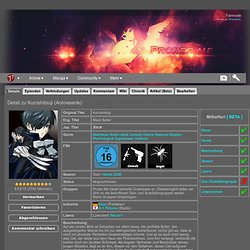 Story:Ciel will mithilfe eines Dämons Rache an seinen Peinigern verüben.Dabei helfen ihm zusätzlich seine sehr begabten Angestellten.Sehr spannend,zumahl man weiß,dass Ciel eigentlich niemals verliert.Interessant ist es auch,wie es am ende weitergeht. Animation:Gut gemacht,ich mag den Zeichenstil sehr. Charaktere:Sebby und Ciel stehen wohl im Vordergrund.Beide habe so ihre Eigenarten.Wenn auch Sebastian recht eintönig gekleidet ist,so ist es doch immer wieder entzückend zu sehen,was Ciel trägt :D Musik:Da achte ich nicht so drauf,war aber alles in allem passend.
---