LIVE #OWS
This document was accepted by the NYC General Assembly on September 29, 2011 Translations: French , Slovak , Spanish , German , Italian , Arabic , Portuguese [ all translations »] As we gather together in solidarity to express a feeling of mass injustice, we must not lose sight of what brought us together. We write so that all people who feel wronged by the corporate forces of the world can know that we are your allies. As one people, united, we acknowledge the reality: that the future of the human race requires the cooperation of its members; that our system must protect our rights, and upon corruption of that system, it is up to the individuals to protect their own rights, and those of their neighbors; that a democratic government derives its just power from the people, but corporations do not seek consent to extract wealth from the people and the Earth; and that no true democracy is attainable when the process is determined by economic power.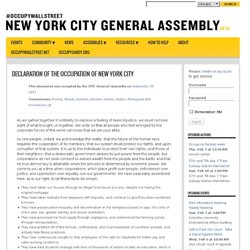 More Tagging tips: A tag is a way to search for this diary. If someone is searching for "Barack Obama," is this a diary they'd be trying to find?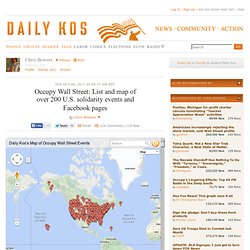 Occupy George dollar bill. Where are the protests around the world? "951 cities in 82 countries" has become the standard definition of the scale of the Occupy protests around the world this weekend, following on from the Occupy Wall Street and Madrid demonstrations that have shaped public debate in the past month.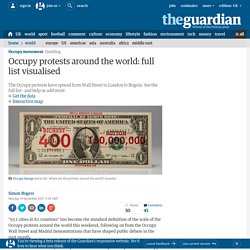 Merci Chaacattac pour le changement ;-) ... Ca swingue là-bas ... La nuit est en train de tomber, un max de filcs viennent de débouler ... L'impression que le mouvement est à un tournand à N.Y. by tourist.information Nov 17
Je vois, hélas "ça" refuse que je copie, prenne cette perle ... by oliviersc Nov 17
non mais tout est ok. je n ai pas acces au reste car je fais equipe uniquement sur "artists". j'ai depose cette perle pour que tu puisses la ranger là où c est le plus pertinent. :o) by agnesdelmotte Nov 17
Comment ça "pas accés" ? Je vais voir si "faire équipe" corrige la chose ; en espérant ne pas dépasser mon cota de perles et pearltrees ... by oliviersc Nov 17
à deplacer. (j ai pas acces au reste du pearltree) by agnesdelmotte Nov 17
Occuper Wall Street et son esprit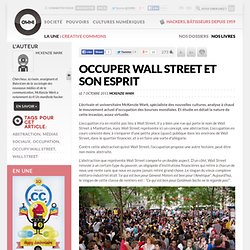 L'écrivain et universitaire McKenzie Wark, spécialiste des nouvelles cultures, analyse à chaud le mouvement actuel d'occupation des bourses mondiales.
Immortal Technique Occupy Wall Street 2am | | By We are Change (wearechange)
Aux futurs occupants et occupantes... (Occupons Montréal/Occupy Montreal 15 octobre)
Un énorme merci à Mouton Marron pour cette traduction d'une lettre envoyée par des anarchistes au mouvement Occupy Wall Street . Je me permets de la recopier intégralement ici étant donné que sur un autre billet il semble y avoir des discussions sur le sujet. Je me permet aussi de la recopier au complet car elle représente exactement ce qui accroche, et qu'elle le dit de manière respectueuse et compréhensible. Une lettre de la part d'anarchistes.