iPAD IN EDUCATION
Quick List Of iPad Resources For The Classroom. One question that comes into my inbox or on Twitter a lot lately is one dealing with iPads.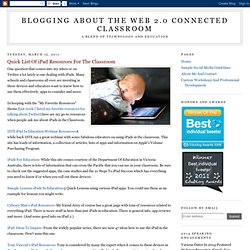 Many schools and classrooms all over are investing in these devices and educators want to know how to use them effectively, apps to consider and more. In keeping with the "My Favorite Resources" theme (last week I listed my favorite resources for talking about Twitter) here are my go-to resources when people ask me about iPads in the Classroom. Sample Lessons - iPad in Education. The following lesson ideas utilize several of the Lite or free apps available for the iPad.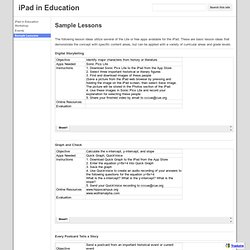 These are basic lesson ideas that demonstrate the concept with specific content areas, but can be applied with a variety of curricular areas and grade levels. Digital Storytelling. iPads for Learning - 21 Steps to 1-to-1 Success. Managing: The Nuts & Bolts of an iPad Classroom. Awhile ago, I wrote about the beginning of the one-to-one iPad journey in my classroom.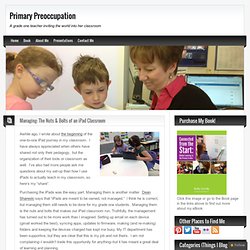 I have always appreciated when others have shared not only their pedagogy, but the organization of their tools or classroom as well. I've also had more people ask me questions about my set-up than how I use iPads to actually teach in my classroom, so here's my "share". Purchasing the iPads was the easy part. Managing them is another matter. A Day in the Life of an iPad Teacher.
6.30 am: Woken by the dulcet tones of Lana Del Rey and a new 'Wake up Light'.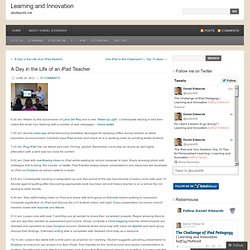 Contemplate staying in bed then notice the email icon flashing with a number of new messages – check twitter. 7.00 am: Access news app whilst devouring breakfast. Apologise for spraying coffee during reaction to latest education announcement. Carefully wipe iPad screen and check all is in working order by scrolling twitter timeline. 14 Smart Tips for Using iPads in Class. Digital Tools Flickr:Flickingerbrad By Matt Levinson For schools that are about to deploy the iPad as their main mobile learning device, there's wisdom to be learned from others who've gone down that road.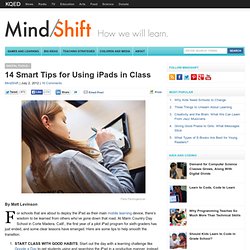 Teachers Guide on The Use of iPad in education. iPad is a cool versatile tool that has a huge potential in education.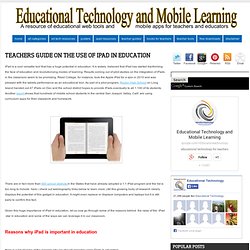 It is widely believed that iPad has started tranforming the face of education and revolutionizng modes of learning. Results coming out of pilot studies on the integration of iPads in the classroom seem to be promising. Bright ideas | iPads in Education. 7 Things You Should Know About iPad Apps for Learning. iPad/iPod Resources. 8 Free Resources on The Use of iPad in Education. I know that most of you have got a tablet device of some sort but if it happens that you have an iPad then this post will relate to you more.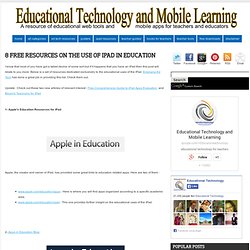 Below is a set of resources dedicated exclusively to the educational uses of the iPad. Emerging Ed Tech has done a great job in providing this list. Not Sure Which Writing App to Use on Your iPhone or iPad? This Chart Compares Them All. 50 Best iPad Apps for STEM Education. Despite early doubts, the iPad has proven to be an incredibly valuable tool for education, both in the classroom and in homes around America.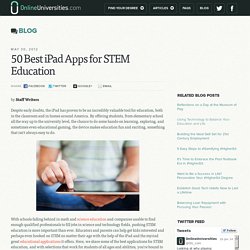 By offering students, from elementary school all the way up to the university level, the chance to do some hands-on learning, exploring, and sometimes even educational gaming, the device makes education fun and exciting, something that isn't always easy to do. With schools falling behind in math and science education and companies unable to find enough qualified professionals to fill jobs in science and technology fields, pushing STEM education is more important than ever. Evernote for Education. Android App: I use the desktop version at home and the office, the Android app on my HTC One smartphone, my tablets, web version on my Chromebook.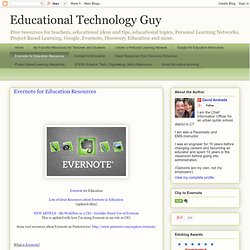 The desktop version sync's all of the data to your computer (good for backup) and you can also export your notes in a variety of formats for backup. 10 Great, Free Apps for Students for Notetaking and Class Planning. These days, there are some great apps for students to use to take notes for class, or to use as class planners. 1.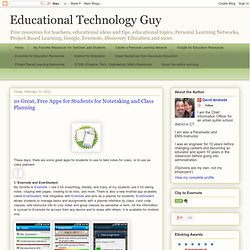 Evernote and EverStudent. iPads in Schools. iPad Apps and Bloom's Taxonomy   I felt it was worthwhile to update the Top Post (over 25,000 views) on Langwitches: Bloom's Taxonomy for iPads I have added links to each app represented on the visual. Remember: Exhibit memory of previously-learned materials by recalling facts, terms, basic concepts and answers. Technology I use on a Daily Basis - updated for this year. In the past, I've written about the technology I use on a daily basis at school.
I just saw that Richard Byrne did the same thing on his blog this week, so I decided to update my list with what I'm using these days. All of them are free, except for PowerTeacher (paid for by the district) and my smartphone. Socrative | Student Response System | Audience Response Systems | Clicker | Clickers | Student Clickers | ARS | Mobile Clicker | Software Clicker. Service Unavailable. Apps for Education. Nccsipads.wikispaces. Socrative | Student Response System | Audience Response Systems | Clicker | Clickers | Student Clickers | ARS | Mobile Clicker | Software Clicker. 15 Favorite iPad Apps As Selected By Teachers. Out of 125 responses from teachers indicating their top 3 apps, these are the apps that were listed most often.
Over the last few weeks, we ran a survey asking teachers to tell us about two or three of their favorite iPad apps that they use in an education-related context. Today we share the apps that were listed most often, and include some feedback from teachers regarding why they like them so much. 15 Ways To Use The New iPad In Classrooms. New: 10 of the best Apple apps for education in 2012. 5 Must have Ed Apps in 2012 for the 21st Century Student Centered Classroom - Be the Change. 39 Sites For Using iPads in the Classroom.
10 Great Science App Sites. Top 20 Must-Have Educational iPhone & iPad Apps Used By Real Teachers in the Classroom - iPhone app article - Shara Karasic. 50 resources for iPad use in the classroom. Science Education on the Edge · Why I abandoned my AppleTV for Airserver. Why Go 1:1 iPad? Moglue - Create. Play. Share. Exploriments. iPad Classroom.
50 really useful iPad 2 tips and tricks. 40 Most Awesome iPad Apps for Science Students. 68 Interesting Ways to use an iPad in the Classroom. 8 Great Free Web Resources Focused on Using the iPad in Education. Best Apps for Teachers. Could Doceri be the IWB killer? iPad for Education. Essential iPad Hardware and Software for Teachers. My Pinterest iPad boards. Mobile Learning in Horry County Schools. iPads in Schools. Initial iPad Setup.
iPad Multimedia Tools. iPad As....use to address specific goals. Exploring the impact of Apple's iPad on schools & schooling. Apps in Education. The iPad and Maths – Are we there yet? Pt 1.
---