Food Stuffs
Penniesonaplatter | foodgawker - StumbleUpon. Welcome. Crazy Domestic: Melted Snowman Cookies. I saw a picture of these the other day on Allrecipes.com and thought it was such a cute idea, I had to try it.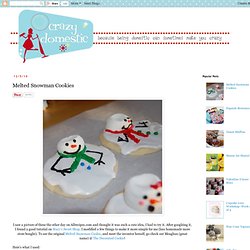 After googleing it, I found a good tutorial on Stacy's Sweet Shop. I modified a few things to make it more simple for me (less homemade more store bought). Death By Oreo Cupcakes - StumbleUpon. They are probably the best Oreo cakes I have ever tried.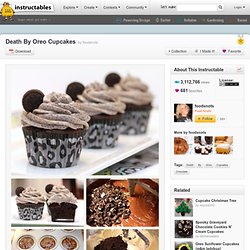 A lot of cake's that I have experimented with before are like a vanilla cake with bits of Oreo in them, which didn't really give them enough Oreo flavor. But these were a lot better. I used a dark chocolate fudge cake mix instead of just a regular chocolate cake mix, which went really well with the cookies and gave the cakes just a little more flavor. So, in this recipe there is Oreo's in the cake, in the frosting, and at the bottom is a Oreo surprise. How to Make Your Own Energy Bars | Fezzari.com.
Being a frugal road biker is tricky.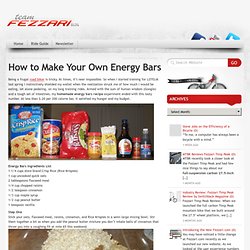 At times, it's near impossible. So when I started training for LOTOJA last spring I instinctively shielded my wallet when the realization struck me of how much I would be eating, let alone pedaling, on my long training rides. Armed with the sum of human wisdom (Google) and a tough set of intestines, my homemade energy bars recipe experiment ended with this tasty number. At less than $.20 per 200 calorie bar, it satisfied my hunger and my budget. Energy Bars Ingredients List 1 1/4 cups store brand Crisp Rice (Rice Krispies) 1 cup uncooked quick oats 2 tablespoons flaxseed meal 1/4 cup chopped raisins 1/2 teaspoon cinnamon 1/3 cup maple syrup 1/2 cup peanut butter 1 teaspoon vanilla. Punchfork - The best new recipes from top food sites. Cheesecake Recipes - Easy Cheesecake Recipes at WomansDay.com. Whipped, mixed, baked or frozen, at one point or another, most of us have lingered in our love affair with cheesecake.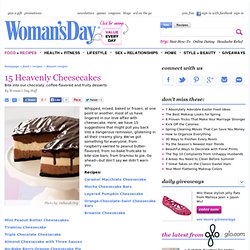 Here, we have 15 suggestions that might pull you back into a dangerous remission, glistening in all their creamy glory. We've got something for everyone, from raspberry-swirled to peanut butter-flavored; from no-bake fruitcake to bite-size bars; from tiramisu to pie. Go ahead—but don't say we didn't warn you. Planting A Pineapple. Did y'all know that you can take this and turn it into… This?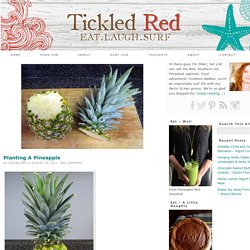 And that this will eventually produce… Snickerdoodle Cupcakes. Sparkling Champagne Cupcakes. 2010 is almost a memory, and what remains is mostly the bitter-sweet disassembling of Christmas.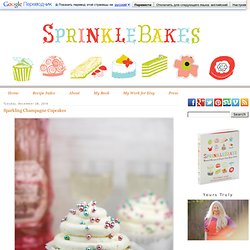 I've been finding pieces of packaging shrapnel from eager gift opening and the odd half-eaten piece of Christmas candy (a sure sign of overindulgence). For me, these days-after feel a little awkward, but reflecting on the year fills my glass half-full again. So many amazing things happened, and I am hopeful that 2011 will be even better! Fried Green Tomatoes. Ever since I discovered green tomatoes I have been hooked and in particular to fried green tomatoes!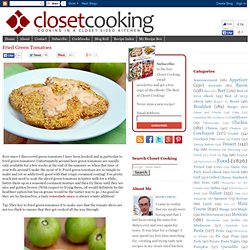 Unfortunately around here green tomatoes are usually only available for a few weeks at the end of the summer so when that time of year rolls around I make the most of it. Fried green tomatoes are so simple to make and yet so addictively good with that crispy cornmeal coating! You pretty much just need to soak the sliced green tomatoes in butter milk for a while, batter them up in a seasoned cornmeal mixture and then fry them until they are nice and golden brown. Pumpkin Pound Cake with Pumpkin Glaze at I Am Baker | Dine and Dish. Sign up for Dine & Dish email updates to receive an exclusive gift from Kristen!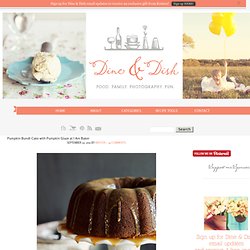 Sign up HERE! Close. The Pioneer Woman | Ree Drummond. Most gawked all-time - page 20. 14 Cupcakes Disguised As Other Food. Chocolate Chip Cheesecake. [ Close Privacy Policy ] Privacy Policy / Your California Privacy Rights Revised and posted as of March 4, 2013 Prime Publishing, LLC and Ginsburg Enterprises Incorporated ("Company," "we" or "us") reserves the right to revise this Privacy Policy at any time simply by posting such revision, so we encourage you to review it periodically.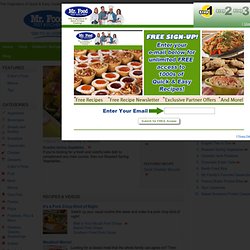 Pumpkin Cupcakes With Cinnamon Cream Cheese Frosting. I couldn't believe my eyes this week when I saw the ad for Pumpkin Spice Lattes in my local Starbucks.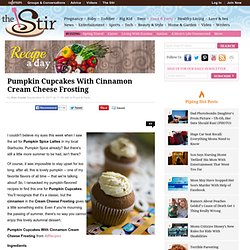 Pumpkin Spice already? But there's still a little more summer to be had, isn't there? Of course, it was impossible to stay upset for too long; after all, this is lovely pumpkin -- one of my favorite flavors of all time -- that we're talking about! Punt - Cellarnotes.net. Science of Cooking: Candy Recipes, Factory Tour &More. When French Toast Met Pancakes. If you ever want me to like you, just make me a light, fluffy stack of pancakes. I'll blush, I'll smile a lot, I might propose–it'll be weird and cute. Promise. Just when I thought pancakes couldn't get any better, I stumbled upon this recipe by Tasty Kitchen member frecklesandsunshine.
The Ultimate Strawberry Lemonade. One of the first times I ever realized that – HEY! I can cook for myself! – was when I first learned to make lemonade. .html from eightymphmom.com. Index. Cinnamon Toast&Rolls. The USDA released its new food pyramid the other day (which is actually a plate now instead of a pyramid), and I am sorely disappointed to report that cinnamon rolls did not appear anywhere on that plate.
I think by now most of us know what should be on our dinner plate in terms of healthy, well-rounded nutrient-laden meals, but it is my considered opinion that our breakfast plate should include cinnamon rolls now and then. And not just any cinnamon roll, mind you, but how 'bout a homemade cinnamon roll hybrid that is a cross between a cinnamon roll and cinnamon toast, is super easy to make and gosh darn delicious. Chocolate Chip Cookie Dough Dip - What Megans Making.
Chocolate Chip Cookie Dough Dip It's time for a little confession. I realize this may get me shunned (especially in my hometown of Pittsburgh!) , but….I don't like football. I don't like to watch it, I never liked playing football with my friends, I don't even like playing catch with a football. If there was one thing Mike could change about me, I'm pretty sure this would be it. Oreo and Peanut Butter Brownie Cakes. Well these naughty little treats are well….naughty but oh so necessary. There are a bit like my Brownie Covered Oreo's from last Christmas but enhanced with layers of peanut butter and a double decker stack of Oreos in each little brownie cake.
They are simply prepared in cupcake liners. Hope you enjoy this ultra sweet little cake Ok, I have to brag about this brownie mix from Trader Joes for a second. Caramel Apple Cupcakes. Nutella Cheesecake Brownies & The Teenage Taste. Nutella Mug Cake. Potatoes Romanoff - A Fancy Twice Baked Potato. Cinnamon Roll Pancakes | recipegirl.com. Twix Cheesecakes – Gingerbread Bagels. The best new recipes from Smitten Kitchen | punchfork.com. TasteSpotting | a community driven visual potluck. Mint Chocolate Chip Cake. Deelicious Sweets.
Warm Toasted Marshmallow Smore Bars. Eat Cake For Dinner. Most favorited all-time.
---