Dev Soft
Numerical Methods for Engineers, Sixth Edition: Steven Chapra, Raymond Canale: 9780073401065: Amazon.com
Log In Sales Download
E-books | Resources | Syncfusion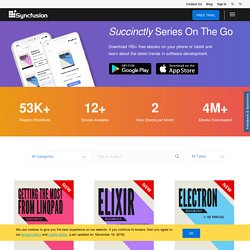 Download CS2J
Hi friends this time I come with OOPS interview questions answers with user friendly format. Here are examples with screen shots. Which will help you to understand oops concept.
C# OOPS INTERVIEW QUESTIONS ANSWERS WITH EXAMPLE (.NET C#)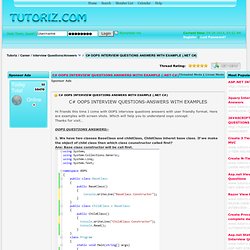 No doubt, our blog is a great site for announcing new books and other quick bits of news; however, we really needed a great landing page to host our free ebooks in an elegant, easy-to-browse way. Our coworkers at the Microsoft Virtual Academy provided the solution. It's a perfect place to land, since many of you already consume the Jump Start sessions, live events and archived courses from MVA. So, check it out here. As each new book is released, we'll add it to the page.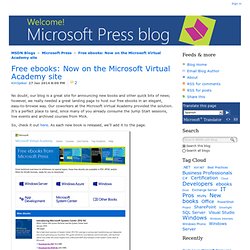 Free ebooks: Now on the Microsoft Virtual Academy site - Microsoft Press
It enables you to build robust .NET business applications and complex websites 4X faster than before. M# is compiled to standard ASP.NET and C# code. So it's safe to adopt for mission critical projects. What Users Say Hear the story from the developers and project managers who have been actively using M# to deliver their mission critical projects. "We have been using M# for the past six months, and can honestly say the impact it has made to our development team has been outstanding.
M# Programming Language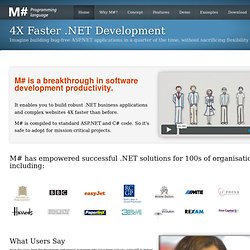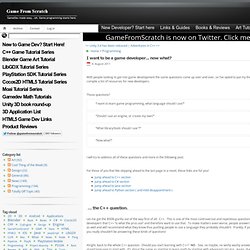 With people looking to get into game development the same questions come up over and over, so I've opted to put my thoughts on the subject in one place and to compile a list of resources for new developers. Those questions? "I want to learn game programming, what language should I use?" "Should I use an engine, or create my own?"
I want to be a game developer... now what?
Technology Resource Portal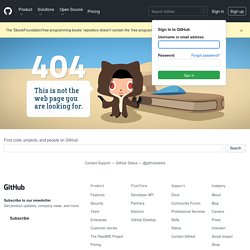 free-programming-books/free-programming-books.md at master · vhf/free-programming-books
Index Meta-Lists Graphics Programming
TekPub - High-quality screencasts for programmers.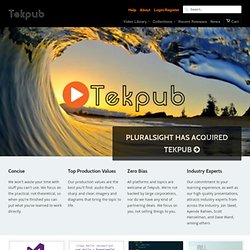 Concise We won't waste your time with stuff you can't use. We focus on the practical, not theoretical, so when you're finished you can put what you've learned to work directly. Top Production Values
Hardcore Developer Training
Network Wrangler- IT Tech Blog | 20 Windows Tools Every SysAdmin Should Know
Codes Summary | Astrophysics Source Code Library
As sure as night turns into day, sooner or later your PC will descend into an unrecoverable abyss where it no longer boots, stays booted or can't even get booted to begin with. I've had memory go bad, motherboards die, CPUs fried, many mechanical disks develop bad sectors and now for the second time, an SSD gradually turn itself into nothing more than a paperweight. I now have a very robust backup strategy which I'll come back to (courtesy of previously losing data and deciding that was never going to happen again!), but having a disk fail is about more than just restoring from backup, it's about rebuilding the whole damn thing. This is my perfect world scenario: Automatic daily backup of everything to iCloud then a lost device or an upgrade just means authenticating and waiting.
102 simple steps for installing and configuring a new Windows 8 machine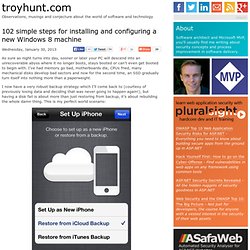 Edit this Fiddle
Online C++ compilers : Standard C++
VU meter
12 Apr 2012 You can now try Light Table out via the Light Table Playground! Light Table's kickstarter has wrapped up!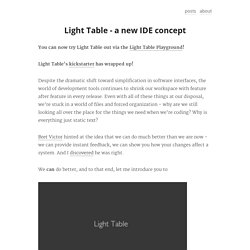 Light Table - a new IDE concept
Developpez.com, le club des décideurs et professionnels en Informatique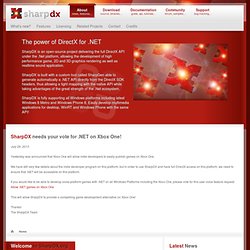 Welcome to the official Website of the SharpDX project. SharpDX is a free and active open-source project that is delivering a full-featured Managed DirectX API that includes support for Direct3D9 & Ex, Direct3D10, Direct3D10.1, Direct3D11, Direct3D11.1 (Win8 only), DirectCompute, Direct2D1, Direct2D1.1 (Win8 only), DirectWrite, WIC, D3DCompiler, DXGI, DXGI 1.1, DXGI 1.2 (Win8 only), DirectSound 8, XAudio2, XAPO, XACT3, X3DAudio, DirectInput 8, XInput and RawInput. SharpDX supports all Windows OS and .NET Framework, including development for the latest Windows 8 Metro and Windows Phone 8! You can download binaries or build your own binaries directly from the sourcecode available from a git repository.
SharpDX - Managed DirectX
Home - NHibernate Forge
Abstract: Jerry Nixon welcomes Eric Battalio, Ayman Shoukry and Raman Sharma from the Visual C++ team as they discuss how you can develop Windows 8 apps using C++. Tune in as they provide best practices and reasons why you would want to use this language. Next Steps: Step #1 – Download the Tools for Windows 8 App Development Step #2 – Download Visual Studio Express for Windows 8 Step #3 – Start building your own Apps for Windows 8 If you're interested in learning more about the products or solutions discussed in this episode, click on any of the below links for free, in-depth information: Websites:
Jerry Nixon @work: DevRadio: Developing your Windows 8 Apps using Visual C++
SharpDX - Managed DirectX
Changing the colours of art can be a great way to increase the amount of content in your game, and add variety and richness. It is relatively easy to implement. What is not always as easy is to get a set of colours that looks nice. This article gives some ideas for choosing colour palettes that look nice.
How to Choose Colours Procedurally (Algorithms) » devmag.org.za
Browse icon sets
A visual exploration on mapping complex networks
Datavisualization.ch Selected Tools
Join the discussion (Rich Morin) about hive plots in d3.js (demo, github). New to hive plots? See this Useful d3.js + hive plot intro by Mike Bostock. The hive plot is a rational visualization method for drawing networks. Nodes are mapped to and positioned on radially distributed linear axes — this mapping is based on network structural properties.
Hive Plots - Linear Layout for Network Visualization - Visually Interpreting Network Structure and Content Made Possible
This session will be heavily demo-focused to accentuate how the power of the Windows Presentation Foundation (WPF) and Microsoft Silverlight can be used to visualize data to produce amazing software. WPF is the next-generation presentation sub-system for Windows. Silverlight is a broad reach sub-set of WPF that runs cross platform in the browser.
Building Data Visualization Applications with WPF & Silverlight | Tech·Ed Europe 2010