Lighting
To make a capiz shell chandelier is time consuming, but so worth the effort! Just take a look at these examples and find out how to make a show stopping faux capiz shell chandelier for as little as $9! This is the very popular West Elm Capiz Shell Chandelier installed in the bedroom at Vintage Mint.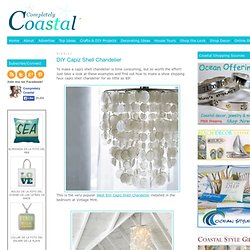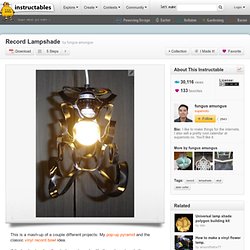 Record Lampshade
I'm not using any computers for this one and definitely not a laser cutter. I heard that someone at IDEO passed out from the fumes while trying to laser cut vinyl so I'm hoping to avoid that mistake. The cuts here are all about circles with gaps in them. Here, I'm drawing eight lines across the record, four for each orientation of the cut circles.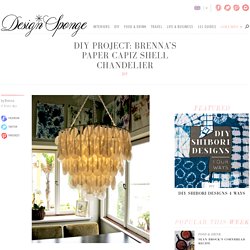 i love wax paper for packing lunches; i wrap sandwiches in a piece of wax paper and tie it like a present with a little cotton string. it's so much better looking than a plastic bag. wax paper comes in handy for more things than i realized, like rolling it up to use for a funnel, or how about rubbing a piece of wax paper on the top of your shower curtain rod to cut down on that terrible screeching in the morning…problem solved. but who knew that if you iron layers of wax paper together it looks remarkably similar to a capiz shell? this discovery brought me to today's project: the faux capiz chandelier. hung over your dining table, or outside at an outdoor dinner party, it is an easy solution to a dramatic light fixture and will look phenomenal in either setting. i hope you enjoy making your own as much i did! -brenna CLICK HERE for the full how-to after the jump! Materials: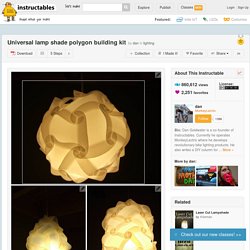 I saw a lampshade made out of the shape below at a friend's house, so I traced the shape and made my own. the lamp i saw used thin plastic for the pieces. I believe the original design for this lamp was done over 30 years ago by the firm Iqlight, they sell pre-cut parts in case you do not want to make the parts yourself. Below is the shape as an image, and i've also attached a DXF file. You will need sheets of paper or plastic that allow light to get through.
PINTEREST UPDATE: This is a post from 2010. I do not take custom orders, only the tutorial is available. The lamps have held up wonderfully. As many of you requested, Marie is sharing a little tutorial here on how she made her lampshades. When she made them she was not planning on doing a tutorial for this blog, so be sure to thank her for taking the time to write all this out. Also, for those wondering…Kara will be sharing some tutorials for her book art on her blog soon.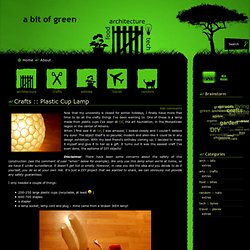 Now that my university is closed for winter holidays, I finally have more free time to do all the crafty things I've been wanting to. One of these is a lamp made from plastic cups I've seen at taf, the art foundation, in the Monastiraki region in the center of Athens. When I first saw it at taf, I was amazed; I looked closely and I couldn't believe my eyes!
This is a super easy project that anyone can do on the super cheap. I wanted some nice sconces for my guest bath downstairs. I looked high and low and couldn't find anything I wanted and the ones I did like were about $20 a piece….story of my life. I couldn't bring myself to spend $40 on 2 sconces for the guest bath.