funny
Get flash to fully experience Pearltrees
"There is usually a fine line between genius and insanity, but in this case it has become very blurred. Some of the funniest and most clever writing I have read in years." WIRED Magazine "Brilliantly funny." Jezebel.com "I laughed so hard and uncontrollably I could hardly breathe. Reading this on public transport is not a good idea." Penthouse Magazine "One of my favourite things in the world right now."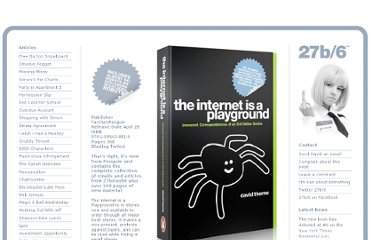 This free test is based on Carl Jung's and Isabel Briggs Myers' typological approach to personality * . Upon completion of the questionnaire, you will: Obtain your 4-letter type formula according to Carl Jung's and Isabel Briggs Myers' typology , along with the strengths of preferences and the description of your personality type Discover careers and occupations most suitable for your personality type along with examples of educational institutions where you can get a relevant degree or training See which famous personalities share your type Access free career development resources and learn about premium ones Be able to use the results of this test as an input into the Jung Marriage Test™ and the Demo of the Marriage Test™ , to assess your compatibility with your long-term romantic partner Instructions: When responding to the statements, of the two responses please choose the one you agree with most.
The very word 'spy' conjors up images in our minds of intrigue, romance, danger, sex and gadgets. U2 Spy Planes, poison-tipped umbrellas, microfilm, all the other Cold War Era spy paraphernalia; as well as men in hats and long trench coats in cold wet doorways smoking a cigarette — this is the image most of us have of the world of espionage. James Bond, with his stylish gadgets explained so thoroughly by Q, and pursuit of leggy lovely female spies worked with the idiosyncratically bumbling Maxwell Smart ( Agent 86 ) to create a highly romanticized image of a secret agent. There is a large fictional collection of stereotypical characters in the movies, on TV and in modern literature to help us form a fairly solid image of what a spy should be like. Of course, in reality, most spies are rather ordinary. They will probably be a consular official, or belong to some other profession, that blends in with the landscape.
i 34 Votes I know some of the may appear little vulgar to some persons, but just chill its time for all others Funny T-shirt quotes for girls and boyz!!!!!! Don't piss me off!