Funny
Get flash to fully experience Pearltrees
Angry squirrel I don't know who wrote this, but he tells it quite visually and it's sure worth a laugh or two...If nothing else gives you a good belly laugh this year this will and will last the whole year. I never dreamed slowly cruising on my motorcycle through a residential neighborhood could be so incredibly dangerous! Little did I suspect. I was on Brice Street - a very nice neighborhood with perfect lawns and slow traffic. As I passed an oncoming car, a brown furry missile shot out from under it and tumbled to a stop immediately in front of me.
As powerful as inspirational quotes can be, sometimes we just need a bit of humor to lighten up our day. For those occasions, funny quotes and one-liners are quite effective, especially when they poke fun at our everyday annoyances, whether it be politics, work, aging or marriage. Not content with finding these humorous quotes on only bumper stickers, we set out to put together a list of them.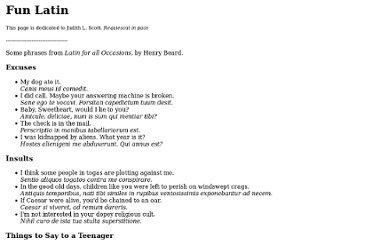 This page is dedicated to Judith L. Scott. Requiescat in pace
FAILBlog After Dark Share on Facebook - Oh So Cheeky!