WikiLeaks
Secret Trans-Pacific Partnership Agreement (TPP)
WikiLeaks Release of Secret Trans-Pacific Partnership Agreement (TPP) Advanced Intellectual Property Chapter for All 12 Nations with Negotiating Positions (August 30 2013 consolidated bracketed negotiating text) Article QQ.A.1: {Definitions} For the purposes of this Chapter: Intellectual property refers to all categories of intellectual property that are the subject of Sections 1 through 7 of Part II of the TRIPS Agreement []. Article QQ.A.2: {Objectives}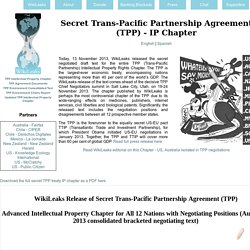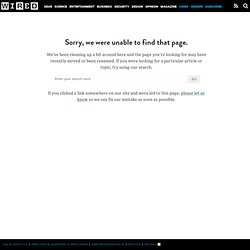 Bradley Manning Takes 'Full Responsibility' for Giving WikiLeaks Huge Government Data Trove | Threat Level
Updated 4:08 p.m. FORT MEADE, Md. — Wearing his Army dress uniform, a composed, intense and articulate Pfc. Bradley Manning took "full responsibility" Thursday for providing the anti-secrecy organization WikiLeaks with a trove of classified and sensitive military, diplomatic and intelligence cables, videos and documents. In the lengthiest statement to a military tribunal Manning has provided since his nearly three-year long ordeal began, Manning, 25, said WikiLeaks did not encourage him to provide the organization with any information.
Group Aims to Be a Conduit for WikiLeaks Donations | Rights & Liberties
LA TACO » Wikileaks Billboard ~ Los Angeles
Wikileaks' Julian Assange: Full interview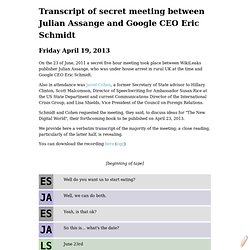 On the 23 of June, 2011 a secret five hour meeting took place between WikiLeaks publisher Julian Assange, who was under house arrest in rural UK at the time and Google CEO Eric Schmidt. Also in attendance was Jared Cohen, a former Secretary of State advisor to Hillary Clinton, Scott Malcomson, Director of Speechwriting for Ambassador Susan Rice at the US State Department and current Communications Director of the International Crisis Group, and Lisa Shields, Vice President of the Council on Foreign Relations. Schmidt and Cohen requested the meeting, they said, to discuss ideas for "The New Digital World", their forthcoming book to be published on April 23, 2013.
Transcript of secret meeting between Julian Assange and Google CEO Eric Schmidt
U.S. WikiLeaks Criminal Probe 'Ongoing,' Judge Reveals | Threat Level | Wired.com | Rights & Liberties
Cambodia helps squeeze WikiLeaksBy Justine Drennan PHNOM PENH - Earlier this week, Swedish national Gottfrid Svartholm Warg was deported from Cambodia to Thailand under the escort of Swedish officials who then forced him to board a plane to Sweden. From his arrest in Phnom Penh two weeks ago up until Tuesday, Cambodian and Swedish authorities remained tight-lipped, saying only that Svartholm Warg was arrested for copyright infringement as a co-founder of major online file-sharing site, Pirate Bay. Soon after Svartholm Warg arrived in Sweden, it became clear to his associates that he had been brought home for reasons beyond his one-year prison sentence and multi-million dollar fine for Pirate Bay's activities and that he could face charges related to his association with whistleblower website WikiLeaks.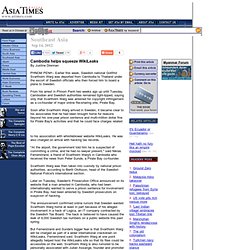 Cambodia helps squeeze WikiLeaks
Nearly Half of 2011's New York Times Issues Rely on WikiLeaks - Global
BAGHDAD — An Anglican priest here says he's working with the U.S. Embassy to persuade the handful of Jews who still live in Baghdad to leave because their names have appeared in cables published last month by WikiLeaks. The Rev.
security-of-iraqs-tiny-jewish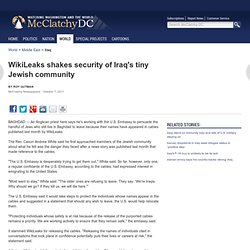 Belarus, Europe's Last Dictatorship, Uses WikiLeaks to Target Dissidents - Tablet Magazine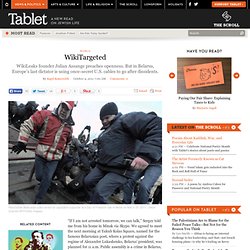 "If I am not arrested tomorrow, we can talk," Sergey told me from his home in Minsk via Skype. We agreed to meet the next morning at Yakub Kolas Square, named for the famous Belarusian poet, where a protest against the regime of Alexander Lukashenko, Belarus' president, was planned for 11 a.m. Public assembly is a crime in Belarus, Europe's last dictatorship, and challenging Lukashenko, who has ruled the former Soviet state since 1994, can result in anything from detention in the country's fetid prison cells to torture at the hands of its secret police, which still goes by its old Soviet name: the KGB.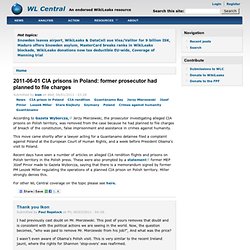 06-01 CIA prisons in Poland: former prosecutor had planned to file charges
According to Gazeta Wyborcza, Jerzy Mierzewski, the prosecutor investigating alleged CIA prisons on Polish territory, was removed from the case because he had planned to file charges of breach of the constitution, false imprisonment and assistance in crimes against humanity.
The Little ISP That Stood Up to the Government - Digits
Pakistan Papers DAWN.COM | Latest news, Breaking news, Pakistan News, World news, business, sport and multimedia
WikiLeaks - site, mirrors, archives
LeakDirectory
by Steve Ragan - Feb 9 2011, 20:28 Data intelligence firms proposed a systematic attack against WikiLeaks. (IMG: WikiLeaks/S.Ragan)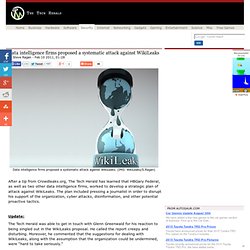 The WikiLeaks Threat - An Overview by Palantir, HBGary Federal and Berico... wlr_final.pptx [Lecture seule]
Recent wikileaks Bookmarks on Delicious - www.delicious.com
The # imwikileaks Daily
Wikileaks - Cablegate / Statelogs
About
'Investigative journalism has never been this effective!' - Publico The WIKILEAKS Public Library of US Diplomacy (PlusD) holds the world's largest searchable collection of United States confidential, or formerly confidential, diplomatic communications.