Rock
PureVolume™ | We're Listening To You. Sons of light. Brian and Jenn Johnson - Bethel Music. Music-Map - The tourist map of music. PopCrunch - A Celebrity News Tabloid For Celeb Gossip Junkies. Starfield. ( ( ( FIREFLIGHT ) ) ) Trent - Worship Band from Trent Vineyard, Nottingham. List of Christian rock bands. The Encyclopedia of Contemporary Christian Music defines CCM as "music that appeals to self-identified fans of contemporary Christian music on account of a perceived connection to what they regard as Christianity".[1] Based on this definition, this list includes artists who work in the Christian music industry as well as artists in the general market, whose lyrics reflect their Christian faith or where members are identified, either self-identified or by a reliable source, as Christians.
A band's own desire to be considered as part of the genre does not come into consideration. List[edit] See also[edit] Christian rock. Christian rock is a form of rock music played by individuals and bands whose members are Christians and who often focus the lyrics on matters concerned with the Christian faith.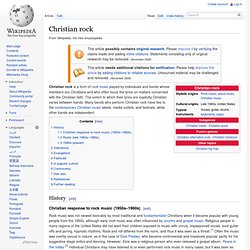 The extent to which their lyrics are explicitly Christian varies between bands. Many bands who perform Christian rock have ties to the contemporary Christian music labels, media outlets, and festivals, while other bands are independent. History[edit] Christian response to rock music (1950s–1960s)[edit] Salvador. Sigur Rós. Sigur Rós (Icelandic pronunciation: [ˈsɪːɣʏr ˈroːus] ( ) SI-urr rohss[1]) is an Icelandic post-rock band from Reykjavík, which has been active since 1994.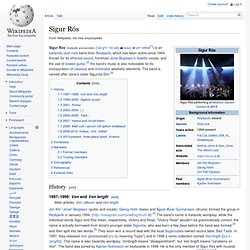 Known for its ethereal sound, frontman Jónsi Birgisson's falsetto vocals, and the use of bowed guitar,[2] the band's music is also noticeable for its incorporation of classical and minimalist aesthetic elements. Brian and Jenn Johnson - Bethel Music. Addison Hayes - Contemporary Christian Artist. The Good Idea Guys at GoodIdeaGuys.com. HearItFirst.com. The Change Inside Of Me - Mercy Me (ChristianPowerPraise.Net) Home | One Nation. 12 Stones. 12 Stones is an American Christian[2][3] post-grunge band that was formed in 2000 in Mandeville, Louisiana.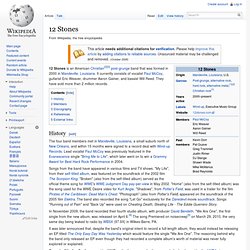 It currently consists of vocalist Paul McCoy, guitarist Eric Weaver, drummer Aaron Gainer, and bassist Will Reed. They have sold more than 2 million records. History[edit] Kutless. Kutless is a Christian rock band from Portland, Oregon formed in 1999.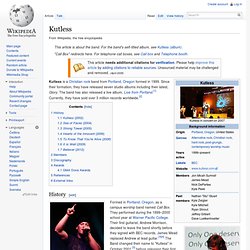 Since their formation, they have released seven studio albums including their latest, Glory. The band has also released a live album, Live from Portland.[1] Currently, they have sold over 3 million records worldwide.[2] History[edit] Jon Micah Sumrall, lead vocalist. Tree63.com - Official Site of Tree 63 - Sunday. DcTalk official website. Welcome to the official PHATFISH Website.
---