Rock
sons of light
Brian and Jenn Johnson - Bethel Music
PopCrunch - A Celebrity News Tabloid For Celeb Gossip Junkies
Starfield
( ( ( FIREFLIGHT ) ) )
Trent - Worship Band from Trent Vineyard, Nottingham
List of Christian rock bands
Throughout the 80s, Christian rock started to become a staple in the music industry, fueled by bands such as Stryper . Billboard Magazine started to post the top 10 Christian rock songs, and some radio stations were starting to play Christian rock. Bands such as DC Talk , Newsboys , Jars of Clay , Audio Adrenaline and many others achieved commercial success. This list excludes bands that are primarily heavy metal or hardcore punk , those bands can be found on the list of Christian metal bands and list of Christian hardcore bands .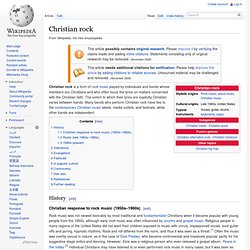 Christian rock
Christian rock is a form of rock music played by individuals and bands whose members are Christians and who often focus the lyrics on matters concerned with the Christian faith. The extent to which their lyrics are explicitly Christian varies between bands. Many bands who perform Christian rock have ties to the contemporary Christian music labels, media outlets, and festivals, while other bands are independent. [ edit ] History [ edit ] Christian response to rock music (1950s-1960s)
Salvador
Sigur Rós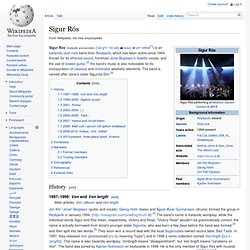 Sigur Rós ( Icelandic pronunciation: [ˈsɪːɣʏr ˈroːus] ( listen ) ) are an Icelandic ambient / post-rock band from Reykjavík , who have been active since 1994. Known for their ethereal sound , frontman Jónsi Birgisson's falsetto vocals, and the use of bowed guitar , [ 2 ] the band's music is also noticeable for its incorporation of classical and minimalist aesthetic elements.
Brian and Jenn Johnson - Bethel Music
Addison Hayes - Contemporary Christian Artist
The Good Idea Guys at GoodIdeaGuys.com
HearItFirst.com
The Change Inside Of Me - Mercy Me (ChristianPowerPraise.Net)
Home | One Nation
12 Stones is an American Christian [ 2 ] [ 3 ] post-grunge band that was formed in 2000 in Mandeville, Louisiana . It currently consists of vocalist Paul McCoy , guitarist Eric Weaver, drummer Aaron Gainer, and bassist Will Reed. They have sold more than 2 million records. [ edit ] History
12 Stones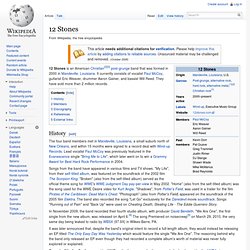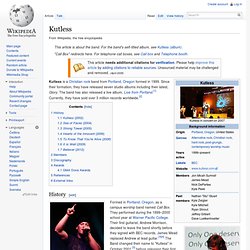 Kutless is a Christian rock band from Portland, Oregon formed in 1999. Since their formation, they have released seven studio albums including their latest, Believer . The band has also released a live album, Live from Portland . [ 1 ] Currently, they have sold just over 2 million records. [ 2 ] [ edit ] History Jon Micah Sumrall, lead vocalist
Kutless
Tree63.com - Official Site of Tree 63 - Sunday
dcTalk official website
Welcome to the official PHATFISH Website