Magic *-*
STREET ART UTOPIA » We declare the world as our canvasSTREET ART UTOPIA » We declare the world as our canvas. Jackson Pollock by Miltos Manetas, original design by Stamen, press any key to s. Artigos oficiais e originais da saga de Harry Potter. Bond Gets and EDM makeover. | DJZ, The Best of Electronic Dance Music. With Skyfall surpassing $200 million in theaters this weekend, it's safe to say that the country is in the throws of James Bond fever.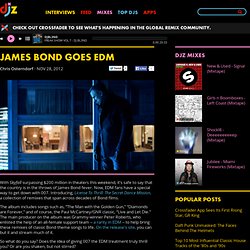 Now, EDM fans have a special way to get down with 007. Introducing, License To Thrill: The Secret Dance Mission, a collection of remixes that span across decades of Bond films. The album includes songs such as, "The Man with the Golden Gun," "Diamonds are Forever," and of course, the Paul McCartney/GNR classic, "Live and Let Die." The main producer on the album was Grammy-winner Peter Roberts, who enlisted the help of an all-female support team -- a rarity in EDM -- to help bring these remixes of classic Bond theme songs to life. Avicii | DJZ, The Best of Electronic Dance Music. Deadmau5. Ingresso Rápido. Rádio Disney 91.3. To Do List - 101photography. PARIS - panorama | © gillesvidal - photographe. 70 Anos de Cinema | Página Principal. TCH Design Competition - A Call For Designer Inflatables! It is time to save inflatables from death by boredom, and elevate them to must-have designer experiences!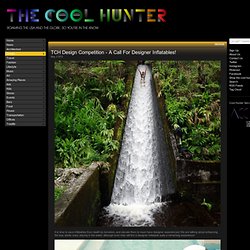 We are talking about enhancing the way adults enjoy playing in the water, although even kids will find a designer inflatable quite a refreshing experience! What if a designer hotel or resort had amazing, on-brand inflatables in the pool, or on the beach, available for guests to enjoy, take pictures of, share with their networks? We are looking for architectural, playful, cool, imaginative, never-before-seen designer ideas for inflatables. Show us what you can do. Show us how far we can take this unexplored water experience and we'll manufacture them. The Capsule Lamp. The Capsule Lamp has captured our imagination.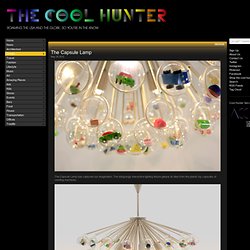 The intriguingly interactive lighting fixture gleans its idea from the plastic toy capsules of vending machines. Initially, the Capsule was designed by Hong Kong-based Design Systems Ltd for the Actif children's wear brand, but it has now taken on a life of its own giving tinkerers and creatives another reason to customize and make it their own.
The main structure of the ceiling pendant is made of stained oak, and either without the capsules, or with just the empty capsules, it looks rather coolly Scandinavian. But the fun starts when you attach the little plastic capsules – in any combination and quantity you like with all sorts of little treasures in them. While the fixture comes with a set number of toys, we can envision hiding our own little personal items in the capsules. Why Street Art Matters. Some city councils get it, others don't.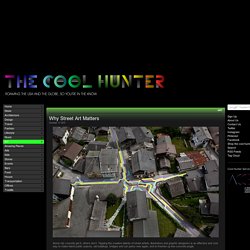 Tapping the creative talents of street artists, illustrators and graphic designers is an effective and cool way to make bland public spaces, old buildings, bridges and car parks new again, and to freshen up the concrete jungle. It is also an effective way of keeping graffiti away. Plus it draws attention to the building or structure as "potential" not as something to be hated. Maybe it will even bring a buyer, a new occupant or additional creative ideas about how to revitalize the building? Anything but the current dilapidated state of abandoned spaces! The New Stuttgart City Library - Germany. Korean architect Eun Young Yi's proposal was selected in 1999 from 235 competition entries as the plan for the new central library of the City of Stuttgart.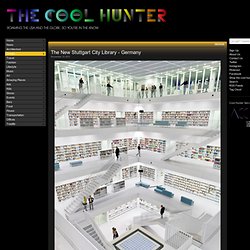 The building of the 80-million Euro (about $108 mil. US) Stadtbibliothek am Mailänder Platz began three years ago and the opening ceremonies took place last month. Yi has created a monolithic cube with two floors underground and nine above. Essentially all of the building, both inside and out is white. Try This, Will Ya. All You Need Is Love. Music - How I Met Your Music by Various Artists. Makoto Tojiki - Light Sculptures. Japanese artist Makoto Tojikil is fascinated by light.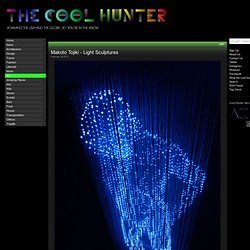 He uses it in ways that create amazing illusions and out-of-this-world experiences in a subtle, inquisitive way. But what we love most is the way his No Shadow pieces – large animal and human sculptures made of strands of light - evoke a sense of playfulness, awe, possibility and wonder. We find ourselves unable to stop staring, unwilling to leave the area of influence of the magical, somehow celestial beings and creatures. ColorQuiz.com - The free five minute personality test! ColorQuiz.com - The free five minute personality test! Pedidos de casamento fazem sucesso na internet; assista aos vídeos mais originais - Casamento. - StumbleUpon. 5 Seconds of Every #1 Billboard Hot 100 Hit From 1993-2011 by AnthonyDC.
---