Architecture
36 Things You Obviously Need In Your New Home | Chad Stark. I saw this article on BuzzFeed and felt it was definitely worth re-blogging.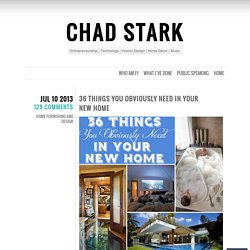 Enjoy :) 1. Building with Shipping Containers. By Kelly Hart An idea whose time seems to have arrived is the use of stockpiled shipping containers as modular units for building homes.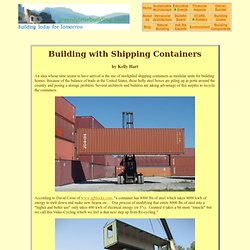 Because of the balance of trade in the United States, these hefty steel boxes are piling up in ports around the country and posing a storage problem. Several architects and builders are taking advantage of this surplus to recycle the containers. According to David Cross of www.sgblocks.com, "a container has 8000 lbs of steel which takes 8000 kwh of energy to melt down and make new beams etc... Our process of modifying that entire 8000 lbs of steel into a "higher and better use" only takes 400 kwh of electrical energy (or 5%). Bookshelf Heaven: Awesome "Containers" for Books. "QUANTUM SHOT" #761Link - article by Avi Abrams Not quite "Stairways to Heaven", but totally unique and extremely stylish structures nonetheless There are other compilations of unique shelf designs, as we are in no way alone in liking visually outstanding and effective ideas in interior design - but bookshelves hold a special place in our hearts... oh, such a special place!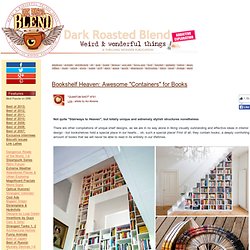 First of all, they contain books, a deeply comforting amount of books that we will never be able to read in its entirety in our lifetimes. (images via 1, 2; bottom right is the "Coiled Serpent Book" - more info) Yatzer. Luxury Villa Amanzi, Thailand by Original Vision Studio.
Luxury Villa Amanzi, Thailand by Original Vision Studio The Villa Amanzi by Architect firm Original Vision Studio is a stunning modern vacation residence located in the exclusive Cape Sol on the West coast of Phuket, Thailand.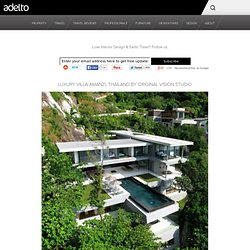 Villa Amanzi is a stunning six bedroom residence with a 15m infinity pool and breathtaking views over the Andaman Sea. This luxury villa enjoys a spectacular headland location along Kamala's exclusive Millionaires Mile and captures cool gentle breezes all year round with uninterrupted sea views from every vantage point, in one of the most breathtaking locations Phuket has to offer. The contemporary design features ultra modern architecture and interiors that combine to provide guests with the optimal environment to relax and unwind in unspoilt luxury. Photograpghy by Marc Gerritsen & Helicam Asia Aerial Photography. A completely renovated first apartment. What a makeover!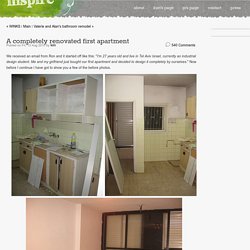 This made me feel 'myownapartamentsick' even more than ever :)bulb-lamp is great, i also made something like that, but there were less bulbs so the effect wasn't that stunning. love the shower, look really great, also the brick wall and, what surprised me, that green tone in the bedroom. you had great ideas and you fortunately put them into effect. the one thing i dislike is a study room. i hate that desk and chair, they just so boring actually. but i adore the red wall and those cat-things, sorry, i have no idea how to call it. ;) great job! Treehouse Point - stay in a treehouse in Fall City, Snoqualmie Valley, Wsshington.
Lodging at Treehouse Point Each of Tree House Point's lodging options offers an opportunity for a luxurious night's sleep in a hand-hewn bed with forest views.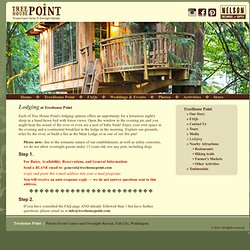 Open the window to the evening air, and you might hear the sound of the river or even see a nest of baby birds! Enjoy your own space in the evening and a continental breakfast in the lodge in the morning. Explore our grounds, relax by the river, or build a fire in the Main Lodge or in one of our fire pits! Please note: due to the romantic nature of our establishment, as well as safety concerns, we do not allow overnight guests under 13 years old, nor any pets, including dogs.
---