Ipads in the Classroom
Get flash to fully experience Pearltrees
Over the last year and a half I have really enjoyed exploring the types of iPad apps that can be used in the classroom and so I thought I would begin to draw together some of my favourites and share them with you here. This is the first of 4 posts in which I feature my first 5 recommendations: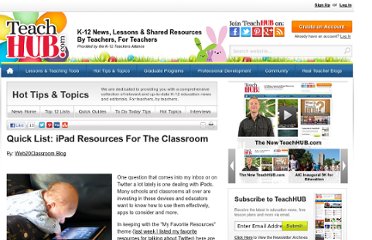 One question that comes into my inbox or on Twitter a lot lately is one dealing with iPads.
After seeing the chart on of Bloom's Taxonomy on bloomsapps , I thought I could make a more thorough table. I like the headings that were used in the chart. Creating
A Media Specialist's Guide to the Internet Because you never know when you'll need a cybrarian..... Enter your email address:
Everyone's been desperate to hear about the apps we're using. I present the current list for our primary department, with iTunes links. All prices are for the UK App Store.
Leo's room is usually a flurry of worksheets -- for matching, sight reading, writing practice, basic math, dot-to-dot puzzles, all sorts of learning.
I found this great video over at iPads in Education , and I really love how well it shows the uses of iPads (or tablet computers) in the classroom.
How Students Benefit From Using Social Media 14.60K Views 0 Likes