Mobile / museum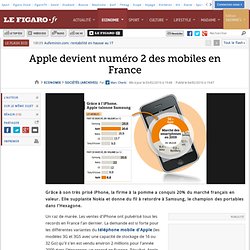 Sociétés : Apple devient numéro 2 des mobiles en Fra
Grâce à son très prisé iPhone, la firme à la pomme a conquis 20% du marché français en valeur.
Android est-il un terrain à conquérir par les musées ? - BUZZEUM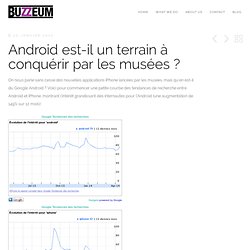 On nous parle sans cesse des nouvelles applications iPhone lancées par les musées, mais qu'en est-il du Google Android ? Voici pour commencer une petite courbe des tendances de recherche entre Android et iPhone, montrant l'intérêt grandissant des internautes pour l'Android (une augmentation de 149% sur 12 mois): Les caractéristiques d'Android : Au delà de toutes les options plus ou moins de base que l'on retrouve déjà sur l'Iphone, Android a cet énorme avantage de proposer les services Google en natif (Gmail, Google Agenda, Google Search, Google Talk, Youtube, GMaps, GStreetView). Les interfaces, alertes, options de synchronisation sont automatique et parfaitement intégrées au mobile (synchro de GAgenda avec SMS par exemple). Mais aussi un lecteur YouTube dédié, un Google Streetview avec outil de positionnement du mobile ou encore un Google Maps Navigation avec des surcouches applicatives comme Wikipédia, Google Latitude, etc.
If there's anything web designers learned from the past year, it's that mobile web usage will continue to soar. Thanks to smartphones and social networking sites like Twitter and Facebook that promote on-the-go interaction with web applications, the amount of people using mobile devices to access the web has grown exponentially. There are over 4.5 billion mobile phones in usage today and it's estimated that by the end of this year, over 1 billion users will be accessing the web via a mobile device.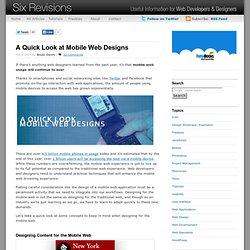 A Quick Look at Mobile Web Designs
Be virtual » Blog Archive » Internet dans un petit appareil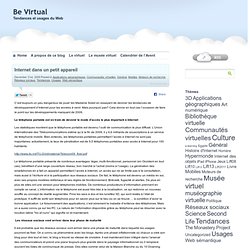 C'est toujours un peu dangereux de jouer les Madame Soleil en essayant de deviner les tendances de développement d'Internet pour les années à venir. Mais pourquoi pas?
Mobile friendly museum « Museum Marketing
Rencontres Nationales Culture & Innovation(s): les musées frança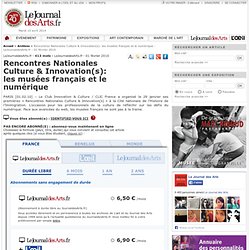 Abonnements sans engagement de durée (Abonnement à durée libre au JournaldesArts.fr) (Abonnement à durée libre à L'oeil et au JournaldesArts.fr)
La journée avait été fortement annoncée sur Twitter, Facebook, blogs et autres…La voici maintenant passée, avec un compte-rendu à rédiger ! C'est ainsi que pendant une journée entière, 180 professionnels de musées se sont retrouvés pour écouter et échanger avec plus d'une vingtaine d'intervenants à la Cité national de l'Histoire de l'Immigration (Paris). Pour moi, la journée a malheureusement du débuter à midi, je vous invite donc à parcourir le compte-rendu rédigé en direct de la conférence par Yves-Armel Martin. A mon arrivée, je trouvais Loic Tallon (PocketProof) et Pierre-Yves Lochon (CLIC) assis sur l'estrade à parler et débattre face au public, pas le temps de comprendre de quoi il en retournait, Loic se lève et laisse place aux jeunes filles de chez Heaven. Voici une agence que j'ai toujours beaucoup apprécié pour ses idées et son dynamisme, je parle ici tout particulièrement du programme de fidélisation blogueurs qu'ils ont mis en place avec la maison Boucheron.
Retour des rencontres nationales du CLIC - BUZZEUM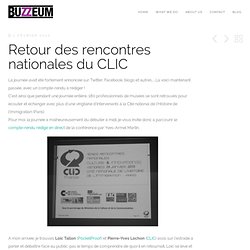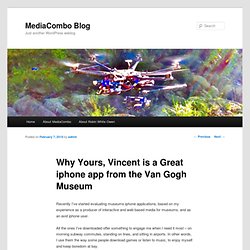 Recently I've started evaluating museums iphone applications, based on my experience as a producer of interactive and web based media for museums, and as an avid iphone user. All the ones I've downloaded offer something to engage me when I need it most – on morning subway commutes, standing on lines, and sitting in airports.
Blog » Archives » Why Yours, Vincent is a Great iphone app fr
Les apps iPhone dans les Musees
Ken devant les BB de Warhol
La visite culturelle du futur! | Tourisme Culturel