Discoveries
Being gay may be in the DNA, researchers say
A cluster of Enterobacter cloacae bacteria Eye of Science / Science Source Most of our microbes inhabit the colon, the final loop of intestine, where they help us break down fibers, harvest calories, and protect us from micro-marauders. But they also do much, much more.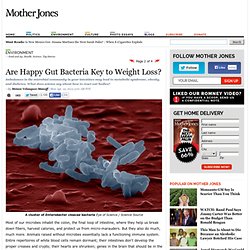 Are Happy Gut Bacteria Key to Weight Loss?
Middle-Aged Men, Too, Can Blame Estrogen for That Waistline
Bacterial toxins cause deadly heart disease: Superantigens produced by staph bacteria are required for deadly effects of infective endocarditis and sepsis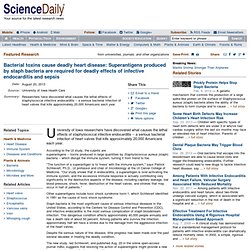 Aug. 20, 2013 — University of Iowa researchers have discovered what causes the lethal effects of staphylococcal infective endocarditis -- a serious bacterial infection of heart valves that kills approximately 20,000 Americans each year. According to the UI study, the culprits are superantigens -- toxins produced in large quantities by Staphylococcus aureus (staph) bacteria -- which disrupt the immune system, turning it from friend to foe.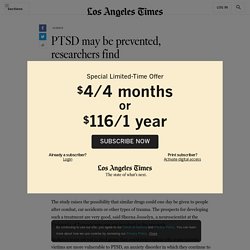 Experts estimate that up to 20% of U.S. troops returning from Iraq and Afghanistan suffer from post-traumatic stress disorder , a condition that can be stubbornly difficult to treat. But what if PTSD could have been prevented in the first place?
PTSD may be prevented, researchers find
New source for regenerative stem cells? Your fat, study suggests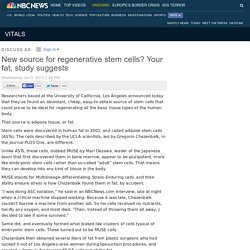 By Brian Alexander, NBC News Contributor
Eggs, Too, May Provoke Bacteria to Raise Heart Risk
No. 56 | 05/11/2012 | by Koh Scientists from the German Cancer Research Center (Deutsches Krebsforschungszentrum) and Heidelberg University Hospital have identified the HDAC11 enzyme as a promising target for new cancer therapies. If this molecule is turned off, cancer cells stop growing and die.
Scientists Find Achilles' Heel of Cancer Cells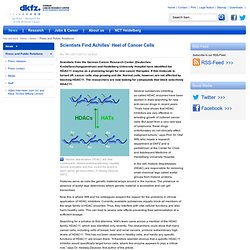 Nov. 29, 2012
Scientists create road map to metabolic reprogramming for aging (Nov. 29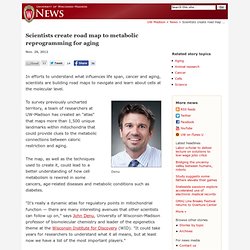 Age-related dementia may begin with neurons' inability to rid themselves of unwanted proteins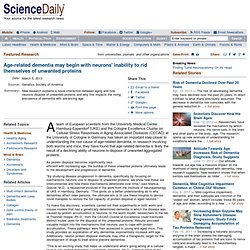 Mar. 5, 2013 — A team of European scientists from the University Medical Center Hamburg-Eppendorf (UKE) and the Cologne Excellence Cluster on Cellular Stress Responses in Aging-Associated Diseases (CECAD) at the University of Cologne in Germany has taken an important step closer to understanding the root cause of age-related dementia.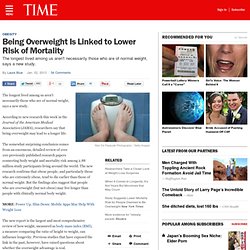 Being Overweight Is Linked to Lower Risk of Mortality
The longest lived among us aren't necessarily those who are of normal weight, says a new study.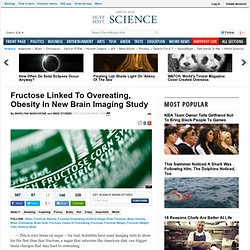 -- This is your brain on sugar – for real.
Fructose Linked To Overeating, Obesity In New Brain Imaging Study
How Dark Chocolate May Guard Against Brain Injury From Stroke - 05/05/2010
May 5, 2010- Researchers at Johns Hopkins have discovered that a compound in dark chocolate may protect the brain after a stroke by increasing cellular signals already known to shield nerve cells from damage.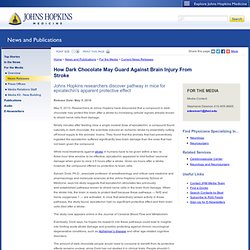 Scientists create 'endless supply' of myelin-forming cells
In a new study appearing this month in the Journal of Neuroscience, researchers have unlocked the complex cellular mechanics that instruct specific brain cells to continue to divide. This discovery overcomes a significant technical hurdle to potential human stem cell therapies; ensuring that an abundant supply of cells is available to study and ultimately treat people with diseases.
Canadian scientists discover cause of high cholesterol
Public release date: 28-Oct-2012 [ Print | E-mail Share ] [ Close Window ]
A new study reveals the key element related to the activation of brown adipocytes.
Researchers Reveal the Key element related to the activation of Brown Adipocytes
South African scientists have discovered how some people can make potent antibodies capable of neutralizing strains of HIV, a local newspaper said on Monday. "A team of South African scientists have found that when the virus evolves to evade its host's immune system by adding a sugar molecule to its surface, the host's antibodies adapt to recognize the sugar in such a way they can kill nine of 10 known strains of HIV," the Business Day quoted a research report published in the journal Nature Medicine on Sunday as saying. The medical research was jointly conducted by some units at home and abroad, including the Center for the AIDS Program of Research in South Africa (CAPRISA), the South African universities of Cape Town and KuaZula-Natal as well as the U.S. universities of North Carolina and Harvard.
Breakthrough made in developing antibodies against HIV
Cannabis eases multiple sclerosis (MS) stiffness per study published in neurology journal
Use of cannabis extract helps ease painful muscle stiffness among patients with multiple sclerosis (MS), according to a large trial published on Tuesday in the Journal of Neurology, Neurosurgery and Psychiatry.
Scientists make old muscles young again in attempt to combat aging
Part Man, All Woman: Scientists Find Male DNA in Women's Brains : Science/Tech : Medical Daily
Skin cancer detection breakthrough
Scientists Find Enzyme That Kills Alzheimer's Protein
Scientists discover how an out-of-tune protein leads to heart muscle failure
Chronic Pain May Depend on Emotional Reaction to Injury
Scientists Turn Skin Cells Into Cardiac Cells to Help Failing Hearts
Breastfeeding linked to healthy infant gut: Bacterial colonization leads to changes in the infant's expression of genes
Researchers Find an Epigenetic Culprit of Memory Decline - HDAC2 enzyme
Researchers find new evidence on how cholesterol gets moved from HDLs to LDLs
Alzheimer's brain plaques 'rapidly cleared' in mice
Scientists in Scotland use skin samples to create human brain cells | Space, Military and Medicine
Scientists reveal how females store sperm for decades
'Foldit' Gamers Solve AIDS Puzzle that Baffled Scientists for Decade
Common Cause of ALS Discovered
Scientists find cure for rotting food
Using super microscope scientists find body's immunity "switch"
Healthy sex life makes men live longer
Autism researchers find scores of gene mutations