Discoveries
Is Sitting Killing Me? Autism-Pesticide Link Found in Calif. Study. A California study out Monday found that pregnant women who live near farms where pesticides are applied had a two-thirds higher risk of having children with autism.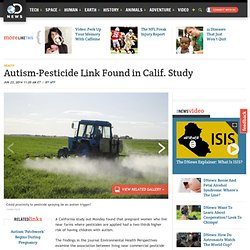 The findings in the journal Environmental Health Perspectives examine the association between living near commercial pesticide applications and having offspring with autism, but do not show cause-and-effect. Autism is a neurodevelopmental disorder that ranges in severity and has been on the rise in recent years. Spinal cord research offers unexpected hope to people with paralysis. Susan Harkema was sending electricity down broken spinal cord to study nerve pathwaysShe was the one who got a shock when her patient called out: "I can move my toe!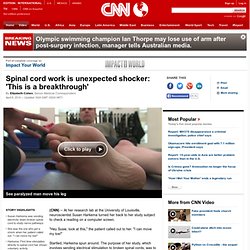 "Harkema: First time stimulation directly to spinal cord has shown voluntary activityTechnique is another piece of the puzzle toward helping paralyzed people walk again (CNN) -- At her research lab at the University of Louisville, neuroscientist Susan Harkema turned her back to her study subject to check a reading on a computer screen. Being gay may be in the DNA, researchers say. Researchers say they've found more DNA evidence that possibly shows gay men don't have a choice — that their biological makeup drives them to homosexuality.
In a study at Chicago University, researchers looked at DNA chains of 400-plus pairs of gay brothers and found what they said were two distinct bits of genetic material that they claim are linked to homosexuality, The Daily Mail reported. The gay brothers were identified and recruited to help with the study over the course of several years' worth of Gay Pride festivals and marches. The research was highlighted during the recent annual American Association for the Advancement of Science conference. Researchers don't know which of the specific genes in the two links of DNA are key to the formation and development of sexual orientation, The Daily Mail reported.
Are Happy Gut Bacteria Key to Weight Loss? A cluster of Enterobacter cloacae bacteria Eye of Science / Science Source Most of our microbes inhabit the colon, the final loop of intestine, where they help us break down fibers, harvest calories, and protect us from micro-marauders.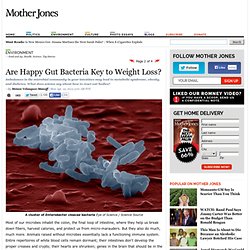 But they also do much, much more. Middle-Aged Men, Too, Can Blame Estrogen for That Waistline. Bacterial toxins cause deadly heart disease: Superantigens produced by staph bacteria are required for deadly effects of infective endocarditis and sepsis. University of Iowa researchers have discovered what causes the lethal effects of staphylococcal infective endocarditis -- a serious bacterial infection of heart valves that kills approximately 20,000 Americans each year.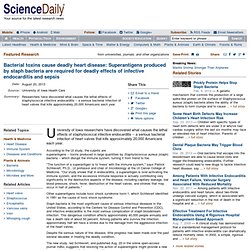 According to the UI study, the culprits are superantigens -- toxins produced in large quantities by Staphylococcus aureus (staph) bacteria -- which disrupt the immune system, turning it from friend to foe. "The function of a superantigen is to 'mess' with the immune system," says Patrick Schlievert, Ph.D., UI professor and chair of microbiology at the UI Carver College of Medicine. "Our study shows that in endocarditis, a superantigen is over-activating the immune system, and the excessive immune response is actually contributing very significantly to the destructive aspects of the disease, including capillary leakage, low blood pressure, shock, fever, destruction of the heart valves, and strokes that may occur in half of patients.
" PTSD may be prevented, researchers find. Experts estimate that up to 20% of U.S. troops returning from Iraq and Afghanistan suffer from post-traumatic stress disorder , a condition that can be stubbornly difficult to treat.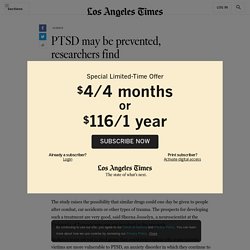 But what if PTSD could have been prevented in the first place? Scientists have done something similar in traumatized mice. Days after a harrowing experience being restrained on wooden boards, they were given a drug that triggers a brain receptor thought to be involved in how mice — and people — respond to fear. "We prevented PTSD-like symptoms," said Emory University neuroscientist Raul Andero Gali, lead author of a study published Wednesday in the journal Science Translational Medicine. The study raises the possibility that similar drugs could one day be given to people after combat, car accidents or other types of trauma. New source for regenerative stem cells? Your fat, study suggests. By Brian Alexander, NBC News Contributor Researchers based at the University of California, Los Angeles announced today that they've found an abundant, cheap, easy-to-obtain source of stem cells that could prove to be ideal for regenerating all the basic tissue types of the human body.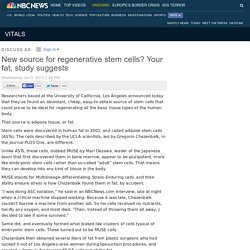 That source is adipose tissue, or fat. Stem cells were discovered in human fat in 2001, and called adipose stem cells (ASTs). The cells described by the UCLA scientists, led by Gregorio Chazenbalk, in the journal PLOS One, are different. Eggs, Too, May Provoke Bacteria to Raise Heart Risk. Scientists Find Achilles' Heel of Cancer Cells. No. 56 | 05/11/2012 | by Koh Scientists from the German Cancer Research Center (Deutsches Krebsforschungszentrum) and Heidelberg University Hospital have identified the HDAC11 enzyme as a promising target for new cancer therapies.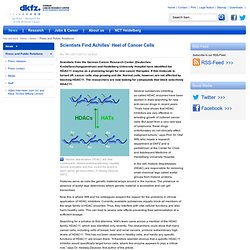 If this molecule is turned off, cancer cells stop growing and die. Scientists create road map to metabolic reprogramming for aging (Nov. 29. Nov. 29, 2012 In efforts to understand what influences life span, cancer and aging, scientists are building road maps to navigate and learn about cells at the molecular level.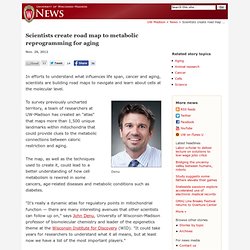 Denu To survey previously uncharted territory, a team of researchers at UW-Madison has created an "atlas" that maps more than 1,500 unique landmarks within mitochondria that could provide clues to the metabolic connections between caloric restriction and aging. Age-related dementia may begin with neurons' inability to rid themselves of unwanted proteins. A team of European scientists from the University Medical Center Hamburg-Eppendorf (UKE) and the Cologne Excellence Cluster on Cellular Stress Responses in Aging-Associated Diseases (CECAD) at the University of Cologne in Germany has taken an important step closer to understanding the root cause of age-related dementia.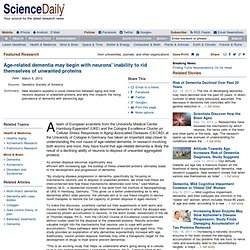 In research involving both worms and mice, they have found that age-related dementia is likely the result of a declining ability of neurons to dispose of unwanted aggregated proteins. As protein disposal becomes significantly less efficient with increasing age, the buildup of these unwanted proteins ultimately leads to the development and progression of dementia. Being Overweight Is Linked to Lower Risk of Mortality. The longest lived among us aren't necessarily those who are of normal weight, says a new study. According to new research this week in the Journal of the American Medical Association (JAMA), researchers say that being overweight may lead to a longer life.
The somewhat surprising conclusion comes from an enormous, detailed review of over 100 previously published research papers connecting body weight and mortality risk among 2.88 million study participants living around the world. The new research confirms that obese people, and particularly those who are extremely obese, tend to die earlier than those of normal weight. But the findings also suggest that people who are overweight (but not obese) may live longer than people with clinically normal body weight.
Fructose Linked To Overeating, Obesity In New Brain Imaging Study. -- This is your brain on sugar – for real. Scientists have used imaging tests to show for the first time that fructose, a sugar that saturates the American diet, can trigger brain changes that may lead to overeating. After drinking a fructose beverage, the brain doesn't register the feeling of being full as it does when simple glucose is consumed, researchers found. It's a small study and does not prove that fructose or its relative, high-fructose corn syrup, can cause obesity, but experts say it adds evidence they may play a role.
These sugars often are added to processed foods and beverages, and consumption has risen dramatically since the 1970s along with obesity. How Dark Chocolate May Guard Against Brain Injury From Stroke - 05/05/2010. May 5, 2010- Researchers at Johns Hopkins have discovered that a compound in dark chocolate may protect the brain after a stroke by increasing cellular signals already known to shield nerve cells from damage. Ninety minutes after feeding mice a single modest dose of epicatechin, a compound found naturally in dark chocolate, the scientists induced an ischemic stroke by essentially cutting off blood supply to the animals' brains.
They found that the animals that had preventively ingested the epicatechin suffered significantly less brain damage than the ones that had not been given the compound. While most treatments against stroke in humans have to be given within a two- to three-hour time window to be effective, epicatechin appeared to limit further neuronal damage when given to mice 3.5 hours after a stroke.
Given six hours after a stroke, however, the compound offered no protection to brain cells. Scientists create 'endless supply' of myelin-forming cells. In a new study appearing this month in the Journal of Neuroscience, researchers have unlocked the complex cellular mechanics that instruct specific brain cells to continue to divide. This discovery overcomes a significant technical hurdle to potential human stem cell therapies; ensuring that an abundant supply of cells is available to study and ultimately treat people with diseases. "One of the major factors that will determine the viability of stem cell therapies is access to a safe and reliable supply of cells," said University of Rochester Medical Center (URMC) neurologist Steve Goldman, M.D., Ph.D., lead author of the study. "This study demonstrates that – in the case of certain populations of brain cells – we now understand the cell biology and the mechanisms necessary to control cell division and generate an almost endless supply of cells.
" The study focuses on cells called glial progenitor cells (GPCs) that are found in the white matter of the human brain. Canadian scientists discover cause of high cholesterol. Public release date: 28-Oct-2012 [ Print | E-mail Share ] [ Close Window ] Contact: Jane-Diane Fraserjfraser@hsf.ca 613-569-4361 x273Heart and Stroke Foundation of Canada Canadian scientists have discovered that a protein called resistin, secreted by fat tissue, causes high levels of "bad" cholesterol (low-density lipoprotein or LDL), increasing the risk of heart disease.
The research, presented today at the Canadian Cardiovascular Congress, proves that resistin increases the production of LDL in human liver cells and also degrades LDL receptors in the liver. As a result, the liver is less able to clear "bad" cholesterol from the body. Researchers Reveal the Key element related to the activation of Brown Adipocytes.
Breakthrough made in developing antibodies against HIV. Cannabis eases multiple sclerosis (MS) stiffness per study published in neurology journal. Scientists make old muscles young again in attempt to combat aging. Part Man, All Woman: Scientists Find Male DNA in Women's Brains. Skin cancer detection breakthrough. Scientists Find Enzyme That Kills Alzheimer's Protein. Scientists discover how an out-of-tune protein leads to heart muscle failure. Chronic Pain May Depend on Emotional Reaction to Injury. MIT discovers the location of memories: Individual neurons. Scientists Turn Skin Cells Into Cardiac Cells to Help Failing Hearts. Breastfeeding linked to healthy infant gut: Bacterial colonization leads to changes in the infant's expression of genes. Researchers Find an Epigenetic Culprit of Memory Decline - HDAC2 enzyme. Researchers find new evidence on how cholesterol gets moved from HDLs to LDLs.
Alzheimer's brain plaques 'rapidly cleared' in mice. How Your Cat Is Making You Crazy - Magazine. Scientists in Scotland use skin samples to create human brain cells | Space, Military and Medicine. Scientists reveal how females store sperm for decades. 'Foldit' Gamers Solve AIDS Puzzle that Baffled Scientists for Decade. Common Cause of ALS Discovered. New drug could cure nearly any viral infection. Scientists find cure for rotting food. Using super microscope scientists find body's immunity "switch" Healthy sex life makes men live longer. Smoking Damages DNA Within Minutes, Research Shows. Autism researchers find scores of gene mutations.
---