Chansons pour étudier le français (vidéos & paroles)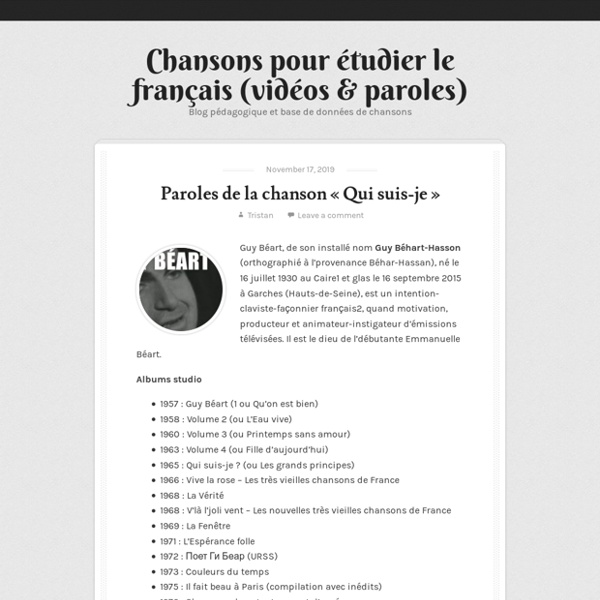 L'histoire par la chanson et la musique • IDIOMAS • Song sources • Culture • French stuff
Using Music to Teach Social Studies: American History and Government These Social Studies lyrics are available from a variety of albums. Use songs to teach American geography, government, history, patriotism, and culture. American Geography Songs The 50 States and Capitals Song – Tim Pacific Directions to Nowhere (How to Read a Map) – Joan Maute, Ed.D.
Free Language-Learning Resources Online | Transparent Language Community-generated language lists Access thousands of community-generated vocabulary lists on Byki.com List Central. You can download and use all lists with the free "Express" version of our Byki vocabulary builder, or upgrade to Byki Deluxe and start creating lists of your own. Scène française - Webradios - Musique | Ados Se connecter Mot de passe oublié ? Facebook Public sur Twitter Peaceful Cruises on French Waterways | Living Language Hidden from most roads, deep in the lovely French countryside, are a multitude of waterways. These ancient forms of navigation are still used to transport goods on barges across regions of France. But they are also enjoyed by plaisanciers (boaters), and several companies rent boats where a family or a group of friends can spend several days exploring the French back country. Nivernais Canal Taking such cruises harks back to slower times, when barges would be pulled by horses walking alongside the banks.
LE PRESENT: -er verbs Conjuguemos French French verbs French vocab (book) French vocab (theme) German Teach History Through Song Teaching to State Standards Hello, Please read through the following sections and decide what to use with your students. Please click through each page and use your back button to come back here and select the next chapter. You are in the Cul De Sac Area of Interdisciplinary Resources on Music and History. "History is written by the victors."
Greetings in Russian | Learn Russian the Fun Way Just when you thought you knew how to greet someone in Russian… As it appears, there is more than just "Здравствуйте" to Russian greetings. This is why I thought I would share the most common Russian greetings with you today. The Most Common Greetings in Russian - Songza We are very sorry to say that due to licensing constraints we cannot allow access to Songza for listeners located outside of the United States and Canada. Based on your IP address, we believe that you are located outside of the United States and Canada. Please accept our deepest apology for restricting your access to Songza; we share your disappointment and frustration. Everyone should have the right to enjoy this service and we are committed to launching Songza in every possible country. We will work assiduously to obtain the requisite licenses where they exist.
Time-travelling 3D tour shows birth of Eiffel Tower Sandrine Ceurstemont, editor, New Scientist TV Imagine visiting the World's Fair of 1889 in Paris, France, and seeing the Eiffel Tower just after it was built. Now thanks to an ultra-accurate 3D reconstruction, you can travel back in time to see it.
Français Langue étrangère • FLE • français • audio • Français • Français • Langue française 1 • Musique - Chansons 1 • Français 1 • alom • Apprendre le francais • Formations • sofia.ha • Blogosphère 11 • elme