Rollip - Create Polaroids from your photos!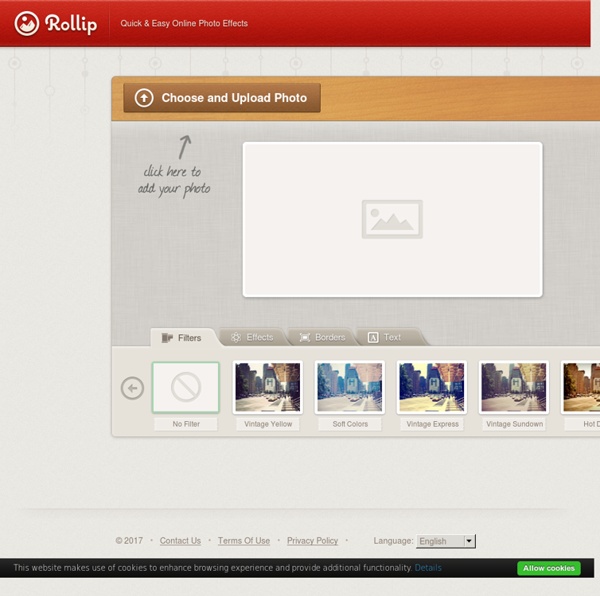 Risorse grafiche varie • PICS • photoshop stuff • photography • janetleahy
TiltShiftMaker - Create your tilt-shift picture Move the vertical slider on the right of the original photo to select the area in focus. Use the "Preview" button to see the results, then click on the required image size and press "Download" when done to process the image and get a download link. Site members get unlimited downloads up to 21MP (5700 pixel length/width) and can access over 50 bokeh styles, click here for details. Processing and downloading hi-res images may take a few minutes, depending on original photo size and other factors. A download link to the most recent hi-res file processed this session will appear in the "Recent hi-res:" area. The size of the main selected area can be adjusted using the horizontal slider, from "narrow" (focusing on a small area) to "wide" (focusing on a larger area).
YAD VASHEM PHOTO ARCHIVE "Mendel takes out his camera. No more flowers, clouds, natures, stills or landscapes. Amid the horror all around him he has found his destiny: to photograph and leave behind a testimony for all generations about the great tragedy unfolding before his eyes." Mendel Grossman's photos constitute only a small portion of the historical photos in Yad Vashem's Photo Archive collection. The largest of its kind in the world, this collection comprises some 200,000 photographs related to the Holocaust. The online archive currently comprises 130,000 historical photos.
40 Incredibly Inspirational Retro & Vintage Photoshop Tutorials The memories of yesteryears invoke in us a sense of nostalgia as we long for the days gone by when life seems so much simpler. Technology was not as advanced as it is today, and things were changing at a slower pace. Retro and vintage years usually refer to the decades before our present day, up to the last century. Images of the early 1900s to the 1980s comes into mind as we think about the designs of this era. 35 Surreal Examples of Multiplicity Photography May 27 2010 Multiplicity is a photography technique in which the same person is photographed from different angles and directions and then the bunch of photographs are digitally re-mastered in Photoshop showing clones of the person doing different things all in one photo. Today we present 35 Surreal Examples of Multiplicity Photography to inspire you. Photography and Photoshop go hand in hand. Multiplicity Photography is the real test of your patience as you may have to work for hours to get the right shots mainly because of different angles, props and clothes used in pre-production. And finally when you have the images, you have to work on different techniques (blending, layering, curving etc) in Photoshop to paste all the images in one single photo.
10 More Common Faults in Human Thought Humans This list is a follow up to Top 10 Common Faults in Human Thought. Thanks for everyone's comments and feedback; you have inspired this second list! It is amazing that with all these biases, people are able to actually have a rational thought every now and then. There is no end to the mistakes we make when we process information, so here are 10 more common errors to be aware of. Free Image Optimizer - Compress and resize photos Using this free online service, you can resize, compress and optimize your image files. Using the service is as easy as clicking of button! Optimized images are better!
3D ARTISTS The 3D Artists - raph.com gallery is a large collection of 3d works by artists from all around the World. Currently, the gallery features over 1000 images, from some of the most talented artists in the Computer Graphics Industry. What makes the gallery unique is that every works submitted to the gallery are judged by an international jury composed of 30 artists. This process ensures a fair judgement and guarantees the very high standards of the gallery.
Photoshop CS4: A Picture Worth a Thousand Words I love Photoshop techniques that offer all kinds of possibilities for experimentation—and the following tutorial is a perfect example of one of those techniques. In this issue, we're going to take a portrait and replace the person's image with text (think 2009 Grammy posters). Pick a portrait that offers good contrast—a photo that's very dramatic and dark probably won't work as well. I've had the best success with straight-on head and shoulder shots, but again, feel free to experiment with all types of photos. Night Photography Tips and James Bond If you're thinking about taking photos at night the 'usual' way – deleting 75% of your photos because of camera blur or excessive darkness… Alas, after several hours slaving in Adobe Illustrator (I'm no graphic designer, I'm a photographer, dang it!) here is your friendly Night Photography Tips Infographic! Oh yeah…and if this helps you in any sort of way, feel free to share it to someone else it could help.
Top 10 Mysterious People Mysteries Over the centuries, history is filled with wonderful tales of mysterious people – many of whom are never identified. This list is a selection of the most significant or mysterious people of this variety. Free All-in-One Graphic Design Starter Kit Graphic design has an amazing community. Comprised of both the vets from the pre-computer era to the newbies who were raised on the internet and computer-editing applications, there is a huge gamut of people sharing their work and expertise online. I know when I was starting out in design, I found tons of inspiration and information from sites like JustCreativeDesign, DesignNewz, and more.
The American identity according to social media #infographic What can we learn about the people of America from statistical data? According to this infograph from Hasai, we know that: 9/10 Americans are online77% report that they use social media to share their love of a TV show70% of active US Facebook users log in every day48% of bloggers are US based40% of Americans are following products, services and brands on social media platformsVideo games account for 10% of all US internet time Sequences re-visited from SBC Skier magazine » Dan Carr Photography - Photography Product Reviews + Ski, Snowboard and adventure photography tips Apologies for the lack of updates in the last couple of week, it's been busy times here in Whistler. Today I'd like to post some sequences that were shot last year for SBC Skier magazine here in Canada. The first four were to be used for "Trick Tips" , where a pro skier describes how someone would go about performing that trick. The fifth sequence was not shot for that purpose, but it was run as a double page spread so I thought I'd throw it in the mix too. For anyone wanting to know how to create a sequence photo in photoshop I did a video tutorial on this a while back which I will re-post at the bottom of this article. I might re-do this tutorial over the summer to upgrade it to an HD version so if there is anything you want clarification on please leave a comment below so that I can address it in the re-make!
ressources • emdimatteo • Arya • Photo editors • PHOTO TOOLS • Create Online • Design • EDICION IMAGENES