Raz-Kids: Teacher / Student Login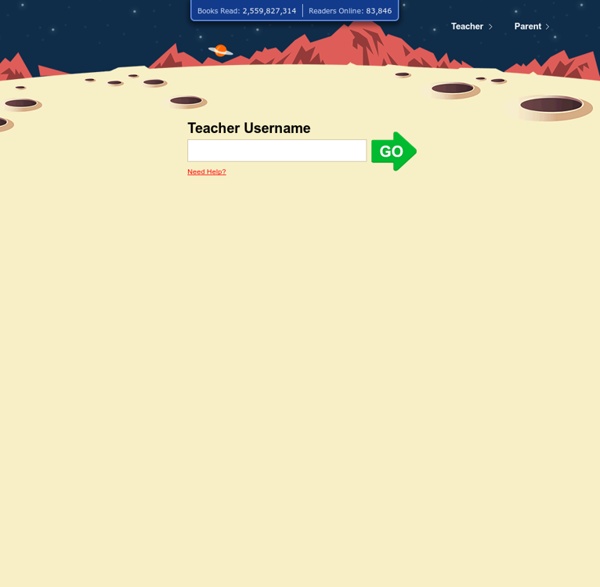 http://www.raz-kids.com/main/Login
Reading • Reading • Language Arts • Language Arts • JH
Clifford the Big Red Dog Reading Games Award-Winning Elementary Reading & Math Program Spelling & Vocabulary Website: SpellingCity Expressing our Gratitude prewriting Graphic Organizers Word Family Sort This online activity is designed for beginning and struggling readers to help them recognize word patterns and learn about onset and rime. PEEP and the Big Wide World This site is produced by WGBH Boston and 9 Story Entertainment in association with TVOntario. Major funding for PEEP and the Big Wide World is provided by the National Science Foundation. Additional funding is provided by Northrop Grumman.
Word Invasion Word Invasion Word Invasion provides practice in parts of speech. Jellyfish with words in them drift toward the octopus at the bottom. Content: Parts of Speech ReadWriteThink Brain Connection » Powered by Posit Science - Your Brain Health Headquarters Instructions How fast can you name an object, a color, a letter, or a number? Get your hand on the mouse, and get ready to start naming! Adjust the volume on your computer to a comfortable level.Select the mode you want: objects, letters, numbers, or colors.When you are ready to begin a practice trial, click Go.When you hear a word, click on the item that represents it. Continue clicking Go to complete four more practice trials. Then the background screen changes to red, indicating that practice is over.When you are ready to begin the challenge, click Go.When you hear a word, click on the item that represents it.
Mr. Nussbaum's Language Arts NaNoWriMo Young Writers Program Construct-A-Word Construct-a-Word provides a simple, engaging way for students to generate dozens of different words by first choosing an ending (for example -an, -ed, -at, -op) and then adding a beginning letter or blend. When a correct word is created, the word is stored in a Word Bank where students can read and review their words. For each ending, Construct-a-Word prompts students to create between 6 and 14 different possible words, adding an element of fun and discovery. It uses animation and sound to guide students through the steps of creating words, and employs prompts that are clear and easy to master.
kkerns • Classroom Websites • Reading • sclapper • Favorite Websites • Student Technology • My websites • Education • Newton things • Ana & Tony's List • Reading