Password recovery
From Partimage Two disks are provided to allow using partition image from floppy disks. The boot disk was created from a recent kernel. This kernel include the support of many file systems, as ext2fs, vfat, ntfs, and reiserfs.
manual Boot root disks - Partimage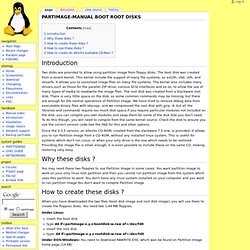 Related Links Recover lost CD keys for Windows and 1000+ major programs - including products of Adobe, Symantec, Autodesk, and more... NK2Edit - Edit, merge and fix the AutoComplete files (.NK2) of Microsoft Outlook. FileTypesMan - Alternative to 'File Types' manager of Windows.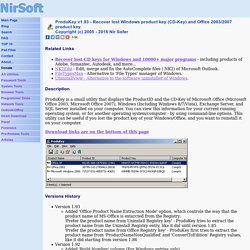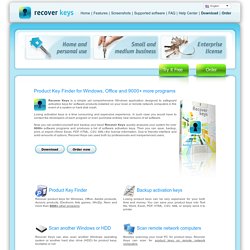 Recover Keys is a simple yet comprehensive Windows application designed to safeguard activation keys for software products installed on your local or remote network computers in the event of a system or hard disk crash. Losing activation keys is a time consuming and expensive experience. In such case you would have to contact the developers of each program or even purchase entirely new versions of all software. Now you can protect yourself and backup your keys! Recover Keys quickly analyzes your system for over 4500+ software programs and produces a list of software activation keys.
Recover Keys. Product key finder, recover lost Windows XP product key, find xp key
During development of the Rockbox firmware, on several occations the harddisk has become locked, i.e. password protected. This results in the Archos displaying: Part. Error Pls Chck HD We are still not 100% sure why it happened. Theories range from low-power conditions to accidental chip select failure.
Unlocking a password protected harddisk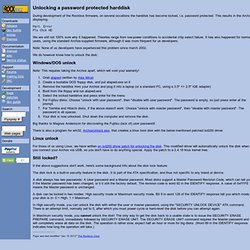 CmosPwd
CmosPwd decrypts password stored in cmos used to access BIOS SETUP. Works with the following BIOSes ACER/IBM BIOS AMI BIOS AMI WinBIOS 2.5 Award 4.5x/4.6x/6.0 Compaq (1992) Compaq (New version) IBM (PS/2, Activa, Thinkpad) Packard Bell Phoenix 1.00.09.AC0 (1994), a486 1.03, 1.04, 1.10 A03, 4.05 rev 1.02.943, 4.06 rev 1.13.1107 Phoenix 4 release 6 (User) Gateway Solo - Phoenix 4.0 release 6 Toshiba Zenith AMI With CmosPwd, you can also backup, restore and erase/kill cmos.