Password recovery
Manual Boot root disks - Partimage. From Partimage Two disks are provided to allow using partition image from floppy disks.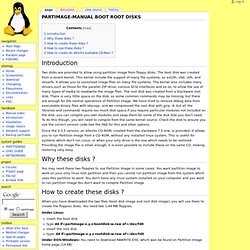 The boot disk was created from a recent kernel. This kernel include the support of many file systems, as ext2fs, vfat, ntfs, and reiserfs. ProduKey - Recover lost product key (CD-Key) of Windows/MS-Office/SQL Server. Related Links Recover lost CD keys for Windows and 1000+ major programs - including products of Adobe, Symantec, Autodesk, and more...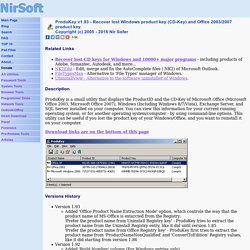 NK2Edit - Edit, merge and fix the AutoComplete files (.NK2) of Microsoft Outlook. FileTypesMan - Alternative to 'File Types' manager of Windows. Recover Keys. Product key finder, recover lost Windows XP product key, find xp key. Unlocking a password protected harddisk. During development of the Rockbox firmware, on several occations the harddisk has become locked, i.e. password protected.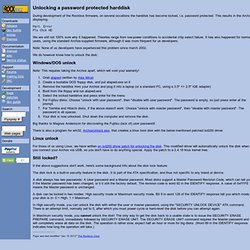 This results in the Archos displaying: Part. Error Pls Chck HD We are still not 100% sure why it happened. Theories range from low-power conditions to accidental chip select failure. CmosPwd. CmosPwd decrypts password stored in cmos used to access BIOS SETUP.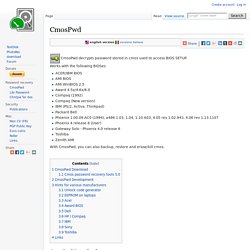 Works with the following BIOSes ACER/IBM BIOS AMI BIOS AMI WinBIOS 2.5 Award 4.5x/4.6x/6.0 Compaq (1992) Compaq (New version) IBM (PS/2, Activa, Thinkpad) Packard Bell Phoenix 1.00.09.AC0 (1994), a486 1.03, 1.04, 1.10 A03, 4.05 rev 1.02.943, 4.06 rev 1.13.1107 Phoenix 4 release 6 (User) Gateway Solo - Phoenix 4.0 release 6 Toshiba Zenith AMI With CmosPwd, you can also backup, restore and erase/kill cmos.
Offline NT Password & Registry Editor.
---