Gamification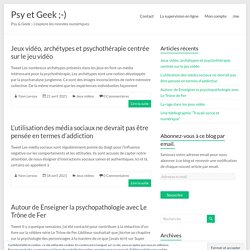 Il y a toujours eu des jeux vidéo Partout ou des hommes ont été en contact avec ces machines particulières que sont ordinateurs, des jeux vidéo ont été inventés. D'une certaine façon, le premier jeu vidéo est sans doute le test de Turing. Dans son article "Computing Machinery and Intelligence" publié dans Mind, le mathématicien propose le test suivant : une machine et un être humain discutent ensemble. S'il n'est pas possible de déterminer qui est l'humain et qui est la machine, alors le test est réussi. 13 ans plus tard, le programme Eliza de Joseph Weizenbaum permet d'avoir des conversions.
Good Questions to Ask Your Girlfriend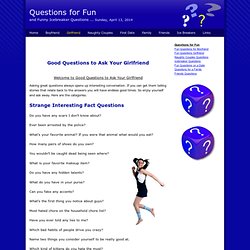 Good Questions to Ask Your GirlfriendWelcome to Good Questions to Ask Your Girlfriend Asking great questions always opens up interesting conversation. If you can get them telling stories that relate back to the answers you will have endless good times.
Fun Trivia Quizzes - World's Largest Trivia and Quiz Site!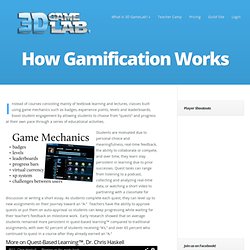 Instead of courses consisting mainly of textbook learning and lectures, classes built using game mechanics such as badges, experience points, levels and leaderboards, boost student engagement by allowing students to choose from "quests" and progress at their own pace through a series of educational activities. Students are motivated due to personal choice and meaningfulness, real-time feedback, the ability to collaborate or compete, and over time, they learn stay persistent in learning due to prior successes. Quest tasks can range from listening to a podcast, collecting and analyzing real-time data, or watching a short video to partnering with a classmate for discussion or writing a short essay.
How Gamification Works - 3D GameLab
Octalysis: Complete Gamification Framework Gamification is design that places the most emphasis on the human in the process. In essence, it is Human-Focused Design (as opposed to "function-focused design"). Most processes design around function and efficiency – they try to get the job done as quickly as possible.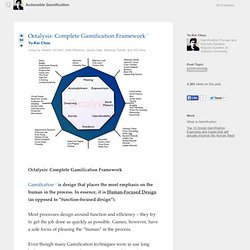 Octalysis: Complete Gamification Framework - Actionable Gamification - Quora
Serious games et univers virtuels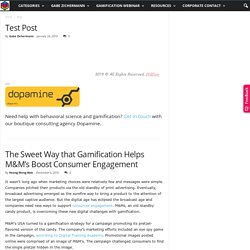 Gartner Redefines Gamification: What Do You Think? Gamification is considered a relatively new term. As a new term, its definition is in flux and is continually changing. The popular media and different professionals continue to offer different and sometimes competing definitions. As different definitions are offered, it is up to everyday people to accept or reject those definitions. Gartner, a leader in information technology research and advisory, has recently offered a new definition of gamification.
What Makes a Learning Game?
Les utilisateurs des réseaux sociaux qui n'ont jamais entendu parler de Farmville ou de Mafia Wars sont devenus rarissimes. Les Social Games ont su se faire une place confortable sur le Web en quelques années seulement. Mais que sont les Social Games exactement ? Si l'on se réfère à la définition anglo-saxonne : « Games that run on a social network and use that network to enhance gameplay between players ». En d'autres termes, ce sont des jeux au gameplay minimaliste reposant sur les réseaux sociaux, et qui associent les interactions sociales à l'expérience ludique proposée. Selon une étude du Cabinet Parks Associates de 2011, la moitié des utilisateurs de Facebook ont déjà joué à ce type de jeu et les utilisateurs actifs se comptent en dizaine de millions chaque mois.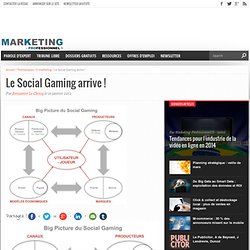 Le Social Gaming arrive !
How Brands Are Using Facebook Apps for Contests and Campaigns
Background: Some time back I published a research paper about how brands are using Facebook apps for enhancing their CRM. In this post I would like to focus on the second value proposition that Facebook apps bring to brands – an amazing opportunity to run campaigns. I have been increasingly seeing brands using Facebook apps to give a boost to their marketing.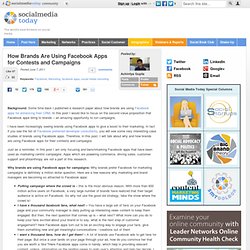 The Theory Behind Game-based Learning
Think back to the last time you played a game. What was the game? Why did you choose to play? Was it a simple game like tic-tac-toe, or something more complex, like Monopoly, Scrabble or Chess? Or maybe it was a game of basketball? Did you play with friends?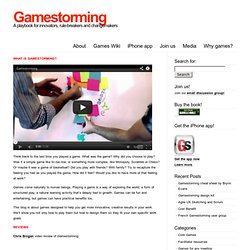 serious games_ jeux sérieux et jeux de société
Become an Expert in Free RPGs
Friends! Roleplayers! Philanthropists! Lend me your eyes.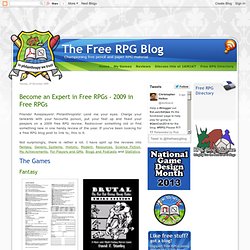 If there was ever a cache that everyone should try once, pict-o-caches would likely be near the top of the list. They take aspects of several different types of caches and join them together to make a cache that everyone can participate in and enjoy. But how do they work? First, we need to establish what they are… Pict-o-caches are a class on their own. Taking cues from multi-caches, on-site puzzles, and visual puzzles, these puzzles definitely require an observant eye.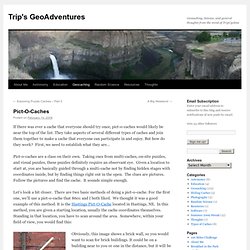 Pict-O-Caches | Trip's GeoAdventures
May Day Mystery:Historical Madness
Great Scavenger Hunt List