UFO's and Alien Technology
FANTASTIC PROGRAMS OUT OF TORONTO, CANADA THAT YOU SHOULD LISTEN TO: - THE CONSPIRACY SHOW w. Richard Syrett Every Sunday night between 11PM and 1AM EST, check out The Conspiracy Show with Richard Syrett exclusively on AM740 Toronto. Sunday, January 12th 2014: 11PM - AMERICA AND THE BOOK OF ISAIAH: Richard welcomes a pastor and biblical scholar to the program to reveal an ancient mystery that may hold the secret to America's future.
ConspiracyCulture.com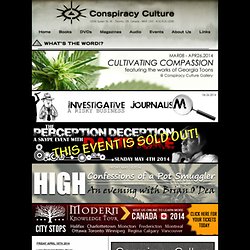 Bob Dean | A Conversation 2011 Filmed in Phoenix, AZ at the UFO Congress 2011 released April 7, 2011| .mp3 In February we were fortunate to have a chance to connect once again with one of our favorite people, one-man disclosure... Read more I went to Florida to interview A'shayana Deane, author of the Voyager books.
Welcome to Project Camelot Portal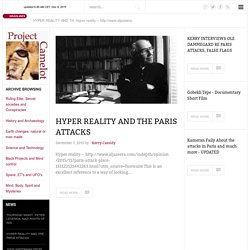 I traveled with Dr. Carmen Boulter on her group tour of Egypt for the special meditation inside the Great Pyramid and at the foot of the Sphinx on 10-10-2010. This interview was done in view of the pyramids where at the end of the tour we had a chance to sit down and talk about Amarna, Nefertiti and Akhenaten and what really happened in those days.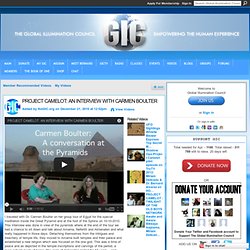 PROJECT CAMELOT: AN INTERVIEW WITH CARMEN BOULTER
Ancient Aliens Season 2 Episode 1(FULL)‬‏
On Wednesday, May 9th, 2001, over twenty military, intelligence, government, corporate and scientific witnesses came forward at the National Press Club in Washington, DC to establish the reality of UFOs or extraterrestrial vehicles, extraterrestrial life forms, and resulting advanced energy and propulsion technologies. The weight of this first-hand testimony, along with supporting government documentation and other evidence, will establish without any doubt the reality of these phenomena. Learn more » Watch the May 9, 2001 Press Conference Watch the 2 Hour Witness Interview DVD Watch the 4 Hour Witness Interview DVD Part 1
The Disclosure Project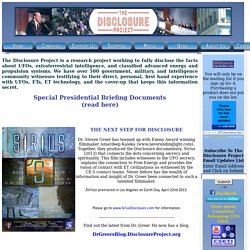 U.F.O DISCLOSURE PROJECT -FULL VERSION‬‏
UFO CRASH KGB - UFO CRASH RUSSIA
UFOs & Area 51: The Bob Lazar Video - Alien Technology