Justice
I often think of the good life I have. By most common measures—say, type of work, income, health, leisure, and social status—I'm doing well. Despite the adage, "call no man happy until he is dead," I wonder no less often: How much of my good life do I really deserve? Why me and not so many others?
What Do We Deserve? | The Humanist
There's not much to say about Monday's Boston Marathon attack because there is virtually no known evidence regarding who did it or why. There are, however, several points to be made about some of the widespread reactions to this incident. Much of that reaction is all-too-familiar and quite revealing in important ways: (1) The widespread compassion for yesterday's victims and the intense anger over the attacks was obviously authentic and thus good to witness. But it was really hard not to find oneself wishing that just a fraction of that compassion and anger be devoted to attacks that the US perpetrates rather than suffers. These are exactly the kinds of horrific, civilian-slaughtering attacks that the US has been bringing to countries in the Muslim world over and over and over again for the last decade , with very little attention paid.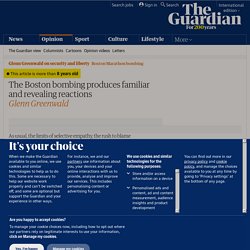 The Boston bombing produces familiar and revealing reactions | Glenn Greenwald | Comment is free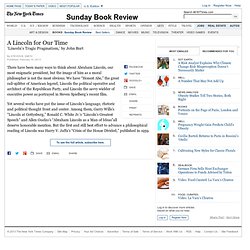 Yet several works have put the issue of Lincoln's language, rhetoric and political thought front and center. Among them, Garry Wills's "Lincoln at Gettysburg," Ronald C. White Jr.'s "Lincoln's Greatest Speech" and Allen Guelzo's "Abraham Lincoln as a Man of Ideas"all deserve honorable mention. But the first and still best effort to advance a philosophical reading of Lincoln was Harry V. Jaffa's "Crisis of the House Divided," published in 1959.
'Lincoln's Tragic Pragmatism,' by John Burt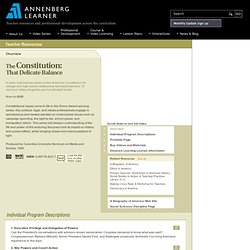 Resource: The Constitution: That Delicate Balance
1. Executive Privilege and Delegation of Powers Can the President's conversations with advisors remain secret when Congress demands to know what was said? Congresswoman Barbara Mikulski, former President Gerald Ford, and Watergate prosecutor Archibald Cox bring first-hand experience to this topic. 2.
Tip/Wag - Montpelier School District, TheAtlasphere.com & Florida Officials - The Colbert Report - 2013-23-01
Alpha Dog of the Week - Virginia State Senate Republicans - The Colbert Report - 2013-23-01
LEOLR.png (PNG Image, 688 × 2614 pixels)
Jonathan Haidt: How common threats can make common (political) ground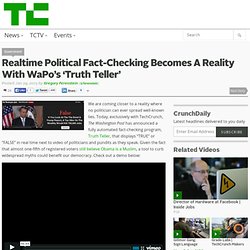 Realtime Political Fact-Checking Becomes A Reality With WaPo's 'Truth Teller'
We are coming closer to a reality where no politician can ever spread well-known lies. Today, exclusively with TechCrunch, The Washington Post has announced a fully automated fact-checking program, Truth Teller , that displays "TRUE" or "FALSE" in real time next to video of politicians and pundits as they speak. Given the fact that almost one-fifth of registered voters still believe Obama is a Muslim , a tool to curb widespread myths could benefit our democracy.
Blame
The Brain on Trial
Advances in brain science are calling into question the volition behind many criminal acts. A leading neuroscientist describes how the foundations of our criminal-justice system are beginning to crumble, and proposes a new way forward for law and order. On the steamy first day of August 1966, Charles Whitman took an elevator to the top floor of the University of Texas Tower in Austin.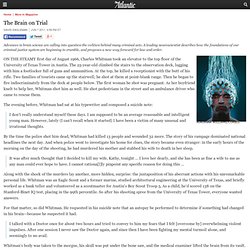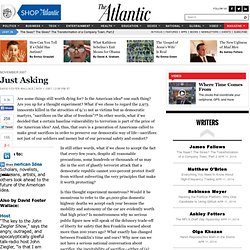 Just Asking - David Foster Wallace
Are some things still worth dying for? Is the American idea * one such thing? Are you up for a thought experiment?
Business school and ethics: Can we train MBAs to do the right thing?
Can MBA students be ethical? Photograph by iStockphoto/Thinkstock. A few years ago, Israeli game theorist Ariel Rubinstein got the idea of examining how the tools of economic science affected the judgment and empathy of his undergraduate students at Tel Aviv University. He made each student the CEO of a struggling hypothetical company, and tasked them with deciding how many employees to lay off. Some students were given an algebraic equation that expressed profits as a function of the number of employees on the payroll.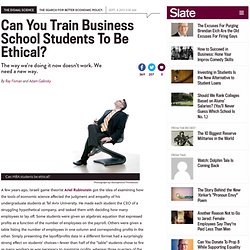 Morgan Harris - Philip Zimbardo: Why ordinary people do evil ... or do good
Morality
The Problem of "Is" and "Ought"
Fables of Wealth
Plato's Republic [Allan Bloom's translation] : Plato
Three Minute Philosophy: Plato
Morgan Harris - RSA Animate - The Power of Outrospection
Collected Quotations Of The Dread Pirate Roberts, Founder Of Underground Drug Site Silk Road And Radical Libertarian
Chances are, you're a liar. Maybe not a big liar — but a liar nonetheless. That's the finding of Dan Ariely, a professor of psychology and behavioral economics at Duke University.
'The Honest Truth' About Why We Lie, Cheat And Steal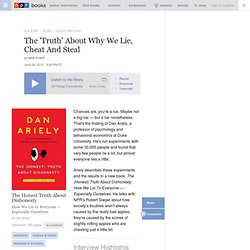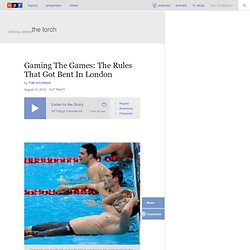 Gaming The Games: The Rules That Got Bent In London : The Torch
Cameron van der Burgh of South Africa celebrates his gold medal in the men's 100m breaststroke. He later admitted that he took extra dolphin kicks during his swim, a violation of the rules. Adam Pretty / Getty Images
Mr. Fibb - The Daily Show with Jon Stewart - 01/15/13
Author: Allan Bloom Keywords: Allan Bloom ; Leo Strauss ; Nihilism ; America ; Liberal Education ; Heidegger ; Nietzsche ; Marx ; Socrates ; Plato ; Aristotle ; Rousseau ; Tocqueville ; Social Science ; Sixties ; Liberalism ; Political Science ; Enlightenment ; Max Weber ; John Rawls ; Habermas ; Gadamer ; Rorty ; Isaiah Berlin ; Multiculturalism ; Relativism ; Existentialism Year: 1987 Language: English Collection: opensource Description The complete text of Allan Bloom's great work on the decay of American life and the political-intellectual causes of the decline of humane learning. It is now more relevant and pertinent than when he wrote it over two decades ago. Since its publication the most prestigious universities in America have seen a continual and ever more rapid decline in what little seriousness, depth, and intellectual discipline was left in them. This is true for both the students and especially the faculty.
Michael Sandel - The Colbert Report - 2012-25-04
Justice
Emotional Armor: Superheroes like Batman (Christian Bale) function as talismans when our fears are darkest — symbols of good, and of justice, when we wonder whether either exists. Ron Phillips / Warner Bros. Pictures
Catharsis In A Cape: On Comic-Book Heroes And Real-World Violence : Monkey See
Red Dead Redemption (X360) Game Script by Shotgunnova
|???\???|???\ |???\???|???
Grand Theft Auto IV (PS3) Game Script (Explicit Language) by InfernoSD
When Crime Pays: Prison Can Teach Some To Be Better Criminals