That's Amazing
That's Amazing - from the comment by British Physicist Brian Cox.

Anything on the limits of applied science. younginsurrey Mar 31
We live in an age of touch-screen interfaces, but what will the UIs of the future look like? Will they continue to be made up of ghostly pixels, or will they be made of atoms that you can reach out and touch? At the MIT Media Lab, the Tangible Media Group believes the future of computing is tactile.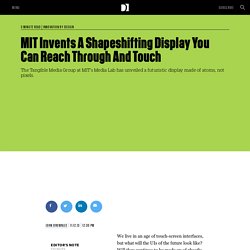 MIT Invents A Shapeshifting Display You Can Reach Through And Touch | Co.Design | business + design
Invisible helmet deploys instantly to save bikers' lives
I grew up riding my bicycle everywhere without a helmet, and the idea of wearing one now is just unappealing (I don't ride, so it's not an issue, really).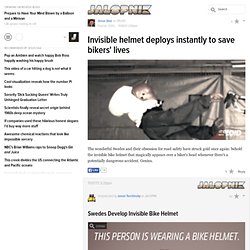 Crispr stands for "clustered regularly interspaced short palindromic repeats", a devilishly contrived acronym which just about sums up why it was ignored for so long. For nearly two decades after Japanese researchers first discovered Crispr in bacteria in 1987, scientists mostly dismissed it as "junk DNA".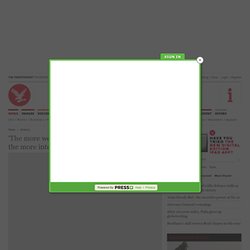 'The more we looked into the mystery of Crispr, the more interesting it seemed' - Science - News
Hiroshi Ishii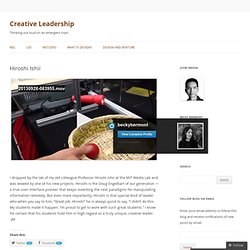 20130928-083955.mov
Today's Objet vlog post features one of the nicest 3D printed models I've seen from an Objet Connex multi-material 3D printer!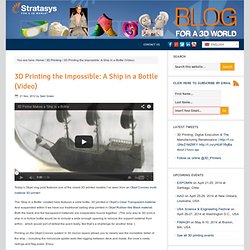 3D Printing the Impossible: A Ship in a Bottle (Video)
Physicists have discovered a jewel-like geometric object that dramatically simplifies calculations of particle interactions and challenges the notion that space and time are fundamental components of reality. "This is completely new and very much simpler than anything that has been done before," said Andrew Hodges, a mathematical physicist at Oxford University who has been following the work. The revelation that particle interactions, the most basic events in nature, may be consequences of geometry significantly advances a decades-long effort to reformulate quantum field theory, the body of laws describing elementary particles and their interactions.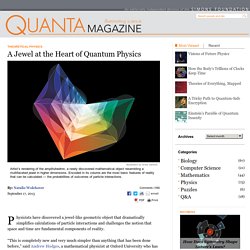 Outside In
My colleagues at the Institute for Dynamic Systems and Control at ETH Zurich have created a small robotic cube that can autonomously jump up and balance on any one of its corners.
Cubli – A cube that can jump up, balance, and – soon- walk across your desk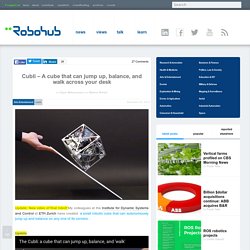 Optotune Electrically Focus-Tunable Lenses | Edmund Optics
Select Shipping Country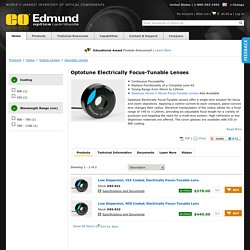 Scientists Invent Oxygen Particle That If Injected, Allows You To Live Without Breathing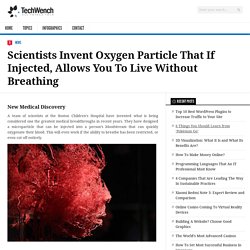 New Medical Discovery A team of scientists at the Boston Children's Hospital have invented what is being considered one the greatest medical breakthroughs in ...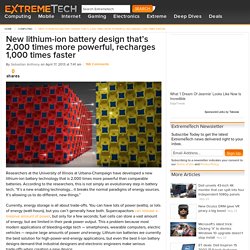 Researchers at the University of Illinois at Urbana-Champaign have developed a new lithium-ion battery technology that is 2,000 times more powerful than comparable batteries. According to the researchers, this is not simply an evolutionary step in battery tech, "It's a new enabling technology… it breaks the normal paradigms of energy sources. It's allowing us to do different, new things."
New lithium-ion battery design that's 2,000 times more powerful, recharges 1,000 times faster
non-pneumatic on pickup.flv
deltawing - Home
New energy source for future medical implants: sugar
▶ Twine+Pebble: Connect your world to your wrist on Vimeo: Couch Mode
Don't forget that you can get the TED channel through RaspBMC on the Raspberry Pi! by younginsurrey Nov 29
SX353 isdn
Starting with the highlights: The Gigaset SX353 isdn is probably the most complete ISDN phone there is. Or have you heard of any other cordless extendable basestation with an integrated answering machine for up to 8 handsets that enables wireless online access and supports Bluetooth® technology? This last feature really puts the icing on the cake: simply dock your mobile phone to your Gigaset via the Bluetooth® interface.
Trillibyte
8 February 2012 Last updated at 14:09 ET
Threshold broken for tiny lasers
Transplant jaw made by 3D printer claimed as first
6 February 2012 Last updated at 09:07 ET
Read full article
Superstuff: When quantum goes big - physics-math - 16 January 2012