Content Creation Curation & SEO
Everything and anything that has to do with content strategy, content creation, as it is applied in organic SEO, online marketing, social media, and of course content curation. seocopy May 2
Scoop This: A Comprehensive Guide to Scoop.it for Content Curation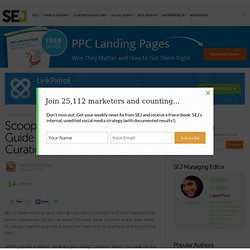 inShare104 We've been hearing (and talking) a lot about curation and how helpful it can be for companies. As you all know, I'm sure, great content is one sure thing in today's marketing arena; it takes the front seat to anything and everything else. When you do a search, what are you using?
Contributing to the Collective Intelligence: Blogs, Comments and Sharing
Why do we write content? As a guest poster, I mean. Do we write content for acceptance? Do we write it for link bait? How about authority and recognition (completely different from acceptance)? When we decide to write a guest post, we do it for the experience, support and ultimately the beautiful little traffic spike.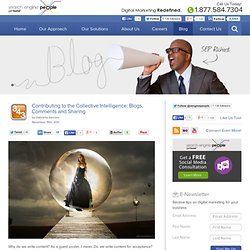 Why The Future Of Travel & Destination Marketing Is All About Curation
February 15, 2011 | 4 Comments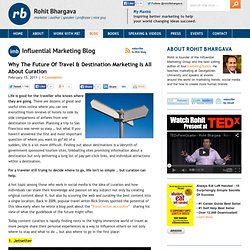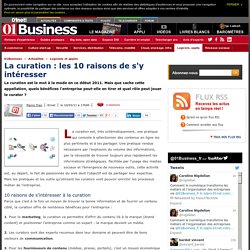 01net le 10/03/11 à 17h00
Crafting the Perfect Content Curation Strategy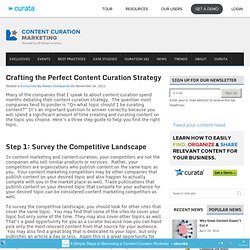 Many of the companies that I speak to about content curation spend months debating their content curation strategy. The question most companies tend to ponder is "On what topic should I be curating content?" It's an important question to answer correctly because you will spend a significant amount of time creating and curating content on the topic you choose.
In the last several months, "curation" has become the biggest buzz-word in content marketing. Though bloggers have been doing it for years in one fashion or another, businesses are just starting to pick up on the fact that curation saves time and creates thought leadership, just as original content does. Two Types of Curation For Branding and Monetization There are a lot of curation types and styles discussed all over the web. While each has its own value, there are really only two types of curation that matter the most to small businesses: Real-Time Curation, andThe Curated Hub
Curation As A Content Marketing Strategy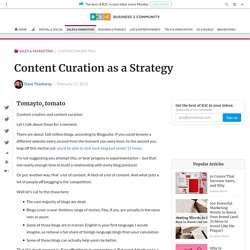 Content Curation as a Strategy
Tomayto, tomato Content creation and content curation. Let's talk about those for a moment. There are about 160 million blogs, according to Blogpulse. If you could browse a different website every second from the moment you were born, to the second you leap off this mortal coil, you'd be able to visit each blog just under 15 times. I'm not suggesting you attempt this, or bear progeny in experimentation – but that' not nearly enough time to build a relationship with every blog producer.
Podcast: Play in new window | Download (Duration: 22:26 — 0.0KB) [ Transcript Available ] With the amount of content coming at you from all sides, it can be difficult to make sense of it all and present it in a logical fashion. Curation allows you to create order out of all the chaos.
Margot Bloomstein – Combining Curation with Your Content Strategy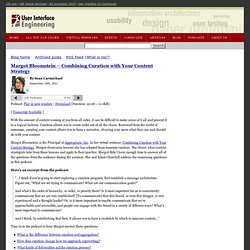 Freda Kahlo, personal judgement and content curation | Content Curation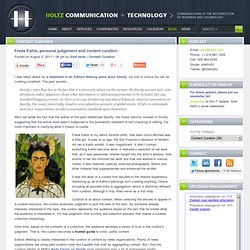 Posted on August 2, 2011 1:38 pm by Shel Holtz | Content Curation I was taken aback by a statement in an Editors Weblog piece about Storify, my tool of choice (so far) for curating coneftent. The post asserts… Storify's main flaw lies in the fact that it is intensely reliant on the curator, the Storify account user, who ultimately makes judgments about what information is valid and appropriate to be included, like any standard blogging process. As there is no way of enforcing any idea of balanced, objective journalism on Spotify, this could, potentially, klead to very subjective accounts of global events. It falls to individuals and news organizations to enforce journalistc standards upon themselves.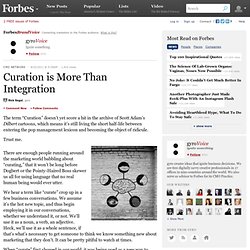 The term "Curation" doesn't yet score a hit in the archive of Scott Adam's Dilbert cartoons, which means it's still living the short half-life between entering the pop management lexicon and becoming the object of ridicule. Trust me. There are enough people running around the marketing world babbling about "curating," that it won't be long before Dogbert or the Pointy-Haired Boss skewer us all for using language that no real human being would ever utter. We hear a term like "curate" crop up in a few business conversations. We assume it's the hot new topic, and thus begin employing it in our conversations, whether we understand it, or not.
Visual Mapping.com: New Exciting RSAnimate Video: The Divided Brain
Content curation is a topic actively discussed in B2B marketing circles. With so many online resources, publishers, blogs, and social media communities to choose from, the ability to find single points of expertise, sharing and synthesizing the best information on a given topic, has increasing value. B2B search engine marketers realize new content creation is a critical tactic in an effective SEO strategy. But it is also realized, as illustrated in the Marketingsherpa chart below, the level of effort required to successfully develop new content may be significant, in comparison to other tactics.
Why B2B Search Marketers Should Care About Content Curation
Content Curation for SEO and Traffic Generation | IM Impact
Content curation – is it the solution to all of your content- and traffic problems or just another fad? By some, it's being lauded as the next big thing and perhaps it could turn into another fad in the IM niche (crappy "make money with curation" products, anyone?), but what's it really all about? Read on to find out exactly what content curation is and what it means for online marketers.
Content Curation & SEO: Myths and Realities - Webinar Recap - HiveFire on Content Curation
25 Tools for Content Marketing Collaboration, Productivity, Monitoring and Distribution
April 29, 2011 Online news consumption surpassed newspapers for the first time last year according to Pew Research Center's 2011 State of the News Media report. Forty-six percent of respondents access news online at least three times weekly, compared to 40 percent from newspapers. Pew also finds that 47 percent of Americans access local news via mobile devices.
Content curation: Is it strategic syndication or simply saturation?
inShare1 Several years ago I had the privilege of working with Steve Rosenbaum, author of Curation Nation.
Lessons From a Lost Phone
Organic SEO / SMO Articles – Level343 Article Archive
No Time to Write Thought-Provoking Blogs? Try Content Curation
Collective Intelligence: Humanity's Mass Mind
Website Metrics: Your Business Site is in Good Condition – What Now?
Ten Steps to Content Curation
Content Curation Grows Up, Original Content Still Key
Airvanas Content Curation Aids in SEO of its News Portal FemtoHub.com
How to Use Twitter for Crowdsourcing and Simple Market Research
How to use content curation to add value to your own website
Content Curation – It's What's for Breakfast These Days