Biology Content References
BioFundamentals © UC Boulder and virtuallaboratory.net, inc. Biology. History The objects of our research will be the different forms and manifestations of life, the conditions and laws under which these phenomena occur, and the causes through which they have been effected.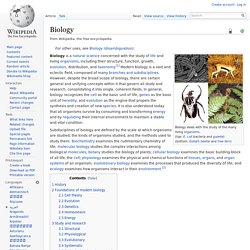 The science that concerns itself with these objects we will indicate by the name biology [Biologie] or the doctrine of life [Lebenslehre]. Although modern biology is a relatively recent development, sciences related to and included within it have been studied since ancient times. BioFundamentals © UC Boulder and virtuallaboratory.net, inc. Welcome | EOL: Learning and Education Group.
Interactive Biology. Interactive Biology Serendip sees the web as a tool which can make education a more interactive and exploratory process, by making freely available educational resources at a variety of levels and also, even more importantly, be making it increasingly possible to learn by doing (see Serendip's web principles and credo on education and technology).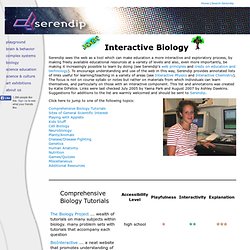 To encourage understanding and use of the web in this way, Serendip provides annotated lists of links useful for learning/teaching in a variety of areas (see Interactive Physics and Interactive Chemistry). An On-Line Biology Book. The Biology Project. Biology-Online.org. Bioliteracy Project Home Page. NWABR. Our HIV Vaccines Curriculum Unit explores the scientific and ethical issues involved in clinical HIV vaccine trials using human research participants.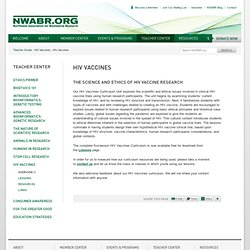 The unit begins by examining students' current knowledge of HIV, and by reviewing HIV structure and transmission. Next, it familiarizes students with types of vaccines and with challenges related to creating an HIV vaccine. Students are encouraged to explore issues related to human research participants using basic ethical principles and historical case studies. Lastly, global issues regarding the pandemic are explored to give the students an understanding of cultural issues involved in the spread of HIV. A Digital Library of the Biological Sciences for Biology Teachin.
Welcome to the BEN portal, the National Science Digital Library (NSDL) Pathway for biological sciences education.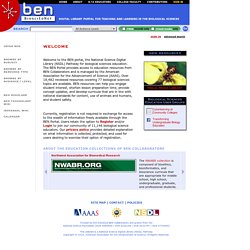 The BEN Portal provides access to education resources from BEN Collaborators and is managed by the American Association for the Advancement of Science (AAAS). Over 19,290 reviewed resources covering 77 biological sciences topics are available. BEN resources can help you engage student interest, shorten lesson preparation time, provide concept updates, and develop curricula that are in line with national standards for content, use of animals and humans, and student safety. Currently, registration is not required in exchange for access to the wealth of information freely available through the BEN Portal. Hypertextbook Chapters. Animals-Dewey. September 1926 The Ethics of Animal Experimentation by John Dewey Different moralists give different reasons as to why cruelty to animals is wrong.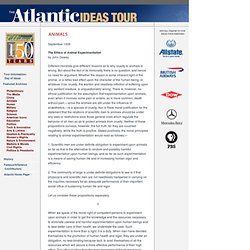 But about the fact of its immorality there is no question, and hence no need for argument. Whether the reason is some inherent right of the animal, or a reflex bad effect upon the character of the human being, or whatever it be, cruelty, the wanton and needless infliction of suffering upon any sentient creature, is unquestionably wrong. There is, however, no ethical justification for the assumption that experimentation upon animals, even when it involves some pain or entails, as is more common, death without pain,—since the animals are still under the influence of anæsthetics,—is a species of cruelty. Biology. 039;s BioInteractive.
---