Biology Content References
BioFundamentals © UC Boulder and virtuallaboratory.net, inc.
Biology is a natural science concerned with the study of life and living organisms , including their structure, function, growth, evolution , distribution, and taxonomy . [ 1 ] Biology has many subdisciplines unified by five so-called axioms of modern biology: [ 2 ] Cells are the basic unit of life Genes are the basic unit of heredity New species and inherited traits are the product of evolution An organism regulates its internal environment to maintain a stable and constant condition Living organisms consume and transform energy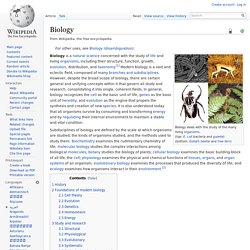 BioFundamentals © UC Boulder and virtuallaboratory.net, inc.
Welcome | EOL: Learning and Education Group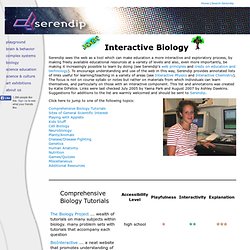 Interactive Biology
Interactive Biology Serendip sees the web as a tool which can make education a more interactive and exploratory process, by making freely available educational resources at a variety of levels and also, even more importantly, be making it increasingly possible to learn by doing (see Serendip's web principles and credo on education and technology ). To encourage understanding and use of the web in this way, Serendip provides annotated lists of links useful for learning/teaching in a variety of areas (see Interactive Physics and Interactive Chemistry ).
Biology-Online.org
Bioliteracy Project Home Page
NWABR
Be sure to Bookmark this page to return here directly in the future! Important : Clicking on any menu items to the left or above will redirect you outside this secure curriculum page; please bookmark this page! Development of the HIV Curriculum was made possible by "Collaborations to Advance Understanding of Science in ethics," a science Education Partnership Award from the National Center for research Resources, National Institutes of Health, 1R25RR016284-01A2 Front Cover Download complete curriculum (3.9 MB)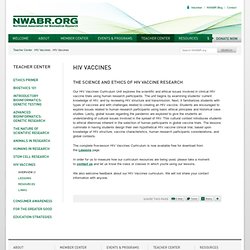 Welcome to the BEN portal, the National Science Digital Library (NSDL) Pathway for biological sciences education. The BEN Portal provides access to education resources from BEN Collaborators and is managed by the American Association for the Advancement of Science (AAAS). Over 18,827 reviewed resources covering 77 biological sciences topics are available. BEN resources can help you engage student interest, shorten lesson preparation time, provide concept updates, and develop curricula that are in line with national standards for content, use of animals and humans, and student safety. Currently, registration is not required in exchange for access to the wealth of information freely available through the BEN Portal.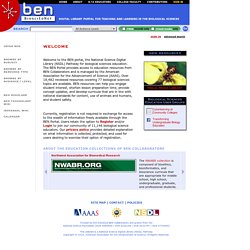 A Digital Library of the Biological Sciences for Biology Teachin
Hypertextbook Chapters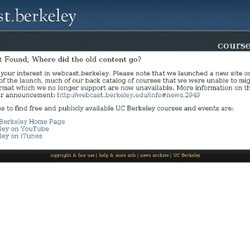 404, File Not Found, Where did the old content go? Thank you for your interest in webcast.berkeley. Please note that we launched a new site on June 30, 2011.
September 1926 The Ethics of Animal Experimentation by John Dewey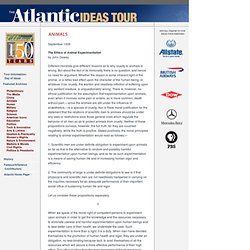 Animals-Dewey
Biology Online. Life Science Reference
Biology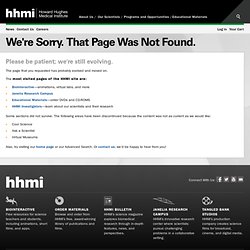 We are excited to announce the release of the EarthViewer app for iPad®. Click here for download instructions, screenshots, and related resources. What caused dinosaurs to disappear from the planet? How do species evolve?
039;s BioInteractive