Rendering
(3ds Max) Normal Map Baking Tutorial
Are your rendered images taking a long time to render? If you are using the mental ray rendering engine, you can take advantage of a great feature of 3DS Max Design (as well as 3DS Max) called distributed bucket rendering.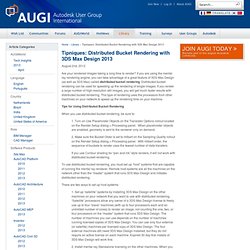 Tipniques: Distributed Bucket Rendering with 3DS Max Design 2013 | AUGI
HDRI Setup Part 1
Understanding Rendering and Lighting of Living Room
3dsMax Monday Movie #76: Cross Sections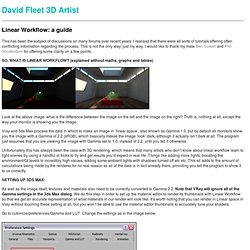 This has been the subject of discussions on many forums over recent years. I realised that there were all sorts of tutorials offering often conflicting information regarding the process.
Rendering menu > Render > Render Scene dialog > Renderer panel > Rendering Algorithms rollout
Rendering Algorithms Rollout (mental ray Renderer)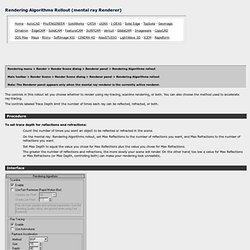 RenderFarm
r a m y h a n n a . c o m: Efficient Interior Lighting with mental ray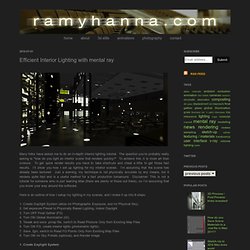 Many folks have asked me to do an in-depth interior lighting tutorial.
3ds Max Mental ray Hdr Tutorial
Adver Software | Ad Sponsored Tools & Resources for the Computer Graphics Industry
3d Max Mental ray exterior light & render setup tutorial
Global Illumination and Final Gather in mental ray for 3ds Max 2010