Psych
Pearl Team for all things psychological. Sep 8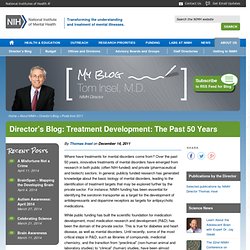 Where have treatments for mental disorders come from? Over the past 50 years, innovative treatments of mental disorders have emerged from research in both public (often NIH-funded) and private (pharmaceutical and biotech) sectors. In general, publicly funded research has generated knowledge about the basic biology of mental disorders, leading to the identification of treatment targets that may be explored further by the private sector. For instance, NIMH funding has been essential for identifying the serotonin transporter as a target for the development of antidepressants and dopamine receptors as targets for antipsychotic medications. While public funding has built the scientific foundation for medication development, most medication research and development (R&D) has been the domain of the private sector.
Treatment Development: The Past 50 Years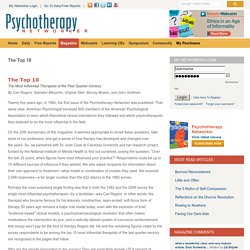 The Top 10
The Most Influential Therapists of the Past Quarter-Century By Carl Rogers, Salvador Minuchin, Virginia Satir, Murray Bowen, and John Gottman Twenty five years ago, in 1982, the first issue of the Psychotherapy Networker was published. That same year, American Psychologist surveyed 800 members of the American Psychological Association to learn which theoretical clinical orientations they followed and which psychotherapists they believed to be the most influential in the field.
Publications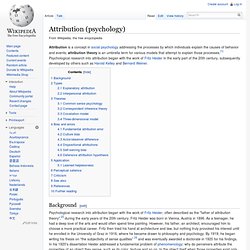 Attribution (psychology)
Attribution is a concept in social psychology addressing the processes by which individuals explain the causes of behavior and events; attribution theory is an umbrella term for various models that attempt to explain those processes. [ 1 ] Psychological research into attribution began with the work of Fritz Heider in the early part of the 20th century, subsequently developed by others such as Harold Kelley and Bernard Weiner . [ edit ] Background Psychological research into attribution began with the work of Fritz Heider during the early years of the 20th century. In his 1920's dissertation Heider addressed a fundamental problem of phenomenology ; why do perceivers attribute the properties of an object they sense, such as its color, texture and so on, to the object itself when those properties exist only in their minds?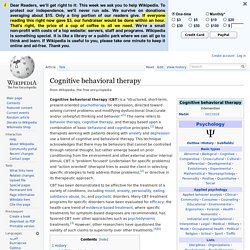 Cognitive behavioral therapy ( CBT ) is a psychotherapeutic approach that addresses dysfunctional emotions, maladaptive behaviors and cognitive processes and contents through a number of goal-oriented, explicit systematic procedures. The name refers to behavior therapy , cognitive therapy , and to therapy based upon a combination of basic behavioral and cognitive principles and research. Most therapists working with patients dealing with anxiety and depression use a blend of cognitive and behavioral therapy. This technique acknowledges that there may be behaviors that cannot be controlled through rational thought. CBT is "problem focused" (undertaken for specific problems) and "action oriented" (therapist tries to assist the client in selecting specific strategies to help address those problems). [ 1 ]
Solution focused brief therapy ( SFBT ), often referred to as simply 'solution focused therapy' or 'brief therapy', is a type of talking therapy that is based upon social constructionist philosophy. It focuses on what clients want to achieve through therapy rather than on the problem(s) that made them seek help. [ 1 ] The approach does not focus on the past, but instead, focuses on the present and future. The therapist/counselor uses respectful curiosity to invite the client to envision their preferred future and then therapist and client start attending to any moves towards it whether these are small increments or large changes. To support this, questions are asked about the client's story, strengths and resources, and about exceptions to the problem.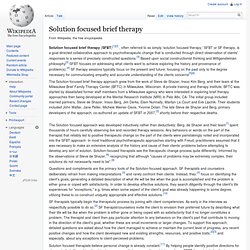 Solution focused brief therapy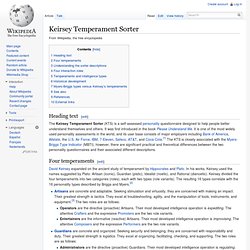 The Keirsey Temperament Sorter (KTS) is a self-assessed personality questionnaire designed to help people better understand themselves and others. It was first introduced in the book Please Understand Me . The KTS is closely associated with the Myers-Briggs Type Indicator (MBTI); however, there are significant practical and theoretical differences between the two personality questionnaires and their associated different descriptions. [ edit ] Four temperaments David Keirsey expanded on the ancient study of temperament by Hippocrates and Plato .
Integrative psychotherapy may involve the fusion of different schools of psychotherapy . The word 'integrative' in Integrative psychotherapy may also refer to integrating the personality and making it cohesive, and to the bringing together of the "affective, cognitive, behavioral, and physiological systems within a person". [ 1 ] In Integrative and eclectic counselling and psychotherapy , (Palmer and Woolfe, 1999), the authors make clear the distinction between integrative and eclectic approaches: "Integration suggests that the elements are part of one combined approach to theory and practice, as opposed to eclecticism which draws ad hoc from several approaches in the approach to a particular case." [ 2 ] Psychotherapy's eclectic practitioners are not bound by the theories, dogma, conventions or methodology of any one particular school.
Integrative psychotherapy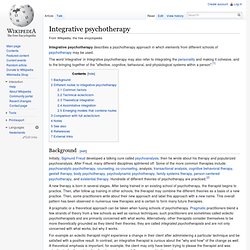 Psychodynamics
Psychodynamics is the theory and systematic study of the psychological forces that underlie human behaviour. It is especially interested in the dynamic relations between conscious motivation and unconscious motivation. [ 1 ] Sigmund Freud (1856–1939) developed what he called psychodynamics to describe the processes of the mind as flows of psychological energy ( Libido ) in an organically complex brain . [ 2 ] In medical praxis, psychodynamic psychotherapy is a less intensive, once- or twice-weekly modality than the classical Freudian psychoanalysis treatment of 3-5 sessions per week. Psychodynamic therapies depend upon a theory of inner conflict, wherein repressed behaviours and emotions surface into the patient's consciousness; generally, one conflict is subconscious. [ 3 ]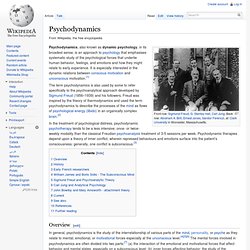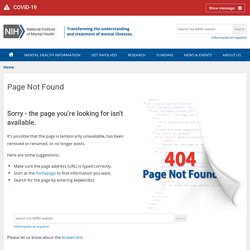 Lab rat sniffing cake frosting. Source: Kelly Klump, Ph.D., Michigan State University Biological changes associated with puberty may influence the development of binge eating and related eating disorders , according to a recent study on female rats conducted by NIMH-funded researchers. After puberty, the rats showed binge eating patterns that resemble those in humans, supporting the role of biological factors, since rats do not experience pressures to be thin or other psychosocial risk factors commonly associated with human eating disorders. The study was published online ahead of print on May 16, 2011, in the Journal of Abnormal Psychology. Background
Biology, Not Just Society, May Increase Risk of Binge Eating During Puberty
Mental Illness Defined as Disruption in Neural Circuits
Pulses of blue and yellow light precisely turn neurons on-and-off using genetically-targeted probes that take advantage of light-sensitive genes borrowed from primitive life-forms. Artist's rendering. Source: Karl Deisseroth, M.D., Ph.D., Stanford University It has become an NIMH mantra to describe mental disorders as brain disorders. What does this mean?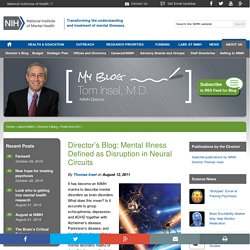 Attention Deficit Disorder  -  Born to Explore!
Helping your child with ADD/ADHD: What you need to know Children with ADD/ADHD generally have deficits in executive function : the ability to think and plan ahead, organize, control impulses, and complete tasks. That means you need to take over as the executive, providing extra guidance while your child gradually acquires executive skills of his or her own. Although the symptoms of ADD/ADHD can be nothing short of exasperating, it's important to remember that the child with ADD/ADHD who is ignoring, annoying, or embarrassing you is not acting willfully.
ADD/ADHD Parenting Tips: Helping Children with Attention Deficit Disorder