Privacy
Tech Giants, Learning the Ways of Washington, Brace for More Scrutiny. In 2012, among other victories, the industry staved off calls for federal consumer privacy legislation and successfully pushed for a revamp of an obscure law that had placed strict privacy protections on Americans' video rental records.
It also helped achieve a stalemate on a proposed global effort to let Web users limit behavioral tracking online, using Do Not Track browser settings. But this year is likely to put that issue in the spotlight again, and bring intense negotiations between industry and consumer rights groups over whether and how to allow consumers to limit tracking. Congress is likely to revisit online security legislation — meant to safeguard critical infrastructure from attack — that failed last year. And a looming question for Web giants will be who takes the reins of the Federal Trade Commission, the industry's main regulator, this year.
David C. 60 Minutes - Facebook. The Truth about Facebook! Google Buzz: Privacy nightmare | Molly Rants. I know some of the technorati are losing their minds over the awesomeness that is Google Buzz , but I think that Google's making a lot of Facebook's privacy and opt-in mistakes right out of the gate, and it's going to bite it big-time, if it doesn't fix it pronto.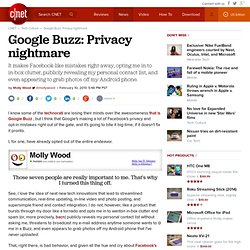 I, for one, have already opted out of the entire endeavor. That, right there, is bad behavior, and given all the hue and cry about Facebook's inexorable attempts to expose everything about its users to the entire world, Google ought to know better. Seriously, Google. Would it have killed you to add a "configure" step to this process? Privacy Center. Masquer les exemples Afficher des exemples Date de la dernière modification : 31 mars 2014 (voir les versions archivées) Vous pouvez avoir recours à nos services pour toutes sortes de raisons : pour rechercher et partager des informations, pour communiquer avec d'autres personnes ou pour créer des contenus.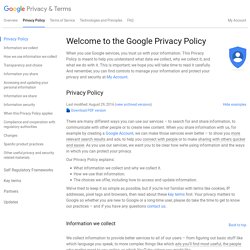 En nous transmettant des informations, par exemple en créant un compte Google, vous nous permettez d'améliorer nos services. Internet privacy. Internet privacy involves the right or mandate of personal privacy concerning the storing, repurposing, provision to third-parties, and displaying of information pertaining to oneself via the Internet.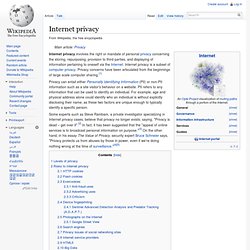 Internet privacy is a subset of computer privacy. Privacy concerns have been articulated from the beginnings of large scale computer sharing.[1] Privacy can entail either Personally Identifying Information (PII) or non-PII information such as a site visitor's behavior on a website. Privacy and the Internet: Traveling in Cyberspace Safely | Priva. Copyright © 1995 - 2014Privacy Rights Clearinghouse Introduction Introduction As consumers increasingly go online in so many aspects of their daily lives, the challenge is enjoy the conveniences of online activities while limiting the privacy sacrifices.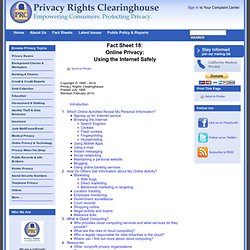 As the focus of online activity migrates from desktop and laptop computers to smartphones and other mobile devices, the mechanisms for protecting your privacy continue to evolve. Privacy, Facebook and the Future of the Internet. Today is the 3rd annual international Data Privacy Day and a whole bunch of companies are listed on the organization's website as participants.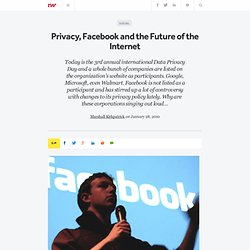 Google, Microsoft, even Walmart. Facebook is not listed as a participant and has stirred up a lot of controversy with changes to its privacy policy lately. Why are these corporations singing out loud about protecting our personal privacy?
---