Privacy
In 2012, among other victories, the industry staved off calls for federal consumer privacy legislation and successfully pushed for a revamp of an obscure law that had placed strict privacy protections on Americans' video rental records. It also helped achieve a stalemate on a proposed global effort to let Web users limit behavioral tracking online, using Do Not Track browser settings.
Tech Giants, Learning the Ways of Washington, Brace for More Scrutiny
60 Minutes - Facebook
The Truth about Facebook!
Google Buzz: Privacy nightmare | Molly Rants
I know some of the technorati are losing their minds over the awesomeness that is Google Buzz , but I think that Google's making a lot of Facebook's privacy and opt-in mistakes right out of the gate, and it's going to bite it big-time, if it doesn't fix it pronto. I, for one, have already opted out of the entire endeavor. Those seven people are really important to me. That's why I turned this thing off. See, I love the idea of neat new tech innovations that lead to streamlined communication, real-time updating, in-line video and photo posting, and supersimple friend and contact integration.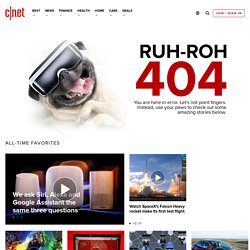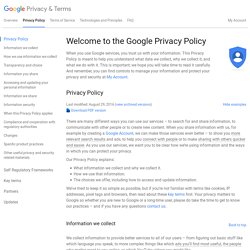 Última modificación: 27 de julio de 2012 ( ver versiones archivadas ) Puedes utilizar nuestros servicios de muchas maneras, tanto para buscar y compartir información como para comunicarte con otros usuarios o para crear contenido nuevo. Cuando compartes datos con nosotros (por ejemplo, al crear una cuenta de Google ), podemos mejorar aún más esos servicios para mostrarte resultados de búsqueda y anuncios más relevantes y ayudarte a ponerte en contacto con otros usuarios o compartir de forma más rápida y sencilla. Como usuario de nuestros servicios, queremos informarte claramente acerca de cómo utilizamos tus datos y cómo puedes proteger tu privacidad. La presente Política de privacidad describe: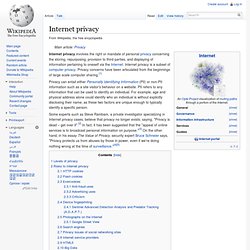 Internet privacy
Internet privacy involves the right or mandate of personal privacy concerning the storing, repurposing, providing to third-parties, and displaying of information pertaining to oneself via the Internet . Privacy can entail either Personally Identifying Information (PII) or non-PII information such as a site visitor's behavior on a website. PII refers to any information that can be used to identify an individual. For example, age and physical address alone could identify who an individual is without explicitly disclosing their name, as these two factors are unique enough to typically identify a specific person.
Copyright © 1995 - 2013 Privacy Rights Clearinghouse Introduction Introduction The Internet enables us to improve communication, erase physical barriers, and expand our education. Its absorption into our society has been extraordinary.
Privacy and the Internet: Traveling in Cyberspace Safely | Priva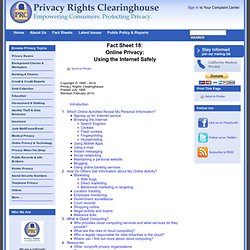 Privacy, Facebook and the Future of the Internet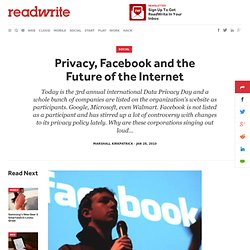 Today is the 3rd annual international Data Privacy Day and a whole bunch of companies are listed on the organization's website as participants. Google, Microsoft, even Walmart. Facebook is not listed as a participant and has stirred up a lot of controversy with changes to its privacy policy lately.