Privacy
Tech Giants, Learning the Ways of Washington, Brace for More Scrutiny
60 Minutes - Facebook
The Truth about Facebook!
Google Buzz: Privacy nightmare | Molly Rants
I know some of the technorati are losing their minds over the awesomeness that is Google Buzz, but I think that Google's making a lot of Facebook's privacy and opt-in mistakes right out of the gate, and it's going to bite it big-time, if it doesn't fix it pronto. I, for one, have already opted out of the entire endeavor. Those seven people are really important to me. That's why I turned this thing off. That, right there, is bad behavior, and given all the hue and cry about Facebook's inexorable attempts to expose everything about its users to the entire world, Google ought to know better.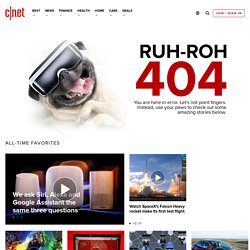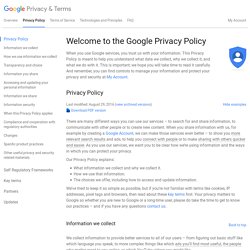 Last modified: December 20, 2013 (view archived versions) There are many different ways you can use our services – to search for and share information, to communicate with other people or to create new content. When you share information with us, for example by creating a Google Account, we can make those services even better – to show you more relevant search results and ads, to help you connect with people or to make sharing with others quicker and easier. As you use our services, we want you to be clear how we're using information and the ways in which you can protect your privacy. Our Privacy Policy explains: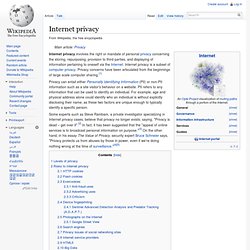 Internet privacy
Internet privacy involves the right or mandate of personal privacy concerning the storing, repurposing, provision to third-parties, and displaying of information pertaining to oneself via the Internet. Internet privacy is a subset of computer privacy. Privacy concerns have been articulated from the beginnings of large scale computer sharing.[1] Privacy can entail either Personally Identifying Information (PII) or non-PII information such as a site visitor's behavior on a website.
Copyright © 1995 - 2014Privacy Rights Clearinghouse Introduction Introduction As consumers increasingly go online in so many aspects of their daily lives, the challenge is enjoy the conveniences of online activities while limiting the privacy sacrifices. As the focus of online activity migrates from desktop and laptop computers to smartphones and other mobile devices, the mechanisms for protecting your privacy continue to evolve.
Privacy and the Internet: Traveling in Cyberspace Safely | Priva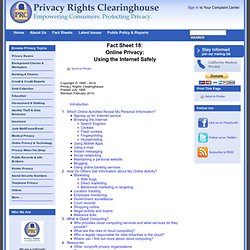 Privacy, Facebook and the Future of the Internet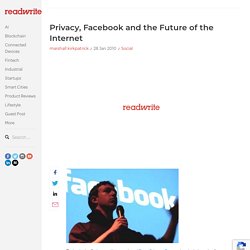 Today is the 3rd annual international Data Privacy Day and a whole bunch of companies are listed on the organization's website as participants. Google, Microsoft, even Walmart. Facebook is not listed as a participant and has stirred up a lot of controversy with changes to its privacy policy lately.