Wikileaks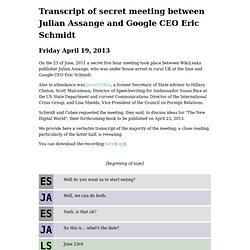 On the 23 of June, 2011 a secret five hour meeting took place between WikiLeaks publisher Julian Assange, who was under house arrest in rural UK at the time and Google CEO Eric Schmidt. Also in attendance was Jared Cohen, a former Secretary of State advisor to Hillary Clinton, Scott Malcomson, Director of Speechwriting for Ambassador Susan Rice at the US State Department and current Communications Director of the International Crisis Group, and Lisa Shields, Vice President of the Council on Foreign Relations. Schmidt and Cohen requested the meeting, they said, to discuss ideas for "The New Digital World", their forthcoming book to be published on April 23, 2013. We provide here a verbatim transcript of the majority of the meeting; a close reading, particularly of the latter half, is revealing.
Transcript of secret meeting between Julian Assange and Google CEO Eric Schmidt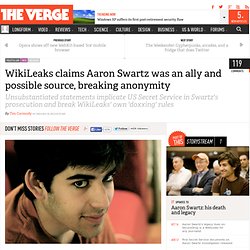 Wikileaks claims Aaron Swartz was an ally and possible source, breaking anonymity
Aaron Swartz died a week ago. A public memorial service in New York City will be held later today. You may have read much about Swartz's life in the interim, including his work at a young age on Reddit and the RSS specification, his political activism, and the overzealous prosecution that may have contributed to his suicide. But you probably haven't heard the story WikiLeaks just outlined on its Twitter account.
The house on Grettisgata Street, in Reykjavik, is a century old, small and white, situated just a few streets from the North Atlantic. The shifting northerly winds can suddenly bring ice and snow to the city, even in springtime, and when they do a certain kind of silence sets in. This was the case on the morning of March 30th, when a tall Australian man named Julian Paul Assange, with gray eyes and a mop of silver-white hair, arrived to rent the place.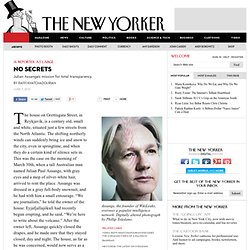 WikiLeaks Iraq War Logs: Muertes
Assange mocks Obama via video at U.N. event
By Brian Winter UNITED NATIONS Thu Sep 27, 2012 12:17am EDT UNITED NATIONS (Reuters) - WikiLeaks founder Julian Assange, speaking via a choppy video feed from his virtual house arrest in London, lashed out at U.S.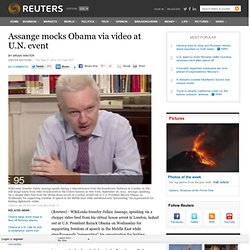 The Future of WikiLeaks - Evgeny Morozov
DoJ admits Assange case is doomed because WikiLeaks is a journalistic entity
Ever since WikiLeaks and its controversial leader Julian Assange first caught the eye of the U.S. Department of Justice several years ago, we and others — including NYU journalism professor Jay Rosen — have been arguing that the organization is effectively a journalistic entity, and therefore deserving of all the protections that the First Amendment and freedom of the press entail. Now it seems as though that message has finally gotten through to the DoJ. According to a piece in the Washington Post that quotes unnamed officials close to the Obama administration, the department has decided not to pursue charges against Assange for releasing classified documents that were given to WikiLeaks because "government lawyers said they could not do so without also prosecuting U.S. news organizations and journalists." Justice officials apparently referred to this as their "New York Times" problem, according to the Post.
People OK with murdering Assange - the full list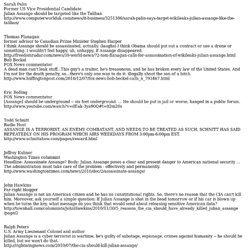 Your browser does not support JavaScript! Sarah Palin Former US Vice Presidential Candidate Julian Assange should be targeted like the Taliban http://www.computerworlduk.com/news/it-business/3251386/sarah-palin-says-target-wikileaks-julian-assange-like-the-taliban/ Thomas Flanagan former advisor to Canadian Prime Minister Stephen Harper I think Assange should be assassinated, actually. (laughs) I think Obama should put out a contract or use a drone or something. I wouldn't feel happy, uh, unhappy, if Assange disappeared. http://freedomradar.com/news/39-world-news/72-tom-flanagan-calls-for-assassination-of-wikileaks-julian-assange.html Bob Beckel FOX News commentator A dead man can't leak stuff...This guy's a traitor, he's treasonous, and he has broken every law of the United States. And I'm not for the death penalty, so...there's only one way to do it: illegally shoot the son of a bitch. http://www.huffingtonpost.com/2010/12/07/fox-news-bob-beckel-calls_n_793467.html
There are so many inconsistencies in Anna Ardin's accusation of sexual assault against Julian Assange. But the key question which leaps out at me – and which strangely I have not seen asked anywhere else – is this: Why did Anna Ardin not warn Sofia Wilen? On 16 August, Julian Assange had sex with Sofia Wilen. Sofia had become known in the Swedish group around Assange for the shocking pink cashmere sweater she had worn in the front row of Assange's press conference. Anna Ardin knew Assange was planning to have sex with Sofia Wilen.
Why I am Convinced that Anna Ardin is a Liar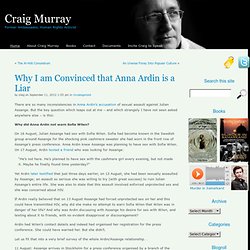 Baltasar Garzón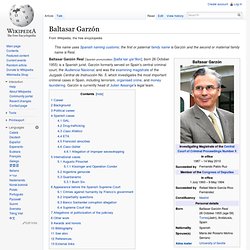 Baltasar Garzón Real (Spanish pronunciation: [baltaˈsar ɣarˈθon]; born 26 October 1955) is a Spanish jurist. Garzón formerly served on Spain's central criminal court, the Audiencia Nacional, and was the examining magistrate of the Juzgado Central de Instrucción No. 5, which investigates the most important criminal cases in Spain, including terrorism, organised crime, and money laundering. Garzón is currently head of Julian Assange's legal team. Career[edit]
Assange Lawyer: Innocent man persecuted, US war crimes unpunished (EXCLUSIVE)
Julian Assange, International Intrigue and What's Going On With Ecuador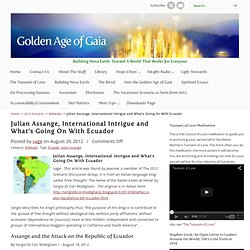 sage: This article was found by Jeannie, a member of The 2012 Scenario Discussion Group. It is from an Italian-language blog called 'Free Thought: The Home of the Italian Exiles at Home' by Sergio Di Cori Modigliani . The original is in Italian here: http://sergiodicorimodiglianji.blogspot.it/2012/08/lattacco-alla-repubblica-del-ecuador.html Sergio describes his blog's philosophy thus: "the purpose of this blog is to contribute to the spread of free thought without ideological ties, without party affiliations, without economic dependence on [sources] more or less hidden.
di Sergio Di Cori Modigliani Oggi parliamo di geo-politica e di libera informazione in rete. Tutto ciò che sta accadendo oggi, tecnicamente (nel senso di "politicamente") è iniziato il 12 dicembre del 2008. Secondo altri, invece, sarebbe iniziato nel settembre di quell'anno. Ma ci volevano almeno quattro anni prima che l'onda d'urto arrivasse in Europa e in Usa. Forse è meglio cominciare dall'inizio per spiegare gli accadimenti.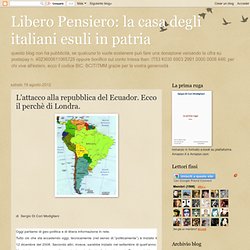 la casa degli italiani esuli in patria: L'attacco alla repubblica del Ecuador. Ecco il perchè di Londra.
It is hard sometimes to divide the story of Julian Assange from that of WikiLeaks. But once upon a time, before Bradley Manning, the rape allegations, the house arrest, the TV show on RT, and then the Ecuador gambit, WikiLeaks, as an organisation and as an idea, was brimming with promise. For many, the age of the anonymous digital whistleblower was the dawn of a bright new era of radical transparency. WikiLeaks was just the beginning. Whatever you might think of Assange, it was the game-changer and it spawned a multitude of clones.
Where Are The Post-WikiLeaks Digital Whistleblowers?
Investigating thousands (or millions) of documents by clustering on Vimeo
WikiLeaks continues to fund itself via tech startup Flattr
WikiLeaks, which publishes anonymous leaks of secret material (most recently 250,000 previously secret US embassy cables) still has a trick up its sleeve. In the last few days its sources of funding have been gradually cut off. MasterCard, PayPal and now Visa have all suspended payments to the organsation and founder Julian Assange has been remanded in custody in London without bail (so far). However there remains one source of funding so far untouched, and that is a small startup, Flattr, created by Peter Sunde, co-founder of torrent site Pirate Bay, who has been reminding Twitter users today via his personal Twitter account that it's still possible to "help" Wikileaks. Now, any site at all can use or incorporate Flattr – a sort of Digg or Facebook 'Like', but with money attached. But it is significant that on this day, when other sources are slowly shut off, a tech startup remains a revenue source for Wikileaks.
Updated Aug. 23, 2010 12:01 a.m. ET The controversial website WikiLeaks, which argues the cause of openness in leaking classified or confidential documents, has set up an elaborate global financial network to protect a big secret of its own—its funding. Some governments and corporations angered by the site's publications have already sued WikiLeaks or blocked access to it, and the group fears that its money and infrastructure could be targeted further, founder Julian Assange said in an interview in London shortly after publishing 76,000 classified U.S. documents about the war in Afghanistan in July.
WikiLeaks Keeps Funding Secret
Updates (Friday, July 8): 1. Some people may not be comfortable with using MtGox to trade bitcoins. There are two other alternatives:Both of these sites still allow transfers from Dwolla. 2.
Donate to WikiLeaks with Bitcoins. Tell MasterCard, Visa, and PayPal to Screw Themselves.
Larry Flint Hustles $50 K to Assange Defence Fund
Home » Industry Watch (» The Technological) (» Hall of Monkeys) (» Heroes Banquet) And tells the readers of HuffPo why he did it. DRUMS (Rixstep) — Larry Flint writes for the Huffington Post today, explaining succinctly why he too supports WikiLeaks and is donating to the organisation and Julian Assange's defence fund. Let's get something straight: Julian Assange is a journalist. You can argue that he is not practicing journalism the way you think it should be practiced - releasing classified US state department documents - but he's a journalist nonetheless. And for many of us he's a hero.
Open Letter
'There was never an average day': James Ball on being WikiLeaks' in-house journalist | Online Journalism Features
mthvn | metahaven
Julian Assange and Slovenian Philosopher Slavoj Žižek -- Live From London July 2‬‏
Wikileaks - The Movie ("The social leak")
THE WIKILEAKS TAPES – OUT NOW! | THING2THING